HEALTH PROMOTION PLAN FOR VULNERABLE POPULATIONS
HEALTH PROMOTION PLAN FOR VULNERABLE POPULATIONS
Thai society is evolving into an aging population, with approximately 8.3 million elderly Thai people accounting for about 10% of the Thai population. The number of elderly is increasing and even though the majority of the elderly can care for themselves without burdening their families or society, many continue to live in unhealthy conditions.



Therefore, it is important to plan for the future of the elderly population by creating suitable and healthy environments to accommodate their needs. In addition to the elderly, there are other vulnerable populations including 39.6 million (registered and unregistered) laborers and 33.3 million women, many of whom are under privileged and sexually exploited.
Focus Areas Based on Vulnerable Populations
1) Disabled People:

Emphasis is being placed on developing professional capacity and providing education to the disabled. In addition, studies are ongoing to reduce economic inequalities and provide access to holistic health services, with the involvement of the public sector, business sector, civil society sector, and networks and organizations for the disabled..
2) Elderly People:

Thai society is beginning to prepare for the emergence of an aging population while ensuring equality, dignity, adaptability, livelihood assurance, and sufficient long-term care.


 


3) Laborers:

Support is provided to create social security, adequate wages, security, and workplace and environmental safety. Policies are driven to support work implementation in local areas, with enhancements in relevant work mechanisms and processes among relevant organizations.


 


4) Women:

Emphasis on stimulating the development of health promotion mechanisms for women is growing via knowledge sets and tools that are suited for addressing sexuality and diversity issues. A significant emphasis is placed on underprivileged women in Thai society.


 


5) Thai-Muslims:

The health of Thai-Muslims, especially Thai-Muslims facing everyday hardships, is promoted through capacity development and by strengthening the capacity of leaders and networks to carry out health-promoting activities appropriately and sustainably.



6) Stateless persons and Transnational Laborers:

Stateless persons along with transnational laborers are provided equal access to health, protection, as well as basic services in health, education, welfare, legal status, and capacity development.



7) Homeless People

:

Homeless people receive assistance to develop personal capacity to improve quality of life. Systems providing housing and mechanisms to increase access to basic services and welfare are under development in communities through collaboration with civil society, the public sector, and the academic sector.
HEALTH PROMOTION PLAN FOR VULNERABLE POPULATIONS​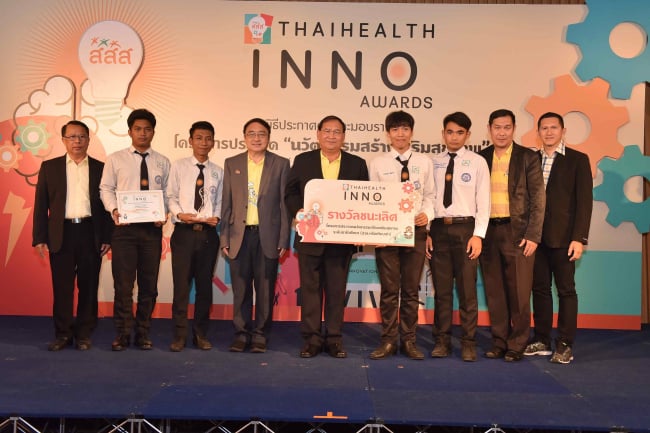 From incessant creation of ideas, the final piece of innovative invention of "rubber road guideposts" by fantastic-four students at Surat Thani Technical College – the innovation has won the first prize at ThaiHealth INNO Award – an award providing opportunities for secondary school and vocational college students who create innovative works to promote health – has finally been put to use by the government. The Department of Rural Roads, Ministry of Transport, organized a press conference on May 20, 2020 on the nationwide change of highway barrier posts into rubber following recent Ministry of Transport policy. Under the project, a total of 700,000 posts will be changed within the year 2022, with preliminary 200,000 posts to be changed within this year. The move is believed to minimise damages caused by road accidents of skidding or crashing into concrete posts, which lead to loss of life. The move to change highway concrete guideposts into rubber is not only an effort to reduce loss of life and damage caused by road accidents, but also a push to increase the use of locally made rubber in the country and to help rubber planters to have better quality of life. Another advantage to the change is the price; as the production cost of a rubber guidepost is greatly cheaper than the concrete counterpart....