HEALTH PROMOTION IN ORGANIZATIONS PLAN
HEALTH PROMOTION IN ORGANIZATIONS PLAN
At present, Thailand has more than 400,000 workplaces and over 11 million workers under the Social Security Scheme. There are slightly more female than male workers. Up to 8% of workers are older than 60. Changing economic and social conditions have contributed to physical and mental health problems among workers, some of whom work 10-12 hours a day but are still unable to earn sufficient income.. In addition, many workers have insufficient time to care for their families. These risky health conditions contribute to higher incidence of diabetes, stroke, cardiac illness, hypertension, and cancer.
1) Stimulation of public policies on quality-of-life promotion in the workplace. 
 


2) Development of mechanisms to promote health in workplaces and support workplace functions. 
 


3) Development  of leadership skills and capacity building for partnership networks.



4) Creation of model health workplaces to leverage knowledge capital, innovation, and research and development. 



5) Development of monitoring and evaluation systems to measure outcomes in accordance with ThaiHealth's 10-year strategy, and to gain information for future planning and development.
HEALTH PROMOTION IN ORGANIZATIONS PLAN​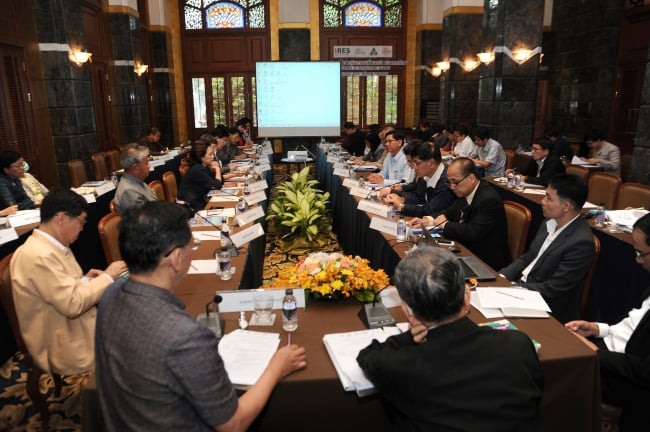 'Education' is a series of process to help people develop themselves in various aspects. Therefore, the teaching is not limited only to the general education in theories, but teaching should include practical part to help with brain and skill development as a strong foundation for the future use. Speaking in the conference on "Education and Thailand's Change: Educational System Reform" organised by ThaiHealth, with collaboration of Institute for Research on Education System (IRES), and Sodsri-Saridwong Foundation, Mr Anusorn Fu-Charoen, Vice Minister for Education said that the key to the development of the educational system is to make classrooms the centre of learning by focusing on teaching and change the foundation of learning into practical learning. Teachers ought to learn at the side of their students. This will help improving the teacher-student relationship. Community participation is also needed to help adjust each locale's education to cater to the current problems and real needs in order to achieve the sustainable learning process. "Today, there are several schools where educational reform is attempted in many areas in Thailand, but they need to spread out throughout the country, with the help of the quest for the most suitable model for a school by analysing past lessons. In this conference, we expect to find the right methodology so that it can be made policy,"...