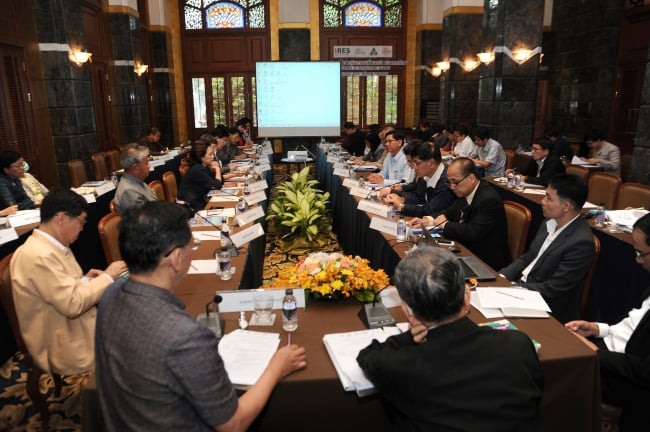 Learning by Doing – for Thailand's Education Future
'Education' is a series of process to help people develop themselves in various aspects. Therefore, the teaching is not limited only to the general education in theories, but teaching should include practical part to help with brain and skill development as a strong foundation for the future use.
Speaking in the conference on "Education and Thailand's Change: Educational System Reform" organised by ThaiHealth, with collaboration of Institute for Research on Education System (IRES), and Sodsri-Saridwong Foundation, Mr Anusorn Fu-Charoen, Vice Minister for Education said that the key to the development of the educational system is to make classrooms the centre of learning by focusing on teaching and change the foundation of learning into practical learning. Teachers ought to learn at the side of their students. This will help improving the teacher-student relationship. Community participation is also needed to help adjust each locale's education to cater to the current problems and real needs in order to achieve the sustainable learning process.
"Today, there are several schools where educational reform is attempted in many areas in Thailand, but they need to spread out throughout the country, with the help of the quest for the most suitable model for a school by analysing past lessons. In this conference, we expect to find the right methodology so that it can be made policy," said Mr Anusorn.
Meanwhile, Mrs Penpan Chittasenee, Director of ThaiHealth's Section of Healthy Child, Youth, and Family Promotion, added that ThaiHealth's work for children, youth, and family, is divided into two aspects: 1) School, and 2) Youth. Education is an important issue that is driven through piloting schools in the name of "School for Well Being" and "School for Good Health". For these projects, the Institute for Research on Education System has given assistance in designing the teaching on the basis of "Active Learning" principle by using three tools: 1) Mental Education – by improving emotional intelligence of both teachers and students, 2) Problem-based Learning (PBL) – by using problems as a basis for student group work, promoting problem-solving of everyday problems, 3) Increasing time for the improvement of life skills by active learning, with parents-school-community participation, such as safe agriculture plantation or making handwork from locally found materials.
On the 'School for Good Health', Mr Kumpol Charoenrak, Director of Thung Yao Kham Proi of Si Sa Ket province, said that the ThaiHealth-IRES collaborative project had faced with parents' misunderstandings and doubt about whether or not their children would succeed at O-Net examination. He solved the problem by inviting parents into classrooms along with their children to observe the teaching. The parents' opinions eventually switched to the positive side. After two years of conduct, the school received satisfactory feedback. Certain number of students that had previously transferred out returned to the school.
Mr Kumpol also added that teaching at Thung Yao Kham Proi school is divided into two periods. The morning session is occupied by teachings of curriculum-based general education subjects such as mathematics, Thai language, English language, and physical education. The afternoon session is occupied by social studies, occupation and technology, history, and natural science. The learning projects have been concluded by agreement between teachers and students. Eventually, results were satisfactory. Students have developed more confidence and concentration. They were also happy as they could study what they wanted.
"My pride is that, during the past three years, students at Thung Yao Kham Proi school developed higher O-Net score without preparatory tutoring. Both teachers and students were happy. The community was happy that they were allowed to take part in their local education. Everyone is considered the owner of the school. Just a slight change can be a little hope to a larger change in the future," said Mr Kumpol.
rn