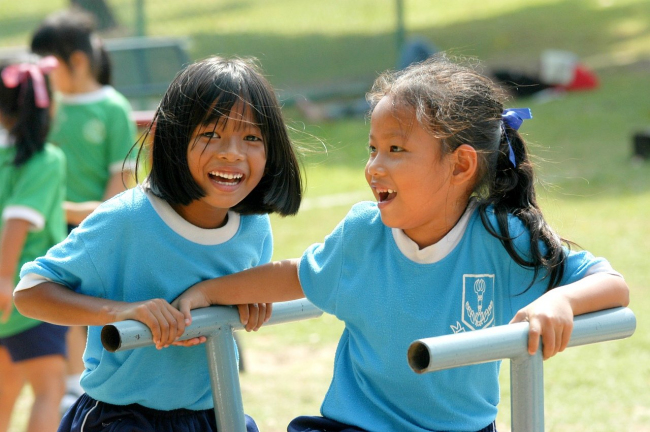 20 years of building healthier communities in Thailand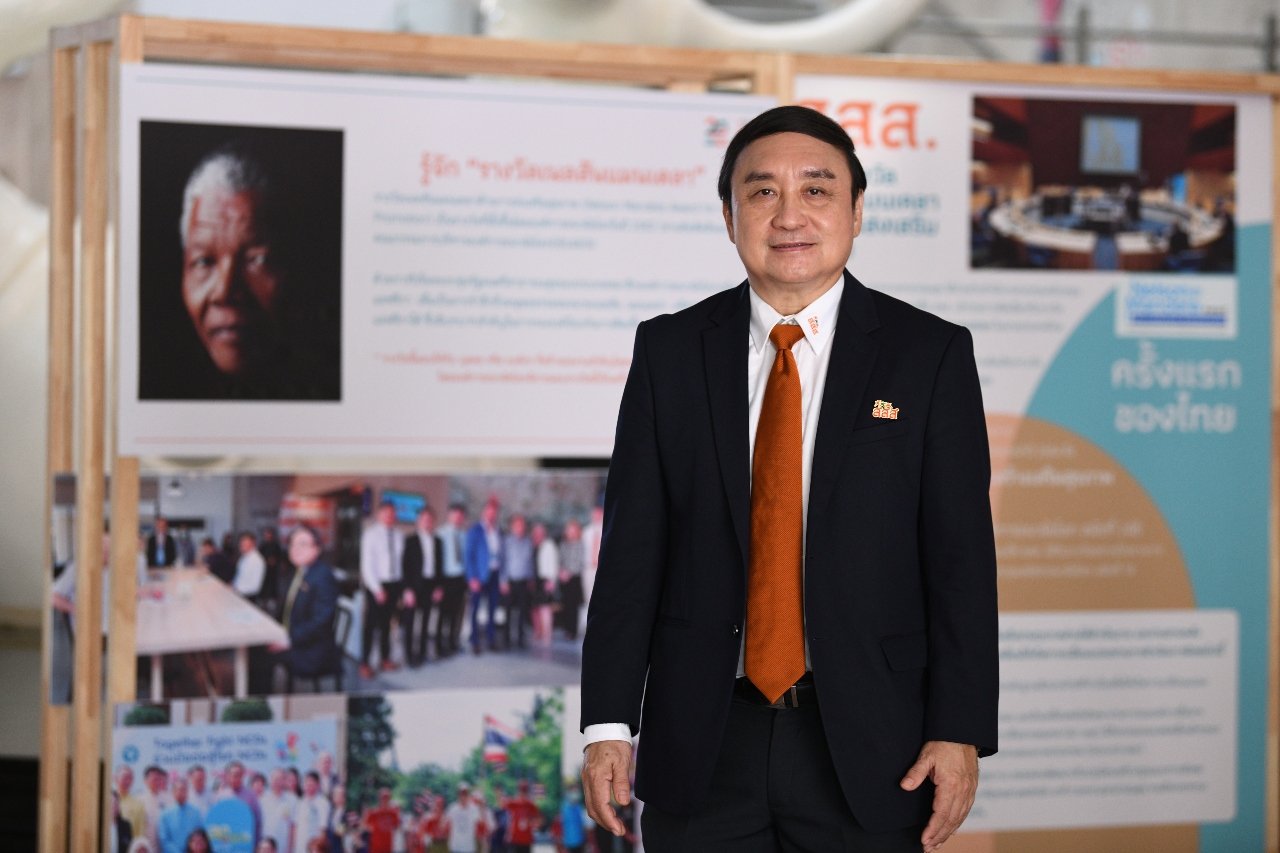 Dr Supreda Adulyanon, CEO of ThaiHealth, in front of an information board about ThaiHealth receiving the Nelson Mandela Award for Health Promotion 2021. Location: ThaiHealth Center, Bangkok, Thailand / Picture Credit: Thai HealthPromotion Foundation.
This week at the World Health Assembly, WHO's annual high-level decision-making event, innovative and successful health initiatives from around the world were recognized for their outstanding contributions to public health.
The 2021 Nelson Mandela Award for Health Promotion (awarded by the South Africa Mandela Foundation) was presented to the  Thai Health Promotion Foundation (ThaiHealth) for its achievements in improving the health of every Thai citizen.
ThaiHealth, dedicated to the promotion of healthy lifestyles among people from all age groups, joins a distinguished line of recipients from well-known scientists and researchers to dedicated individuals and organizations who have contributed to advancing public health over the years.
Dr Supreda Adulyanon, CEO of the ThaiHealth, thinks of the award as a culmination of the foundation's work on the occasion of its 20th anniversary, which it will celebrate this year. "It is truly something special to acknowledge our two decades of work," said Dr Adulyanon.
He also feels a deep connection to the award's namesake. "Nelson Mandela has been my hero since I was young."
ThaiHealth has a broad mandate but its main focuses are alcohol control, tobacco control, road safety and disaster management, healthy diets and physical activity. The foundation funds over 3000 related programs in 15 priority areas.
Consistent with WHO's healthy settings approach, ThaiHealth promotes health in communities, workplaces, schools and families. It also places high importance on contributing to better health among vulnerable populations.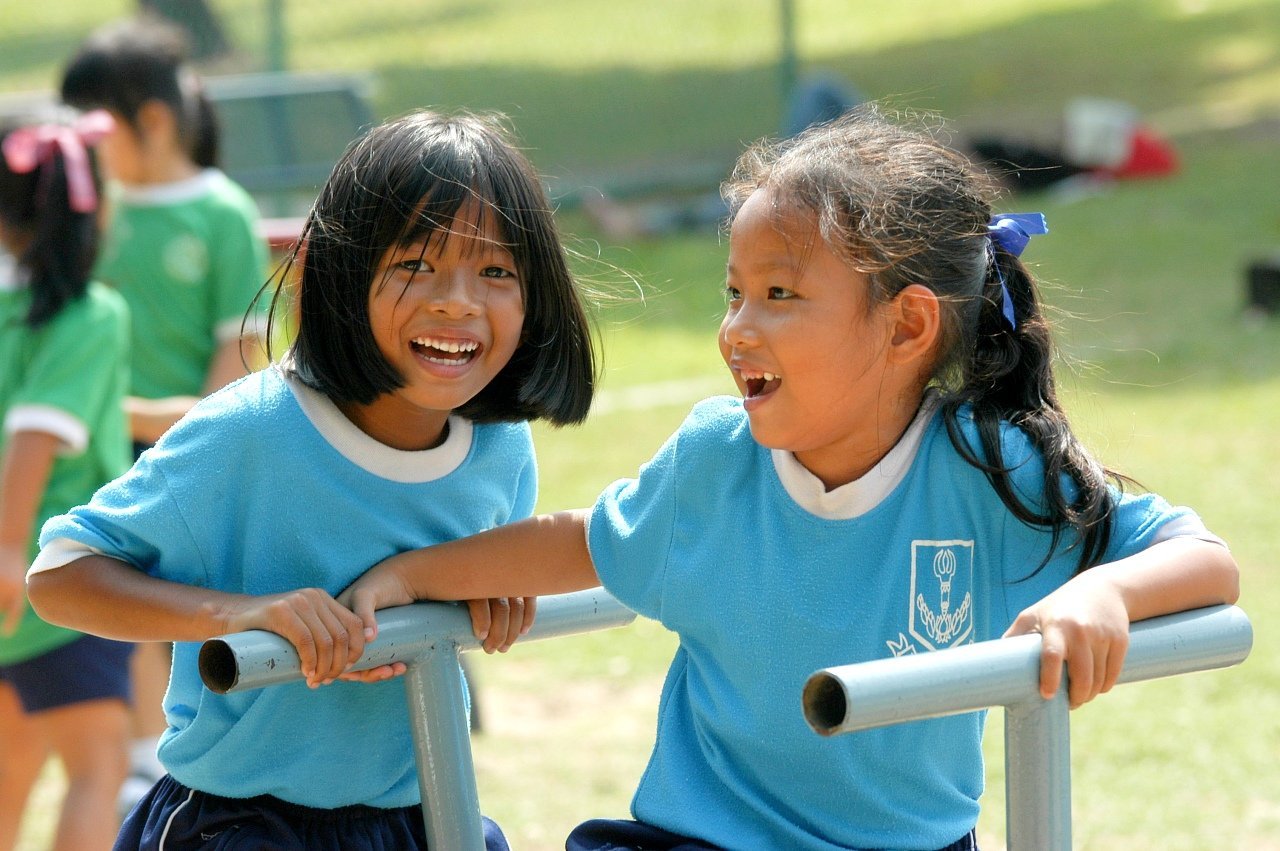 School kids are enjoying active play time, promoted under the ThaiHealth's Active Play campaign. Location: Outside of Bangkok, Thailand / Picture Credit: Thai Health Promotion Foundation.
The foundation's work has contributed to a two-thirds reduction in dangerous alcohol consumption over the past decade and has improved workplace health at over 20 000 public and private organizations. It has also helped over 5000 disabled individuals find employment in addition to many other achievements.
Dr Adulyanon added that ThaiHealth has contributed to a significant shift in social norms, which has helped build a healthier and more inclusive society in recent years.
Collaboration as innovation
One secret to ThaiHealth's success has been its innovative approach to working with partners from across society, according to Dr Adulyanon. Over 20 000 multisectoral partners have joined the foundation, which the doctor describes as  an "innovative enabler".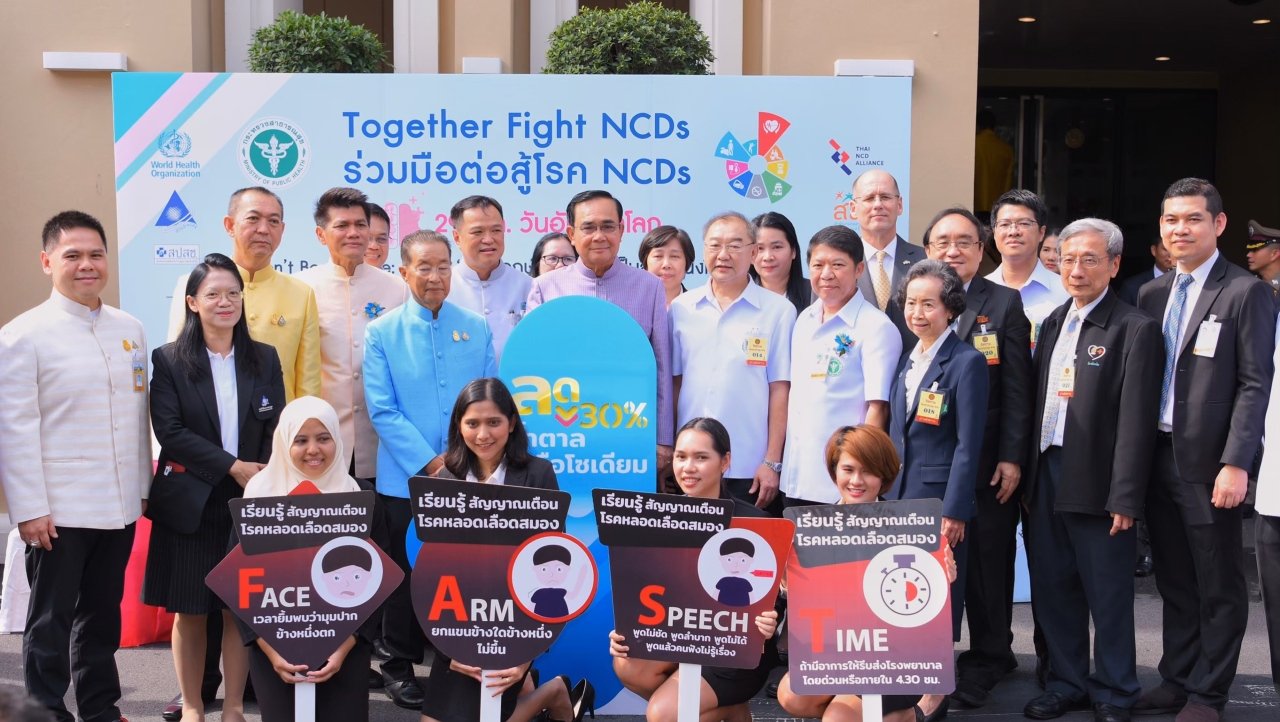 Launching the "Together Fight NCDs" campaign on 29 October 2020, presided by Prime Minister H.E. Prayut Chan-o-cha (center in dark blue shirt) together with Deputy Prime Minister and Minister of Public Health H.E. Anutin Charnvirakul (left of the PM), several cabinet members, representatives from national health agencies (e.g. Ministry of Public Health, ThaiHealth, Health System Research Institute) and relevant partners. Location: The Government House, Bangkok, Thailand / Picture Credit: Department of Disease Control, Ministry of Public Health, Thailand.
The foundation works with the government but also outside traditional governmental circles including with civil society, academics and local authorities to bring sectors together to make communities the "owners of their own health," said Dr Adulyanon.
"With a crisis there comes an opportunity"
After 20 years of hard work, the crisis of a lifetime, COVID-19, presented ThaiHealth with some unique challenges. Dr Adulyanon and the team stood up to the challenge, although the foundation's revenues were reduced, and social restrictions cut down the amount of time its workers could spend promoting health in communities. Taking on the role of managing risk communications in support of the government during the pandemic helped ThaiHealth reflect on and elaborate a "new normal" approach. The foundation has helped people realize that healthy lifestyles are the key to resilience in the fight against COVID-19 but also many other health threats. Health promotion is about improving health across generations, not just during emergencies, but COVID-19 might help drive the message home.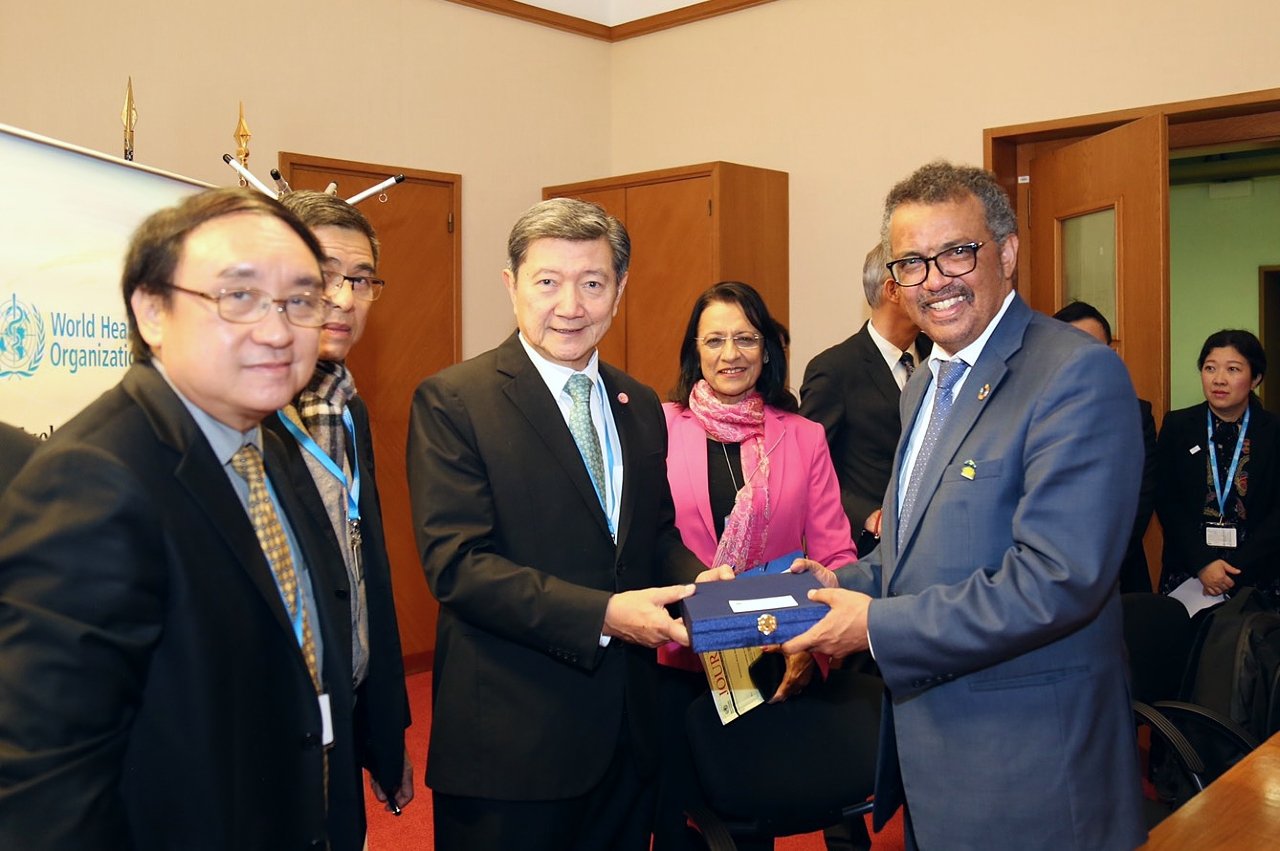 WHO DG Dr Tedros Adhanom Ghebreyesus (right), WHO RD for South-East Asia Dr Poonam Khetrapal Singh (2nd from right), Thailand Public Health Minister Prof. Dr Piyasakol Sakolsatayadorn (center), Advisor to the Ministry of Public Health Dr Suwit Wibulpolprasert (2nd from left) and ThaiHealth CEO Dr Supreda Adulyanon (left) at the agreement signing ceremony to extend the memorandum of understanding (MOU) between the Thai Health Promotion Foundation and the World Health Organization, 2018. Location: Palais des Nations, Geneva. / Picture Credit: Thai Health Promotion Foundation.
Reflecting on how WHO has contributed to his foundation's mission, Dr Adulyanon was clear that the Organization has been a longstanding strategic partner to ThaiHealth. In addition to creating a valuable network and being a source of learning, ThaiHealth uses many of the organization's technical reports as "backbones" for its work.
Summing up his gratitude for being presented with the Nelson Mandela Award for Health Promotion, Dr Adulyanon said: "I know health promotion is not the best buy in politics but health promotion is of the utmost importance. Our achievements are the result of the hard work of all of our partners whose hands, heads and hearts have helped us make it happen".
Dr Zwelini Mkhize delivered the award on behalf of the South Africa Mandela Foundation. ThaiHealth's achievement reflects Nelson Mandela's belief that "health cannot be a question of income, it is a fundamental human right," he said. ThaiHealth's contribution to health promotion contributes to "all people living in Thailand having the capability to live in a society and environment conducive to good health".
source: World Health Organization
rn