ROAD SAFETY AND DISASTER MANAGEMENT PLAN
ROAD SAFETY AND DISASTER MANAGEMENT PLAN
          Information about traffic accidents from the Royal Thai Police indicated that the number of traffic fatalities decreased from 14,012 in 2003 to 7,338 in 2013. Motorcyclists face a higher risk of traffic fatalities than automobile drivers 3.4 times because motorcycles are more vulnerable vehicles. Main risk behaviors include lack of helmet use, driving while intoxicated, driving into oncoming traffic, and running red lights.
 


          Aside from motorcycles, the next highest risk of traffic accidents are among personal automobiles and public transportation vehicles. The main causes of traffic accidents for these vehicles are driving above the speed limit, passing at close quarters, driving while tired, driving while intoxicated, and faulty vehicle equipment. Lax enforcement of traffic laws was also identified as an important risk factor for traffic accidents.
1) Development of Policies and Creation of Joint Targets



1.1 Support to efficiently drive work under the five pillars of the United Nations Decade of Action for Road Safety Plan and the Road Safety Center's Decade of Action for Road Safety Framework.




1.2 Cooperation on joint investments for road safety by both the public and private sectors.




1.3 Policies and advocacy to systematically control road safety and reduce risk behavior.




1.4 Institutionalization of road safety work in Thailand, to create sustainable policy frameworks.
2) Civil Society Networks and Public Relation Campaigns



2.1 Cooperation with the business sector, local administrative organizations, foundations, and the civil society sector.




2.2 Knowledge development for the media, and cooperation with mass communication institutions.




2.3 Public relation campaigns on road safety issues.
3) Framework and Integration at the Local Area Level
3.1 Support the creation of change agents for road safety to stimulate knowledge management, link networks, and drive local and national plans.




3.2 Creation of model road safety practices at the local area level.




3.3 Development of models and mechanisms to strengthen road safety management at various levels.




3.4 Development of knowledge sets from lessons learned.
4) Development of Information and Communication Technology Systems and Management of Traffic Accident Knowledge
4.1 Creation of information systems and monitoring mechanisms to supervise work implementation according to the five pillars of the Decade of Action for Road Safety Plan Framework.




4.2 Monitoring mechanisms for the academic and civil society sectors.




4.3 Transfer of academic research to local areas.




4.4 Knowledge management, mass communications, and communication benefiting specific target groups.




4.5 Development of institutes to manage road safety knowledge.
5) Disaster Management
5.1 Creation of a Center for Disaster Management.
5.2 Strengthen local areas, and create pilot studies where communities and networks are capable of managing disasters.
5.3 Knowledge development sets based on lessons learned
ROAD SAFETY AND DISASTER MANAGEMENT PLAN ​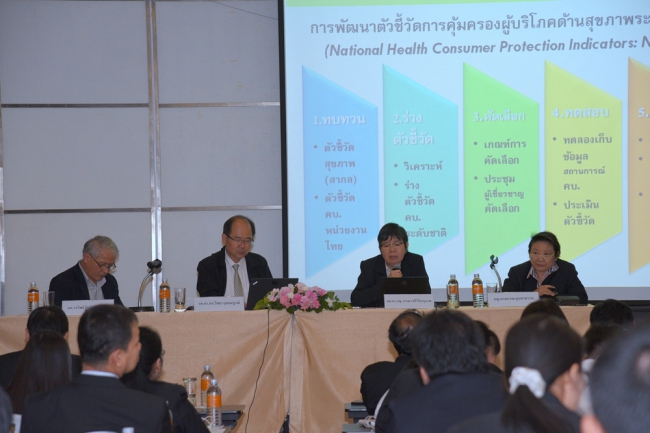 Amidst the large variety of consumer products, it is undeniable that there are products that are not safe hidden somewhere. It's a risk that consumers have to face, or even take health risk. The Health Consumer Protection Programme (HCPP), Chulalongkorn University, under academic collaboration of Thai Health Promotion Foundation (ThaiHealth) has released the "National Indicator of Health Consumer Protection" to assess the current situation and to be guidelines for the consumer protection system in Thailand. In the recent first National Consumer Council of Thailand, Dr Wanna Sriviriyanuparp, HCPP Deputy Manager, said that the National Indicator of Health Consumer Protection in 2014 discovered that 79.8% of consumers in Thailand are having good knowledge about health consumer products. They can choose by themselves to purchase and consume products that are in good quality and up to the safety and other standards. 89.3% of the samples are having fair knowledge about health consumer products. Furthermore, the indicator also found that 65.5% have been found to consume food with high fat content; 49.6% have been found to drink soda pops, and sweet beverages; 35.5% have been found to consume crispy snacks. In general, the indicator found that consumers knew well how to protect their own rights when they had problems about consumer products, as 77.3% of the samples have been...