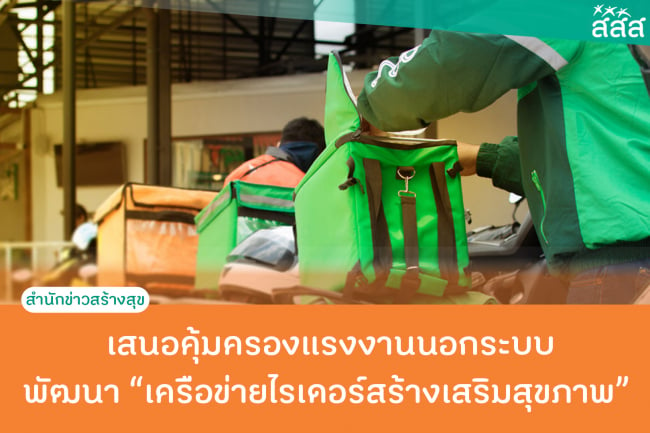 Delivery riders' health to be covered by informal workers' health promotion network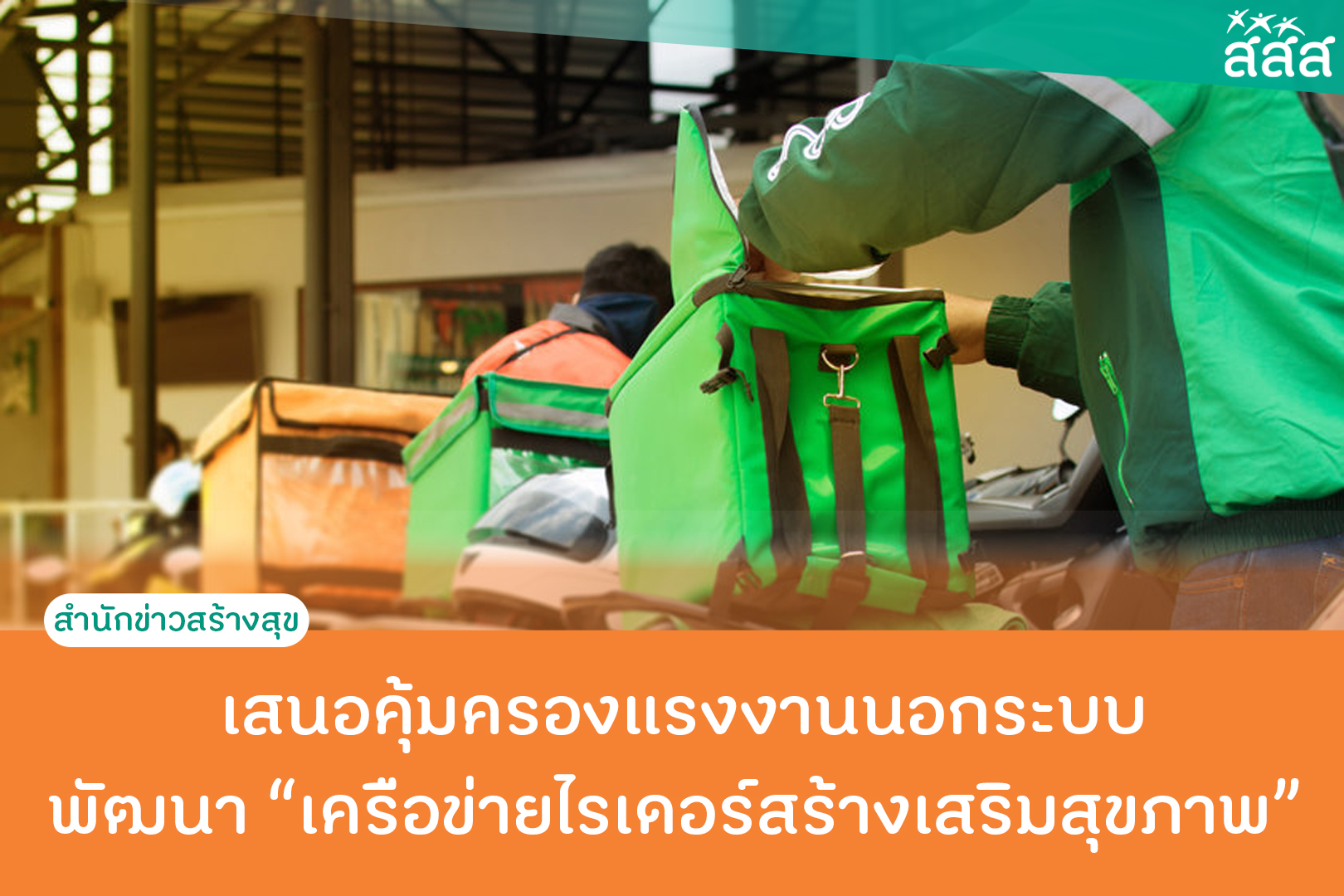 The Thai Health Promotion Foundation (ThaiHealth) has joined hands with the Ministry of Labour and LINEMAN in the setting up of a delivery rider health promotion network in an effort to incubate community leaders for a healthy environment among the freelancers and to develop healthcare guidelines to achieve equilibrium in health.
ThaiHealth's Director of Health Promotion for Vulnerable Populations, Mrs. Porranee Poobrasert, said that following a career style that has changed greatly and the importance of health promotion, ThaiHealth is planning to improve the life quality of informal workers by working alongside the Ministry of Labour to assess the career situation of informal workers.
The coalition has appointed Dr Thani Chaiwat from Chulalongkorn University's Faculty of Economics to assess the situation and draft up a "Fair Work" policy proposal in order to protect Thailand's informal workers in 3 areas:

1) Policy proposals for fair work and agreement, the enforcement of fair contracts or agreements, the establishment and a release of Fair Work Standards to promote operational and financial literacy of informal workers.
2) Policy proposals of Fair Reward for platform worker welfare fund, establishing a minimum hourly wage standard, measures to protect platform workers or other types of informal workers, especially workers who are in similar occupations in the future.
3) Policy proposals for fair competition including the promotion of digital governance in the platform and fair competition in the market, by which The Ministry of Labour is set to consider the amendment of regulations under the Informal Workers Protection Act. The new set of regulations is expected to be enforced next year.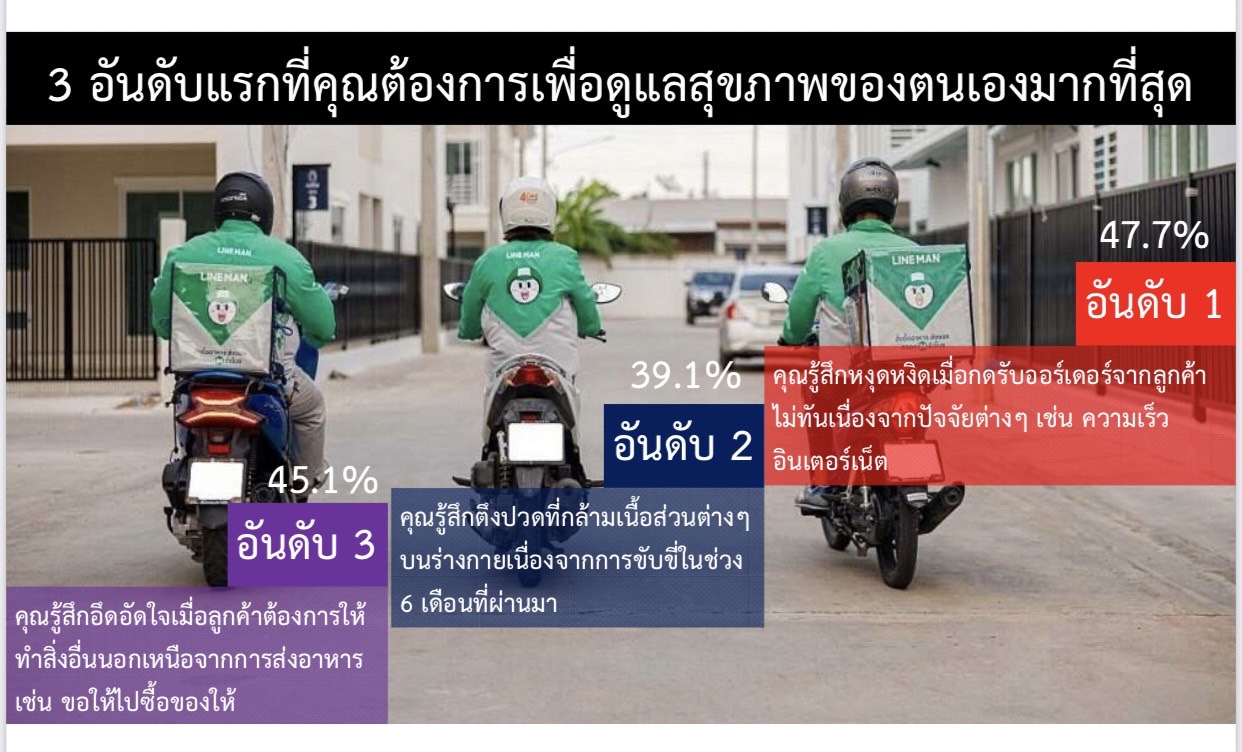 Mrs. Porranee also added that these platform workers, casually called "riders" or "delivery workers", are independent occupations whose number has increased exponentially recently and health data of 518 riders from a sample group show 3 problems: 1) Physical health problems: back pain, waist pain, and wrist pain due to long hours of driving. 2) Risk of road accidents: these workers have to compete with the time of delivery. 3. Mental health problems: stress emerged during working with customers, shops and under changing weather conditions.
According to the recent survey, 87.5% reported no underlying disease and 12.5% reported at least one chronic disease — 24.2% blood pressure, 19.4% allergies, 6.5% asthma, 6.5% diabetes, and 4.8% suffering from problems caused by obesity which have a long-term impact on their quality of life.
Following the current situation among delivery riders, ThaiHealth and LINEMAN Wongnai Co., Ltd., are jointly working on an establishment of a "Health Promotion for Rider Network", incubating leaders out of workers from different areas to build a self-care support system, while developing a set of guidelines to improve the health of riders, and improve LINEMAN drivers' application as a tool to enhance health, which is expected to lead them to a change in riders' behaviour health-wise.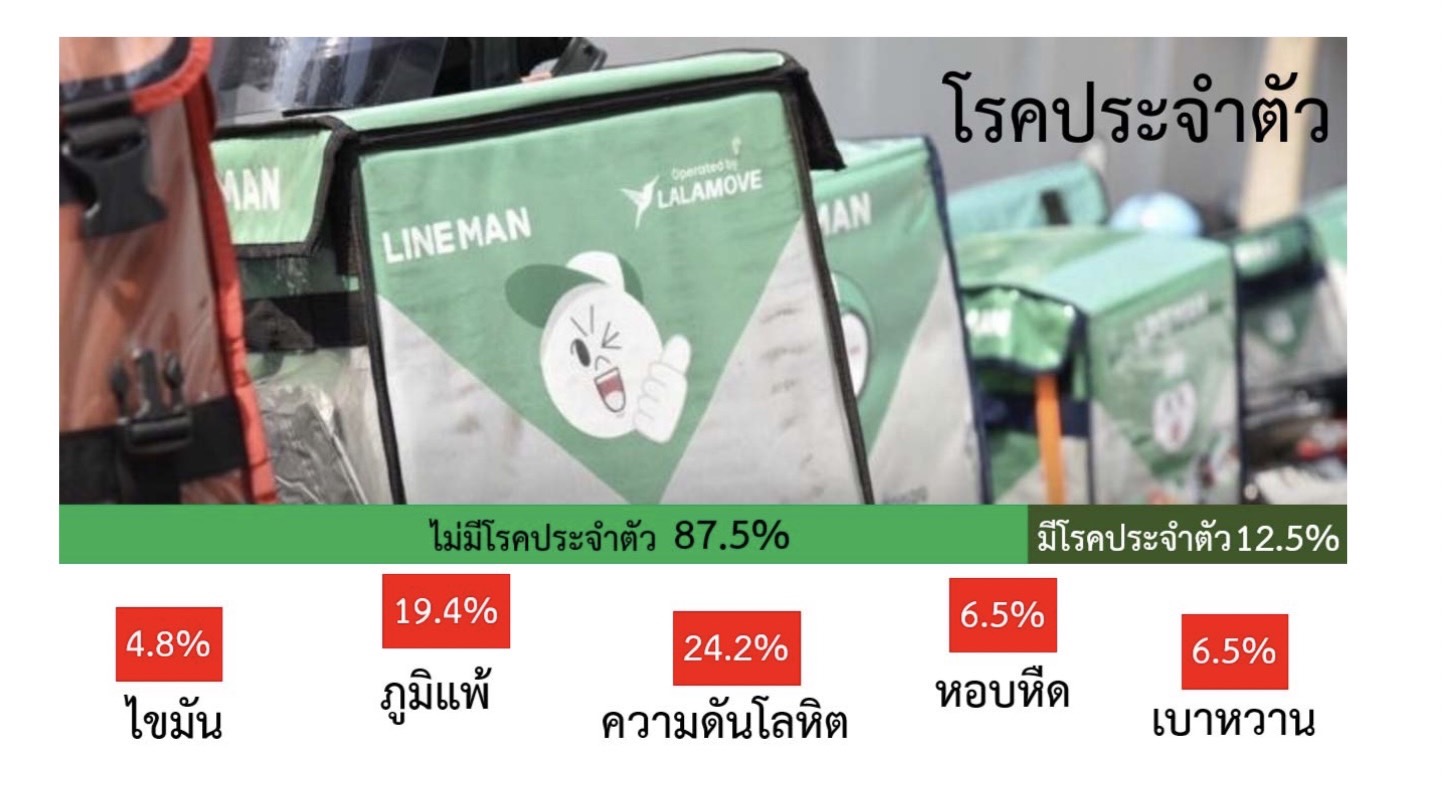 The application will also feature teach-yourself video clips introducing how to take care of oneself and how to exercise to reduce pain, information about traffic laws for safer driving, life and accident insurance, stress assessment, including an outlet for expression of feelings or discussing mental health issues via chatbot or psychological counsellor, so as to promote both physical and mental health among platform workers, said Mrs. Porranee.
rn