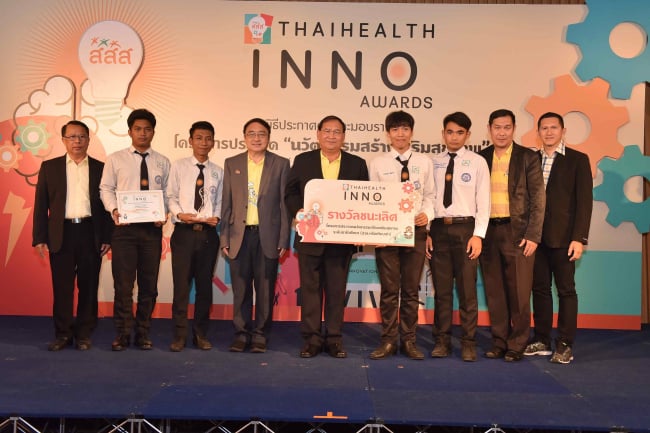 Innovation for health come true: Rubber guideposts on highways
From incessant creation of ideas, the final piece of innovative invention of "rubber road guideposts" by fantastic-four students at Surat Thani Technical College – the innovation has won the first prize at ThaiHealth INNO Award – an award providing opportunities for secondary school and vocational college students who create innovative works to promote health – has finally been put to use by the government.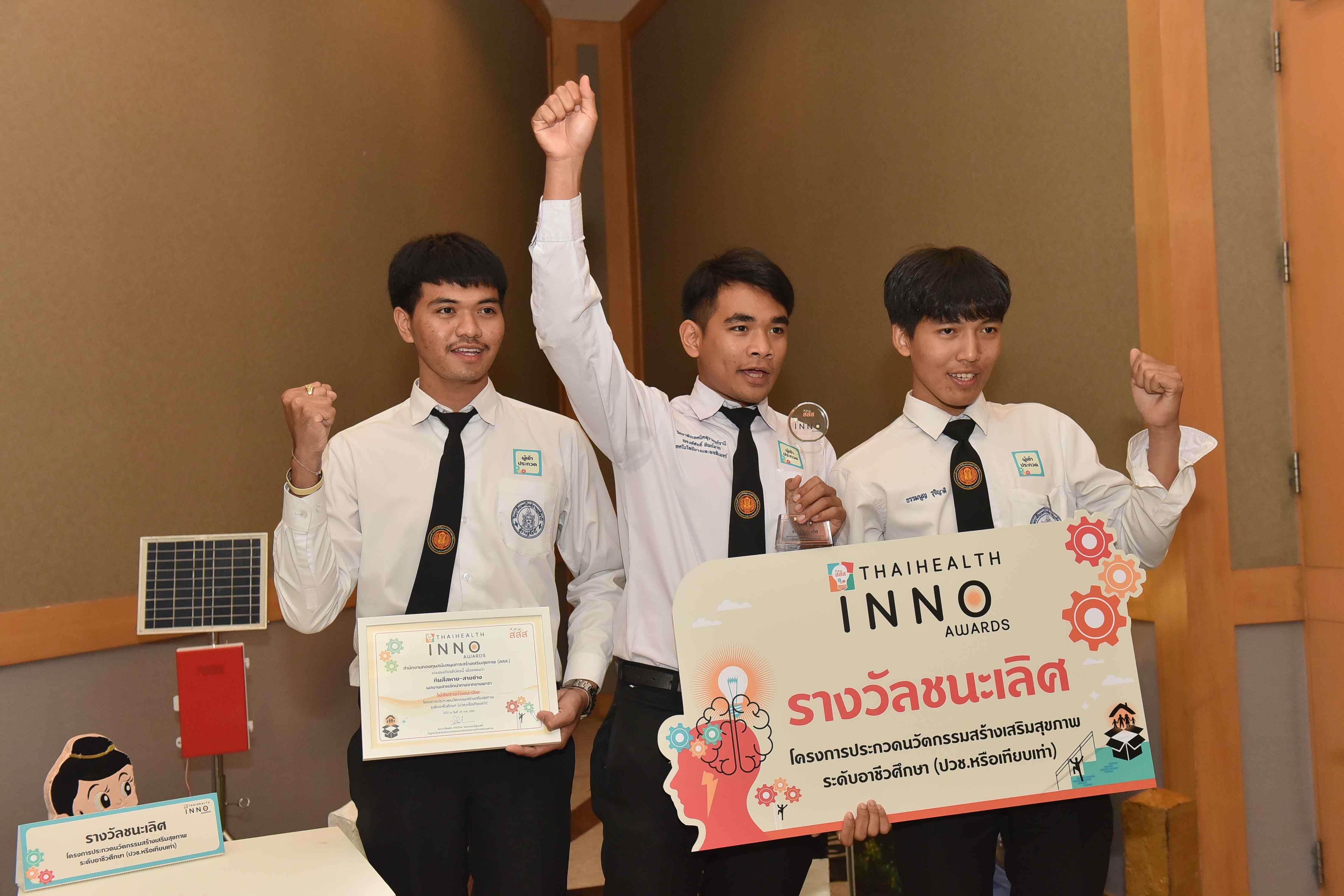 The Department of Rural Roads, Ministry of Transport, organized a press conference on May 20, 2020 on the nationwide change of highway barrier posts into rubber following recent Ministry of Transport policy. Under the project, a total of 700,000 posts will be changed within the year 2022, with preliminary 200,000 posts to be changed within this year. The move is believed to minimise damages caused by road accidents of skidding or crashing into concrete posts, which lead to loss of life.
The move to change highway concrete guideposts into rubber is not only an effort to reduce loss of life and damage caused by road accidents, but also a push to increase the use of locally made rubber in the country and to help rubber planters to have better quality of life. Another advantage to the change is the price; as the production cost of a rubber guidepost is greatly cheaper than the concrete counterpart. The production and installation cost of one rubber guidepost is 2,500 baht. With a total of 14 pieces to install per curve, the cost for one curve will be around 35,000 baht only.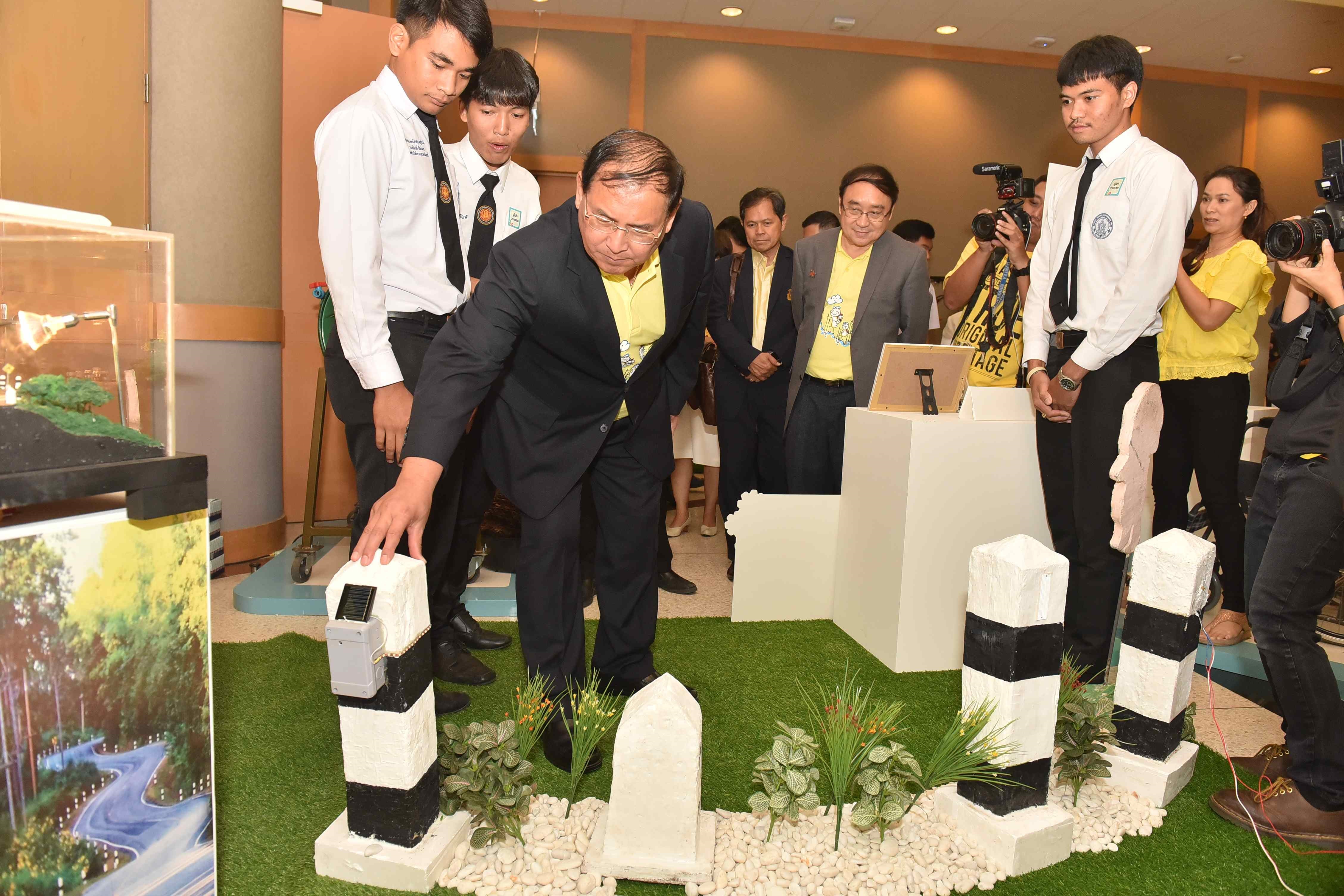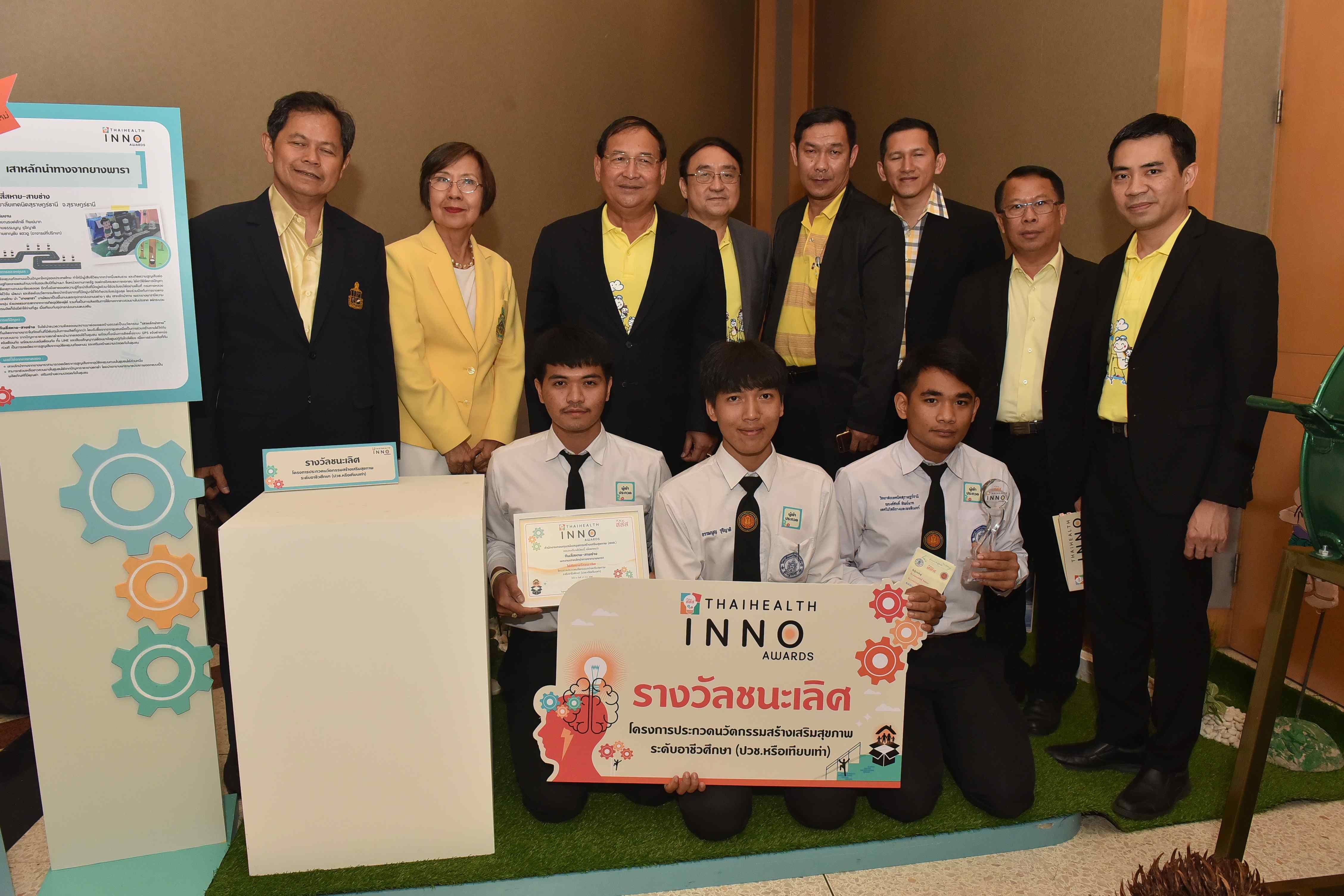 As the owner of the idea, Mr Chanchai Hwae-oo, advisor to the team of four students from Surat Thani Technical College, express gratitude to ThaiHealth's innovation contest, ThaiHealth Inno Awards,  for an opportunity to show off their potential in helping the society and the agricultural sector, saying that it is a pride that the invention that the team did catch the interest of the public and private sectors, and that the final product sees the intended value of this innovation.
"Upon receiving the first prize from the first ThaiHealth INNO Awards, we came back to think further about creating another innovation by mixing the existing rubber guidepost with locally found materials. With an ingredient of 50% fresh latex, we also thought about sawdust, coconut fibre, dried hyacinth, dried palm leaves, or even plastic bags of which the existence is of no good to the community. We also embedded a motion sensor and global positioning system in a guidepost in order to send a distress signal to the control tower when an accident occurs so that the centre would know the exact time and position of the incident. This is just what we have designed but in reality we may need not to go such length to implement everything at this stage."
We also organise training sessions for communities in Tha Chana district so that the villagers can produce their own rubber guideposts for their own communities with support from Surat Thani governor, Rubber Planters' Cooperative, and Surat Thani Highway District director who piloted this project in highways in Kanchanadit district. After the training, the students thought further that we should be able to make better use of rubber by producing rubber road barriers in order to reduce the shocks, damage, and severity of car accidents. In the future, there may be additional product design ideas for safety equipment that is made from rubber, for example, curve road barrier, which is now in the process of trial and finding the exact proportion of ingredients," said Mr Chanchai.
Representative of the fantastic four – Thammanoon "Rang" Rujiyat – who is in his second year at Surat Thani Technical College wishing to continue his studies at the Faculty of Technical Education at King Mongkut's University of Technology at North Bangkok Campus, said that he was delighted to have hear about Department of Highways realising the benefits of his team's invention for the sake of road safety. And thanks to the first ThaiHealth INNO Awards for educating the team about "Innovation For Health".
"Before this, I hadn't had a clear explanation about Innovation for Health. But now that I've participated in this contest, I think I've become more mature, with more strength and knowledge to change and develop our own works. We are in the process of developingother pieces of health-related innovations, such as rubber road barriers to help reduce fatality and damages while they give the same benefits as rubber guideposts.
"I am glad that our innovations really work out to help solve problems in our community, promote good health and quality of life, and promote the local economy at the same time by generating extra income for agriculturists. In addition, I strongly believe that ThaiHealth's innovation contest of INNO Award will be a good stage for students in vocational colleges to demonstrate their potential, create and develop innovations that are feasible for use in real-life situations," said Thammanoon.
This has been another good example for health-related innovations that are used to sustainably address health problems in communities across Thailand.