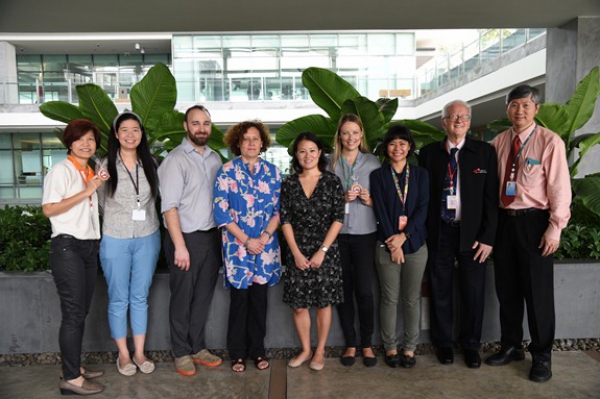 "WORLD LUNG" ENCOURAGES THAIHEALTH TO STEP FORWARD ON PROACTIVE MEDIA CAMPAIGNS
"WORLD LUNG" ENCOURAGES THAIHEALTH TO STEP FORWARD ON PROACTIVE MEDIA CAMPAIGNS
        The World Lung Foundation encourages the Thai Health Promotion Foundation (ThaiHealth) to launch more media approaches in an effort to change public behaviour, and enhance proactive health promotion endeavour.
        ThaiHealth welcomed a delegation of representatives from the World Lung Foundation, led by Mr Stephen Hamill, Director of Advocacy and Communications; Mrs Sandra Mullin, Senior Vice President for Policy and Communications; and Mrs Mego Lien, Programs Manager for Policy and Communications. The two health counterparts participated in a joint workshop with ThaiHealth's Marketing Communications Office to exchange information on creations of campaign media approaches to convince the Thai society to improve their health risk behaviours.
        Regarding strategic communication campaigns, Mrs Sandra Mullin said that ThaiHealth should, firstly, create their media campaign to reflect the true understanding about each problem or issue and communicate directly to the targeted group. Secondly, despite limited budget and resources, it should consider using the most appropriate communication channels in return for maximised results.
        "The message included in the campaign should be simple but direct, in order to efficiently attract the targeted audience to realise the matter. This step can be concluded only when we have complete understanding about who we are directing our message to. Once we know exactly who they are, the message will go through to the targeted audience effectively."
rn         For this particular type of message, the S.M.A.R.T strategic communication plan has been recommended, which are Specific, Measurable, Achievable, Relevant, and Time-bound.
        Md Dr Bundit Sornpaisarn, ThaiHealth's Director of Major Risk Factors Control Section, revealed that ThaiHealth has always been using the path of media communicative approaches. This workshop is deemed a new platform of cooperation to the betterment of strategic ideas, to prompt ThaiHealth to step further to maximise the use of media in its future campaigns.
        "The important step for this mission of media campaign creation from now on is to better implement the triangular process of symbiotic interaction (a.k.a. triangle that moves the mountain) between creation of knowledge, social movement, and policy advocacy. ThaiHealth's goals for campaigns are 1) to persuade behaviour change, and 2) to support the policies crucial to drive the campaign forward to the goal. In the past, we have had a great success implementing the first, but we need to improve the latter, the policy-driven efforts," elaborated Md Dr Bundit.