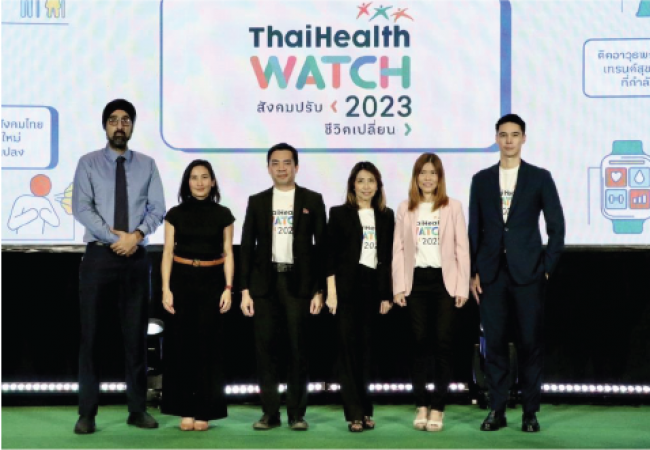 ThaiHealth launches "ThaiHealth Watch 2023" to closely monitor Thai people's weak points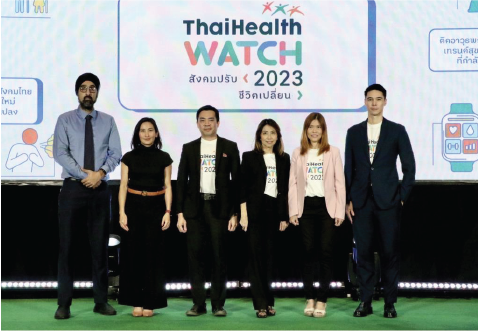 ThaiHealth Senior Vice President and Acting Director of ThaiHealth Learning Centre, Benjamaporn Limpisathian, has delivered a keynote speech at the launch of "ThaiHealth Watch 2023" to follow up on the direction of Thai people's health situation in the coming year of 2023. Themed "Changing Society, Changing Lives", the ThaiHealth Watch project aims to raise awareness among Thai people and promote behavioural development for their healthy futures.
Khun Benjamaporn said that ThaiHealth has joined forces with several academic networks to develop innovations under the ThaiHealth Watch project aiming at giving information and health risk factors that tend to emerge in the modern era. The "Changing Society, Changing Lives" concept is to promote behavioural changes among Thai people by reducing their own health risk factors and be ready to quickly cope with modern social situations with understanding, which will lead to a sustainable health society.
She also said that ThaiHealth Watch 2023 proudly presents 7 important health direction issues:
rn
Long-Covid Conditions: The viruses are gone but they've left something behind. Half of the people who got infected with coronavirus in any given time were found to have long-covid conditions. Worse, more than 1 out of 4 NCD patients are at high risk of affecting their mental health and lifestyles in the long run.

rn

Synergy is the Solution: When climate change is a real threat to human beings, more than 99% of people have to breathe polluted air, PM 2.5 dust particles, and nitrogen dioxide at a fatal level. These are the factors that result in more than one million deaths per year. The United States has predicted that in the next 80 years, the world will face stress caused by searing heat that affects human beings in all aspects.

rn

The Spreading Burnouts: How to regain happiness of both workers and organisations? The hybrid working culture has given 76% of company employees a psychological loneliness which caused a huge wave of resignations in every industry.

rn

Brace for Ageing Society: How ready are the elderly when Thailand enters the ageing society? In the next 5 years, Thailand will have more than 200,000 bedridden senior citizens and another 350,000 confined to their homes. On another level, it has been found that more than 60% of them are not financially ready for retirement. There has to be a promotion of well-being in all dimensions including finance, housing, care, in order to prepare for a quality retirement age.

rn

Unlocking Understanding: When Thailand decriminalised marijuana, Although 32% of Thai people were found to have an experience with marijuana through food, drink, and medicine; but they lack in-depth knowledge and understanding that cannabis has both pros and cons.

rn

E-cigarettes among vulnerable groups: E-cigarettes are hidden dangers that come into the picture by misunderstandings. It has been found that youngsters receive online information about 3 times per week on average. They are the group that needs close eyes and care to prevent the increase of the number of new smokers.

rn

New Dimension of Health Promotion: As the world enters the digital age, 86.16% of Thais find that the most popular online activity is booking a consultation session with doctors. ThaiHealth now sees the benefits of using digital technology on various platforms. The project will commence collaboration of network partners to develop innovations to upgrade health-related knowledge online. ThaiHealth is combining games with the metaverse technology, creating the Empower Living website to empower the well-being of vulnerable groups. Also, the Persona Health app, a recently developed mobile app creates a health ecosystem that supports all groups of people with an aim of enhancing individual health knowledge.

rn
The general public can learn more on the Facebook page of the Health and Wellness Learning Centre, and can download the information from website resourcecenter.thaihealth.co.th/thaihealth-watch .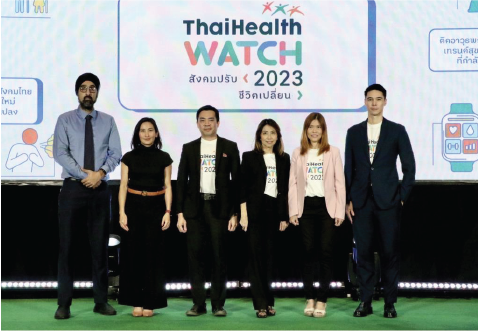 ​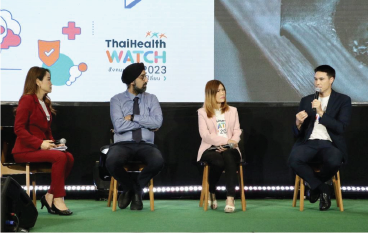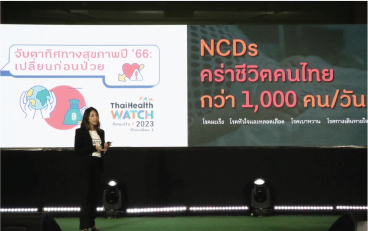 rn