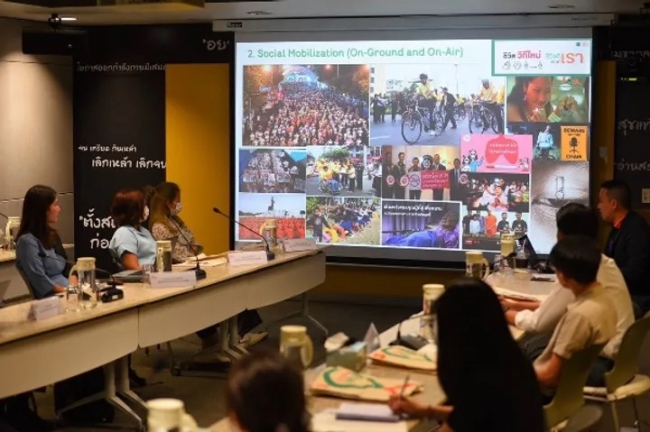 ThaiHealth joins forces with Laos and Vietnam to push health promotion laws
Thai Health Promotion Foundation (ThaiHealth) has joined forces with civil societies from Laos, Vietnam, and IOGT-NTO alcohol policy movement organisation of Sweden, to develop innovative fiscal and monetary mechanisms under the effort to push forward towards a legislation of health promotion laws to reduce risk factors.
ThaiHealth, the Promotion of Family Health Association from Lao People's Democratic Republic, and the Research and Training Centre for Community Development (RTCCD) from Vietnam within the IOGT-NTO Movement network, recently conducted a study tour to Thailand's model organisation for health promotion on October 25, 2022.
Director of ThaiHealth's Partnership and International Relations Section, Dr Nuttapun Supaka, said that the country's policy to concretely promote health by setting up the independent Thai Health Promotion Foundation which receives a budget from 2% of excise tax collected from alcoholic beverage and tobacco sales according to the principle that requires people who buy alcohol and tobacco to pay taxes themselves. This is considered a suitable and innovative financial mechanism for health promotion and academic assistance. ThaiHealth's practices can be employed in relatively low-to-middle-income countries in setting up health promotion funds that reflect the benefits for all parties without affecting the federal budget which must be prioritised in other projects to be spent in developing the country in other aspects.
Dr Nuttapun further explained that in the past, ThaiHealth has joined forces with its network partners to push for the creation of a social system that supports good health by building strength in health promotion, especially the control of alcohol consumption to reduce the burden of the country on social and economic caused by chronic non-communicable diseases (NCDs), which is a group of diseases that Thai people suffer and die from the most. This particular social system can also reduce many other social problems such as road accidents and domestic violence.
"I am very pleased that the international alcohol control organisation, the IOGT-NTO Movement, has come to show support to the movement of work from our neighbouring countries such as Lao People's Democratic Republic and Vietnam. They have requested a study tour to Thailand as ThaiHealth is known far and wide as a model organisation for sustainable fiscal and financial innovation for health promotion, including its outstanding practices in the control of alcohol consumption and the driving of social well-being in the entirety of the Thai healthcare foundation," said Dr Nathaphan.
Project Coordinator from the Promotion of Family Health Association (PFHA.BK) from Laos, Mr Sanou Sengkhameuay, said that he has been aware of the reputation of Thailand's ThaiHealth because ThaiHealth has been seen highly in the media because many Lao people watch Thai television channels. The fact that ThaiHealth advertises on Thai television channels allows Lao people to learn about health promotion and the risk factors caused by alcoholic beverages as well. As there is no such thing as a health promotion organisation in Laos, the study tour has given me a great deal of knowledge such as alcohol control laws, community campaigns for alcohol, movement of changes in social values, project to prevent new drinkers, especially among youngsters in communities, schools, and child care centres.
He also saw the pride and happiness from those who successfully quit drinking in "Khon Jai Phet", the community joining hands to solve problems by persuading, helping, and cheering up for people who struggle to quit drinking. He also learnt of the project's expansion to community economic development as seen in Nong Song Hong community of Samut Sakhon, Khlong Dan community of Samut Prakan, and YSDN community of Chonburi, where not only health problems are address, but other problems such as economic issues, employment, livelihood, family strength, participation of youngsters are also touched and looked at effectively.
"I am very happy to have learnt the work of the StopDrink Network and ThaiHealth, including so many other projects that can be applied and used in my country," said Mr Sanou.
Project Manager from the Research and Training Centre for Community Development (RTCCD) of Vietnam, Ms Nguyễn Hồng Hạnh, said that ThaiHealth is a good example of how to promote health systematically through the use of health excise taxes. There is such a system in Vietnam that focuses only on tobacco control but it does not cover other risk factors such as NCDs. The NCDs Vietnam Alliance has a plan to propose an amendment to the excise law so that it permits the earmarked budget to spend on prevention of NCDs. The fact that ThaiHealth has a great success in its ability to reduce alcohol and cigarette consumption and health risk factors will be good evidence that policymakers in Vietnam should be aware in order for the excise law amendment to be successful. Activities of educational institutions and civil society or a triangular approach of moving a mountain as coined by ThaiHealth will be a guideline for NCDs movement in Vietnam as it should increase cooperation with various sectors.
Manager of StopDrink Network, Mr Theera Vajarapranee, said that the 2014 World Health Organisation's study titled Global Status Report on Alcohol and Health in 2003-2005 indicated that Thailand had the highest per capita alcohol consumption rate of ASEAN countries at 6.8 litres of pure alcohol per person per year. However, the report in 2018 showing data from 2003 to 2017 found that Lao PDR had a higher drinking rate than Thailand at 10.4 litres of pure alcohol per person per year. The alcohol consumption in Vietnam was higher than the previous statistics, or 3.8 to 8.3 litres of pure alcohol per person per year, which is equal to the statistics collected in Thailand. At present, it can be seen that the increase in Thailand's alcohol consumption is not as high as in Laos and Vietnam.
WIth the presence of a health promotion organisation like ThaiHealth which supports the role of civil society, the government's alcohol control policies, and Thailand's strict alcohol control laws enforced since 2008, the situation of alcohol consumption in Thailand alleviated steadily. The study tour during October 17-27, 2002, where representatives from Lao PDR and Vietnam participated did not involve only an information exchange but the counterparts also tightened cooperation in closely monitoring the marketing situation of alcohol and tobacco businesses by campaigning together in the alcohol-free cultural events to create a non-drinking environments in ASEAN region.
rn