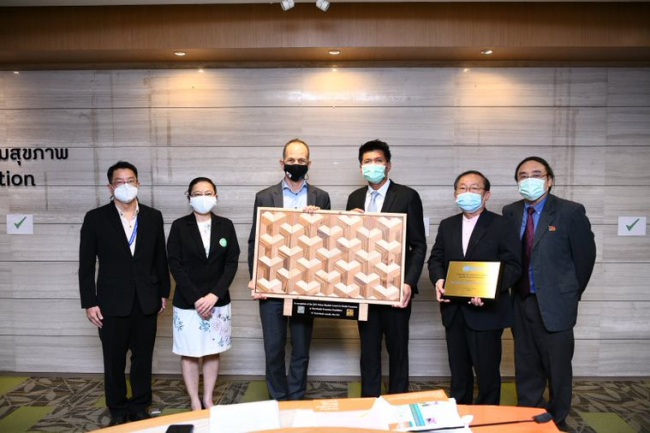 ThaiHealth awarded by WHO for its 2-decade work of promoting health for Thai people
The World Health Organisation (WHO), the Ministry of Public Health, and the International Health Policy Programme (IHPP) jointly bestowed the WHO award of appreciation to Thai Health Promotion Foundation (ThaiHealth) for its continuous work in promoting good health in Thailand.
Public Health Deputy Minister Satit Pitutecha in his capacity of the first Committee Vice Chairperson of the Thai Health Promotion Fund, has been presented with a plague of appreciation by the World Health Organisation's Thailand representative Dr Dániel Kertész, at ThaiHealth headquarters. The plague of appreciation was presented in the name of 3 agencies, namely the World Health Organisation Thailand Office, Ministry of Public Health's Global Health Division, and the International Health Policy Programme (IHPP) to celebrate the occasion of ThaiHealth recently receiving the Nelson Mandela Award.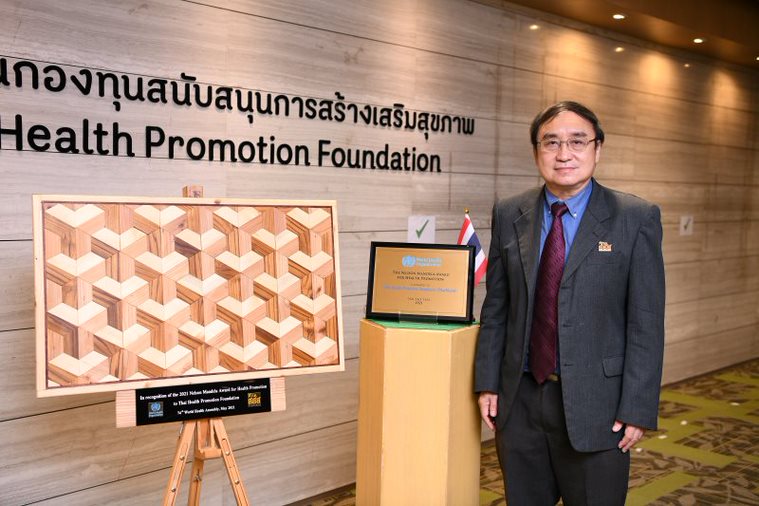 Dr Satit, as a representative appointed to officially receive the award, said that he was honoured and would like to congratulate ThaiHealth as one of the world's few organisations to have given this world-class award. He also expressed gratitude towards all relevant parties in and around ThaiHealth for their tireless work in developing and promoting public health in the past, in the present, and in the future.
Speaking about the Nelson Mandela award, Dr Kertész explained that the award is given to organisations that play crucial roles in the promotion of health, while praising ThaiHealth for their health promotion work over the past two decades with fruitful, international acceptance, and its continuous collaboration with the WHO in all aspects.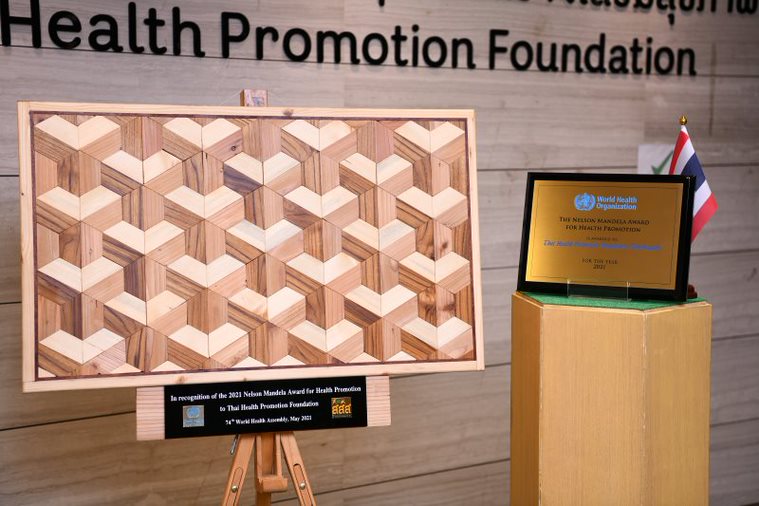 The special plague of appreciation is the brainchild of Advisor to the Ministry of Public Health's Permanent Secretary Office in International Affairs, Dr Viroj Tangcharoensathien. The award reflects the good work of ThaiHealth in mobilising its core value for the betterment of Thai societies health-wise, through public, academic, and policy sectors. The work also leads to Thai people's better health, which is in line with the top goal of the WHO.
On the receiving side, ThaiHealth CEO Dr Supreda Adulyanon, said he and his organisation was honoured and would like to express gratitude towards Ministry of Public Health's Global Health Division, WHO Thailand, and IHPP, for their nomination of ThaiHealth in the consideration of the award. The award is the token of appreciation of ThaiHealth's role in weaving Thailand's health promotion missions altogether with its strategic alliance for better physical and mental health among Thai people.
rn