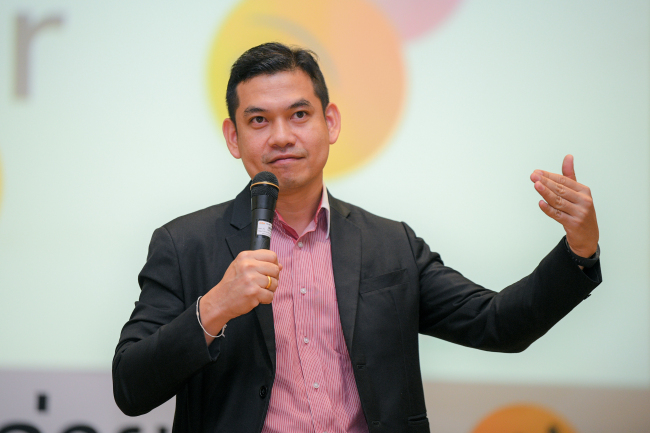 ThaiHealth launches Radio Programme to fight CoVid-19 in communities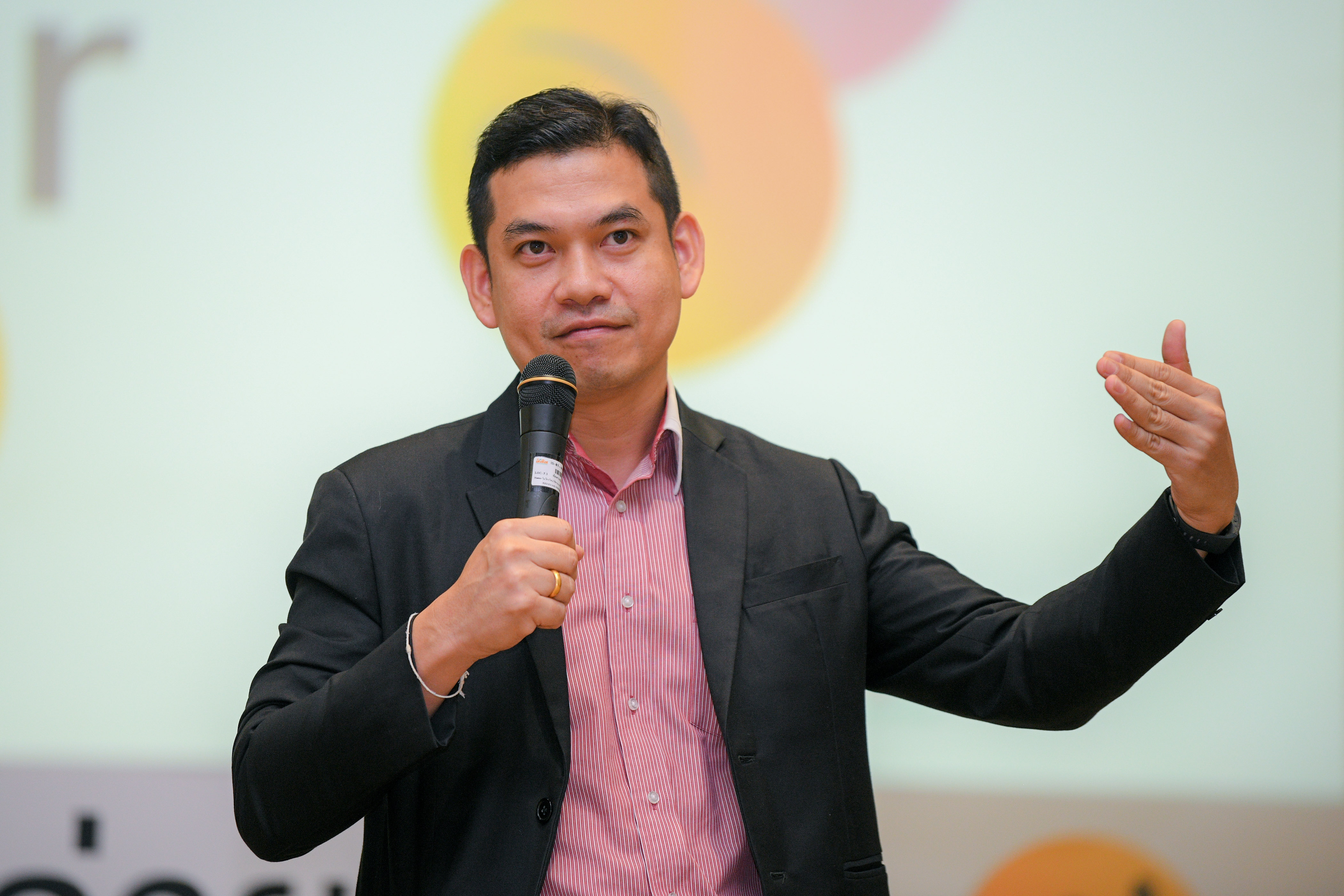 ThaiHealth, in collaboration with "White Radio" and "Community Radio" stations across the nation, has launched a special radio programme called Huajai Fu Su CoVid (lit. Puffed-up Heart in Fight Against CoVid-19) to share knowledge, help families and communities recover from the CoVid-19 situation, and prep them for the new lifestyles after CoVid-19.
ThaiHealth's Director of Healthy Lifestyle Promotion Section and Acting Director of Media System and Spiritual Health Promotion Section, Dr Phiroj Saonuam, said that  ThaiHealth's media system and spiritual health promotion aplan has been realigned during CoVid-19 outbreak situation by rushing to educate people through various channels. The organisation also incubated "Health Communicators" with proficiency in media usage and constructivism. These health communicators are selected radio announcers who are considered "change makers" that can support ThaiHealth's work on preventive and protective measures. They have been deployed into communities to help people develop their own solutions responsibly to problems in households, communities, and societies, which led to media literacy.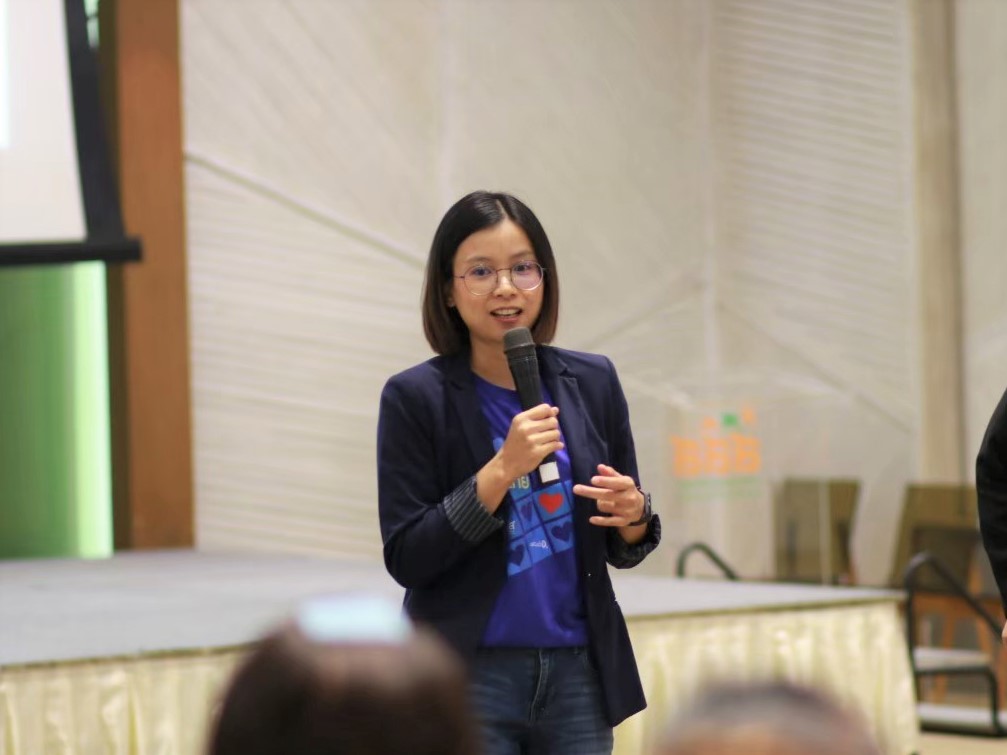 "Radio stations for children and family, as popularly known as White Radio, are responsible for reaching out to communities and educate listeners on knowledge concerning youth and families. The large network of more than 200 health communicators in more than 1,000 radio stations is believed to lubricate the mechanism of youth and family development, to transfer the up-to-dated and accurate information of CoVid-19, precautions to take, life choices, physical distancing, and the new normalcy of post-CoVid society, Dr Pairoj said.
dMs Chanthima Trilert, the Huajai Fu project manager said that ThaiHealth is pouring continuous support for this project through the White Radio – FM 105 Mhz – and has woven a larger network of over 200 health communicators in 42 provinces of Thailand. These network members are responsible for organising public relation activities in their respective areas, creating localised radio programmes, and broadcasting various programmes from the White Radio Central.
During CoVid-19 outbreak, the White Radio or FM 105 Mhz created a new emission called "The Family, Huajai Fu Su CoVid" in White Radio Central, while community radios in the network also created the parallel "Huajai Fu Su CoVid" emission. First broadcast on April 13, 2020, the programme makes the best use of information gathered from ThaiHealth's special CoVid mission website by underlining five important issues: media literacy, lifestyle, physical distancing, creating opportunities under crisis, and reduction of stress caused by the crisis. The radio programme also educates village leaders on administration under CoVid-19 situation, and on how to reduce the effect of emerging fake news. Several activities have also been organised, such as distribution of free face masks, CoVid-19 education, instructions on washing hands, filtering out fake news, disseminating correct information on health, with emphasis on elderly villagers.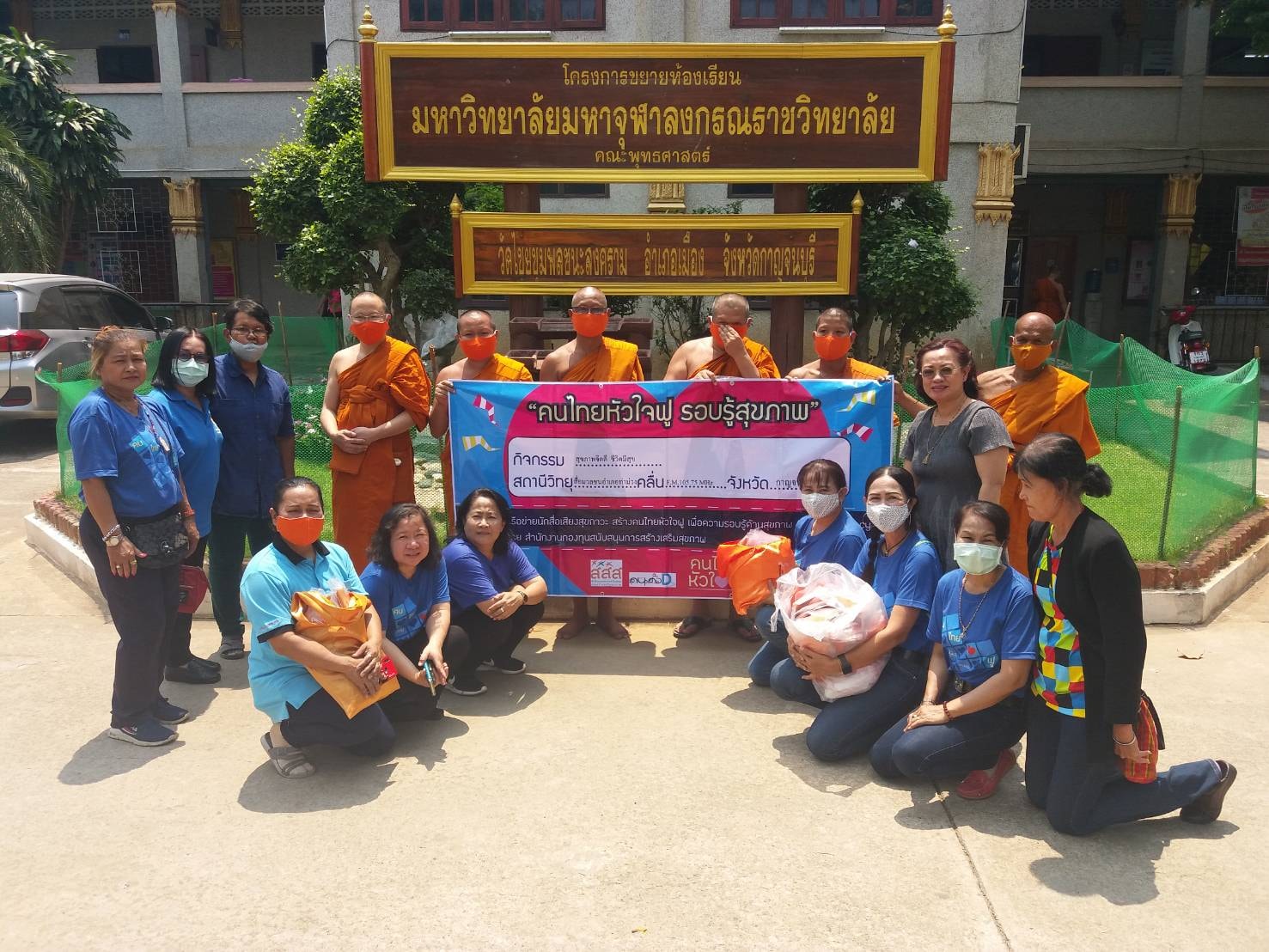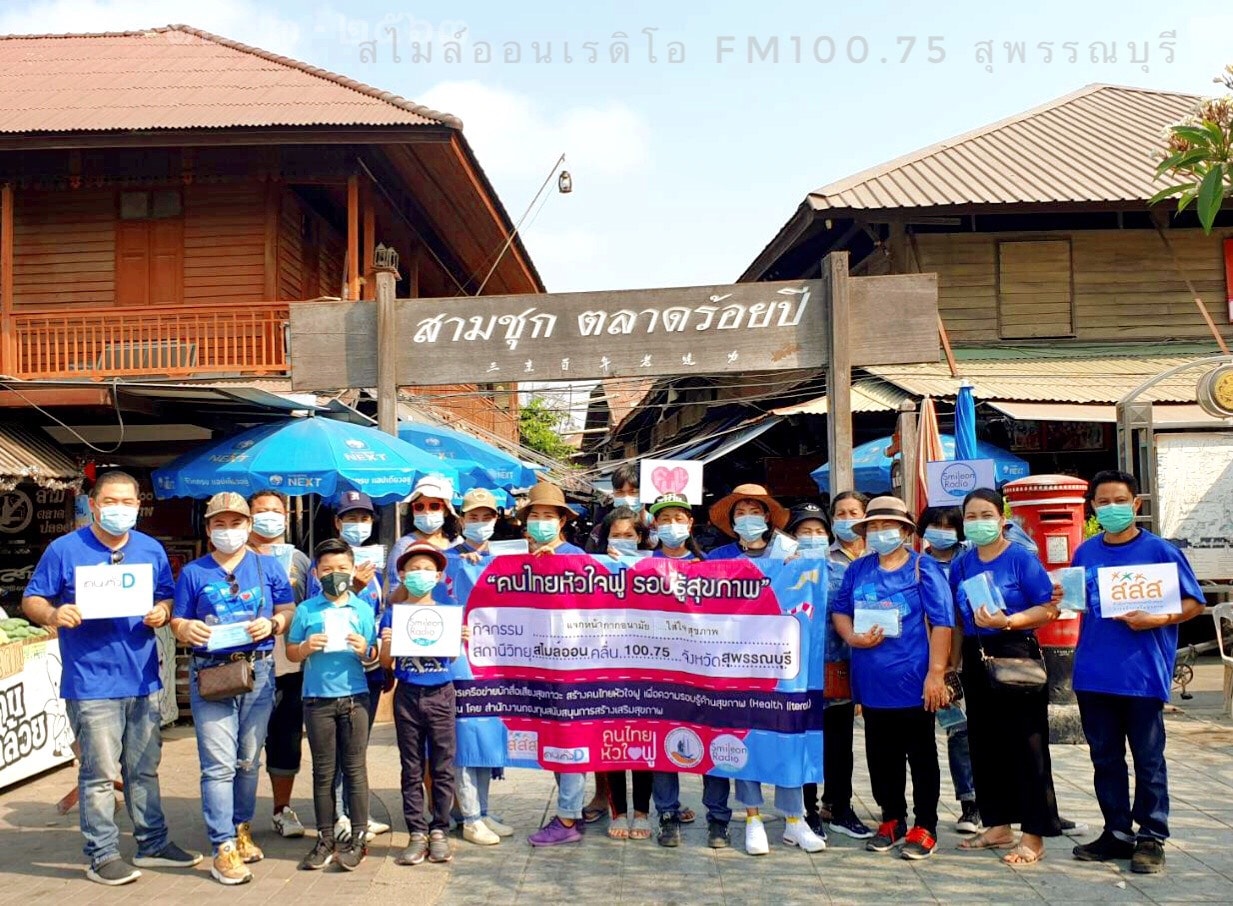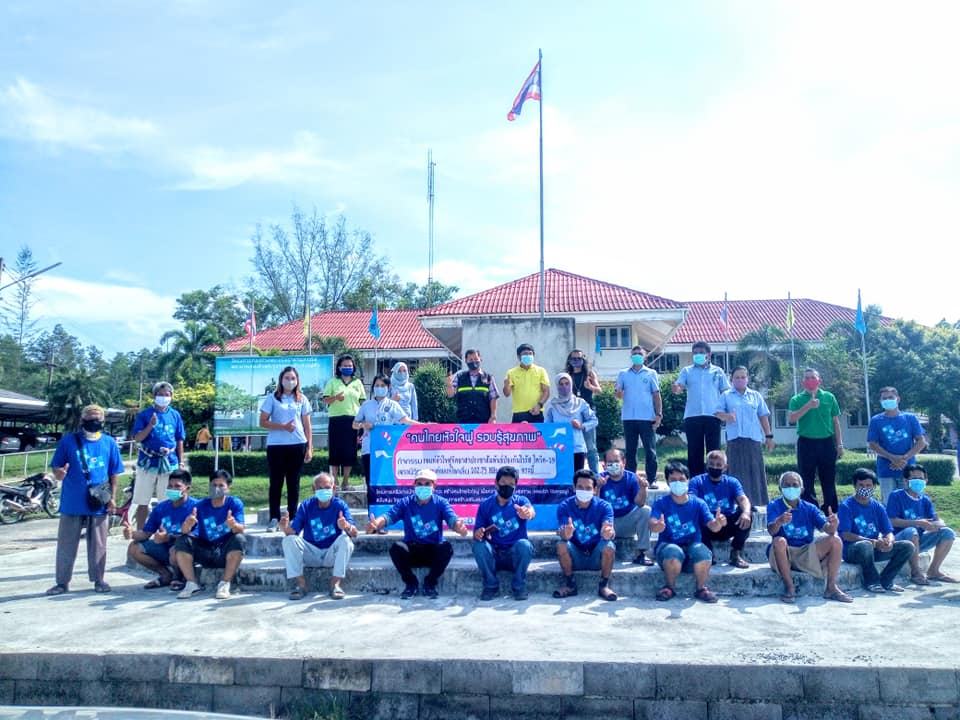 "When we landed in some of our first rural communities, they didn't even know what CoVid-19 was at the time. We were forced to readjust our operation by educating them first about CoVid-19. Then the villagers knew about the outbreak; they exhibited stress, worrying about how to make a living in the future. Thanks to health communicators, they asked for more information on how to alleviate their mental health issues so that they can use it on community radio programmes," said Ms Chanthima.
Radio announcer at Thong Thin Thai Kao Na Kumphawapi (Progressive Thai Local Radio of Kumphawapi) at FM 89.50 Mhz in Udon Thani province, Ms Praphaporn Sariwong, explained that, after villagers are well-informed about CoVid-19 and how to lead their lives, people began wearing face masks, wash hands. She also added that the radio network, local press and media, local government bodies, and provincial public health office were working in harmony in the fight against CoVid-19. As a member of Huajai Fu project, her radio station at FM 89.50 Udon Thani has adjusted planned programmes to educate listeners more about CoVid-19 by diffusing accurate and up-to-date information. The diffusion of information also includes communications over instant messaging and door-to-door education.