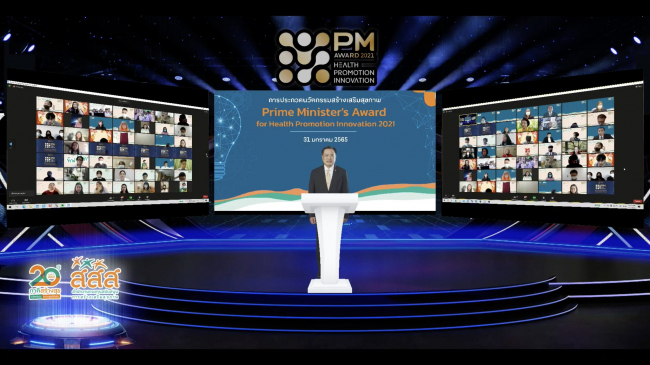 Thai students' innovative inventions win Prime Minister's Award for Health Promotion Innovation 2021
Deputy Prime Minister Anutin Charnvirakul has praised Thailand's next generation for their creativity in their inventions aimed at minimising health risk factors as Thai Health Promotion Foundation (ThaiHealth) announced the results of the Prime Minister's Award for Health Promotion Innovation 2021, with the top innovation awards going to a depression screening application for adolescents from International School Bangkok, and a helmet disinfecting machine from Navaminthrachuthit Vocational College Bangkok.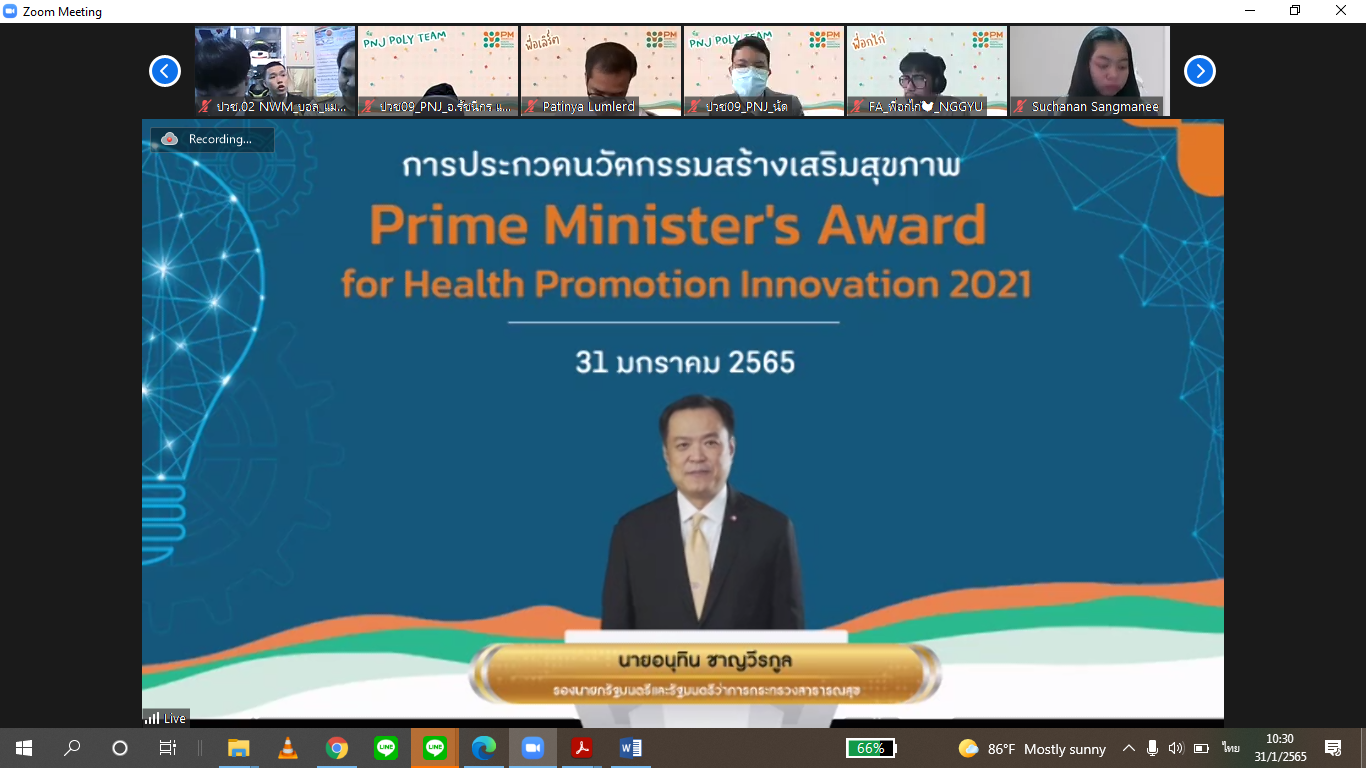 Jan 31, 2022 — Deputy Prime Minister Anutin, together with ThaiHealth foundation president, delivered a celebratory speech at the award ceremony of the Prime Minister's Award for Health Promotion Innovation 2021 co-organised online by ThaiHealth, Why I Why Foundation, and strategic network, praising the innovations created by every participating teams of student who creatively invented health promoting innovations that can be used to address several health-related problems in different areas of the country. He also praised ThaiHealth for its young generation incubating programme, saying that these innovations will serve as a good foundation — starting from within individuals, communities, and larger societies — for health promotion works in the national level.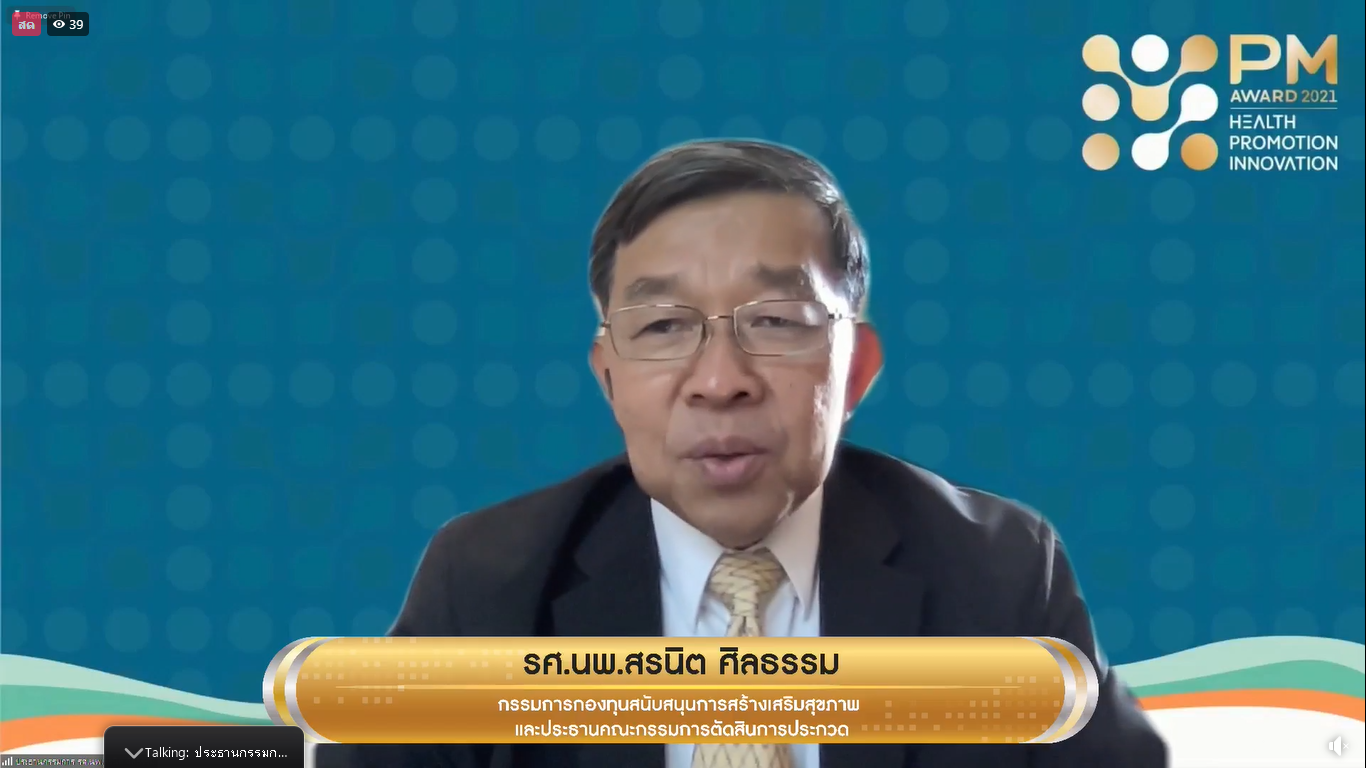 ThaiHealth expert committee member, Dr Soranit Siltharm, said that although out of 362 participating teams, the 20 award-winning teams have overcome lengths of obstacles caused by the coronavirus pandemic. He also added that all participants have successfully learnt to enhance their experiences in developing health-related innovations, and every single innovation has gone through serious development, trial, and experiment processes.
The innovation contest organised by ThaiHealth has prompted both students and educators from all participating educational institutions to learn and to be aware of 'building' and 'repairing' health, while seeing a clearer picture of health in many aspects other than getting sick and receiving treatment, but in the aspects of preventive measures and alleviating the intensity of such diseases. With the power of the young generation in their workarounds, solutions, and participation in designating the future of themselves and the society. He also added that after this hard-working year, students and teachers alike will officially become active citizens and the hope of health promotion work in the future.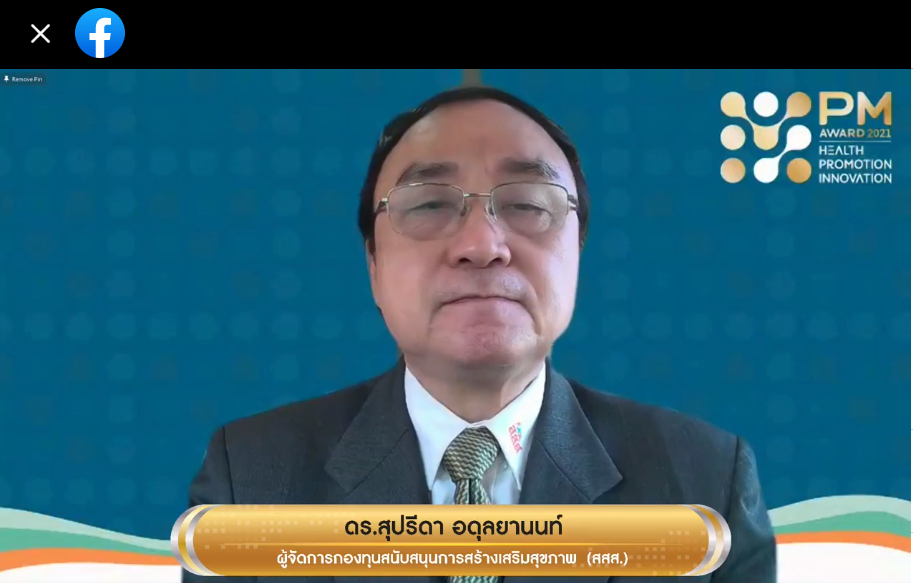 ThaiHealth CEO Dr Supreda Adulyanon said that ThaiHealth's main mission was to promote health by addressing the root cause of Thai people's health problems. Encouraging changes in Thai people's health needs innovations. Therefore, the term 'Innovation for Health Promotion' in ThaiHealth's point of view can either be ideas or inventions that help promote good health in all four dimensions of physical health, mental health, social health, and intellectual health. The organisation also works with all sectors to encourage sustainable alterations in Thai people's behaviours.
The health promotion innovation contest serves as a mirror that reflects ThaiHealth's working culture. In the project, the young generation is encouraged to explore the problems or the needs in their society in order to be able to design the right innovation that really makes a difference. Furthermore, being a synergy of several parties in designing the development procedures in health promotion framework for youngsters, ThaiHealth is more than willing to extend its cooperation from both government and private sectors to help improve the future innovations.
ThaiHealth has adopted its theme of 10th anniversary as the criteria in this round of innovation contest: 1) reduce or quit alcoholic beverages, 2) reduce or quit cigarettes, 3) reduce accidents and promote road safety, 4) promote the consumption of fruits, vegetables, and nutritious food, 5) promote physical activities by reducing idle behaviours, 6) promote understanding of sexual health, 7) address environmental issues that affect health, and 8) promote mental health and address problems of mood and stress.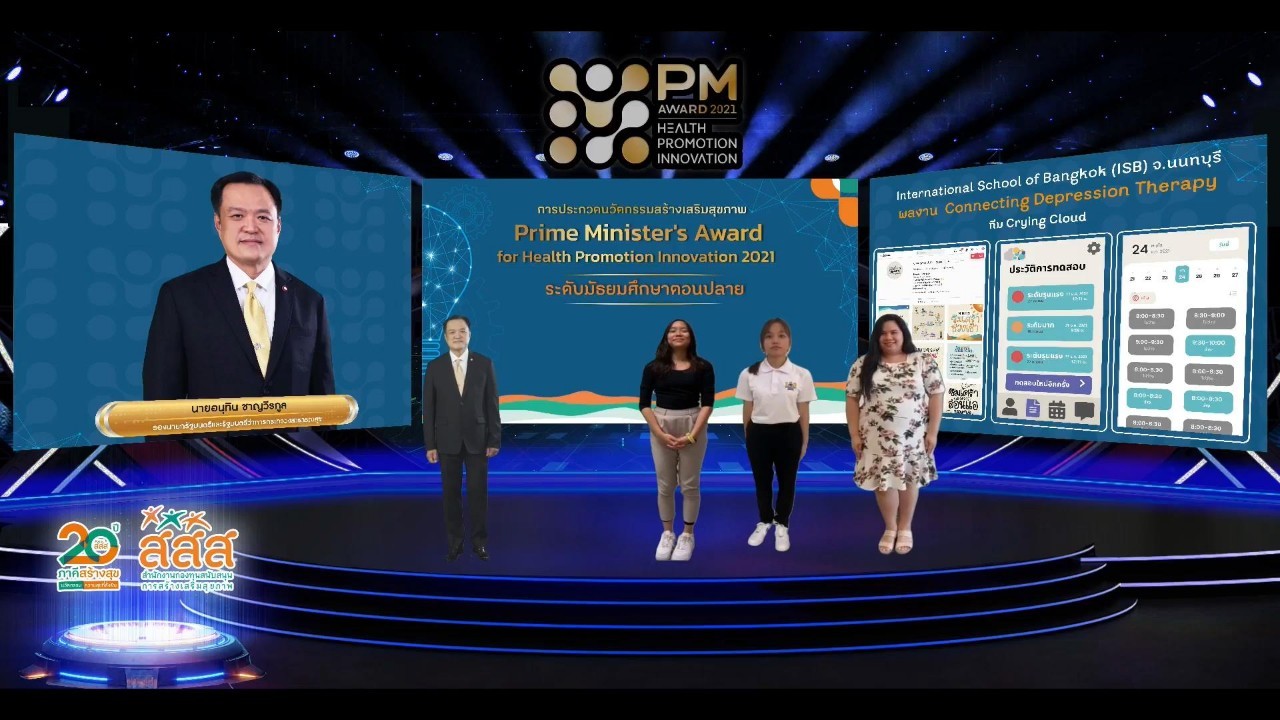 The winners of this round of the Prime Minister's Award for Health Promotion Innovation 2021 are as follow. On the secondary education level, the first-prize winner goes to the 'Crying Cloud' team from Bangkok International School (ISB) for their Connection Depression Therapy application and platform aimed at screening depression for adolescents. The first runner-up award goes to the 'BCC-Robot' team from Bangkok Christian College for 'PakYim' – a game that helps users plan their healthy diet and educate users about nutrition. The second runner-up award goes to the 'Smart Fuel' team from Suksanari School for their helmet disinfecting machine and machine that help decompose face masks and turn them into waste fuel. The creativity award goes to the 'NGGYU' team from Suankularb Wittayalai school for a system to scrutinise CCTV footage of motorcycles riding on the wrong way and notify traffic police of the wrongdoing over LINE messaging protocol.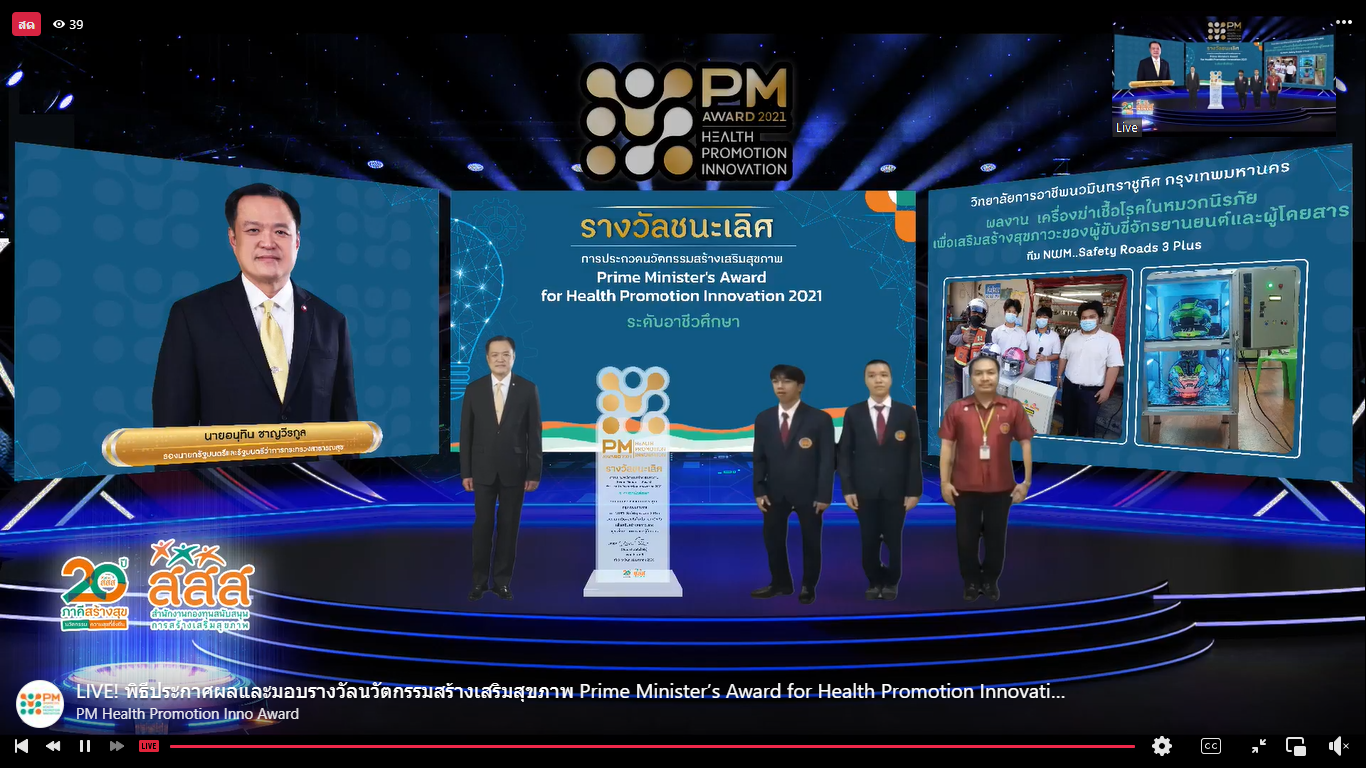 On the vocational education level, the first-prize winner goes to 'MWN..Safety Roads 3 Plus' team from Navaminthrachuthit Vocational College Bangkok for a helmet sterilising machine. The first runner-up award goes to the 'Safe Zone' team from Phang-Nga Technical College for 'Safe Zone' – a stress management application. The second runner-up goes to the 'Born To Be' team from Lanna Polytechnic College of Chiang Mai for their work of a soft-cushioned chair to enhance physical activities and to reduce idle behaviour. The creativity award goes to the 'Khai Khem' team from Chaiya Vocational College Surat Thani for their car reverse warning light and warning signs to notify drivers at u-turn points using speed sensors.
The prize money worth more than 200,000 baht have been awarded to the winning teams along with opportunities to develop their innovations further. Please visit www.thaihealth.or.th/inno or www.facebook.com/pmhealthpromotioninnoaward for more information about the Prime Minister's Award and its award-winning innovations.
rn