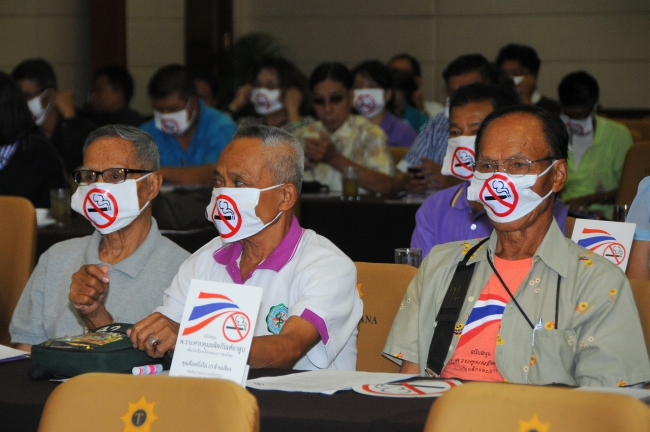 Network of Cigarette Victims Launches
by Prawpan Suriwong | September 9, 2015
                      Patients and persons affected by cigarettes have united as a network to launch a campaign to promote awareness of the loss of lives caused by cigarettes, and to urge the prime minister to constitute the new tobacco control law in order to protect the new generation from the danger of cigarette smoking.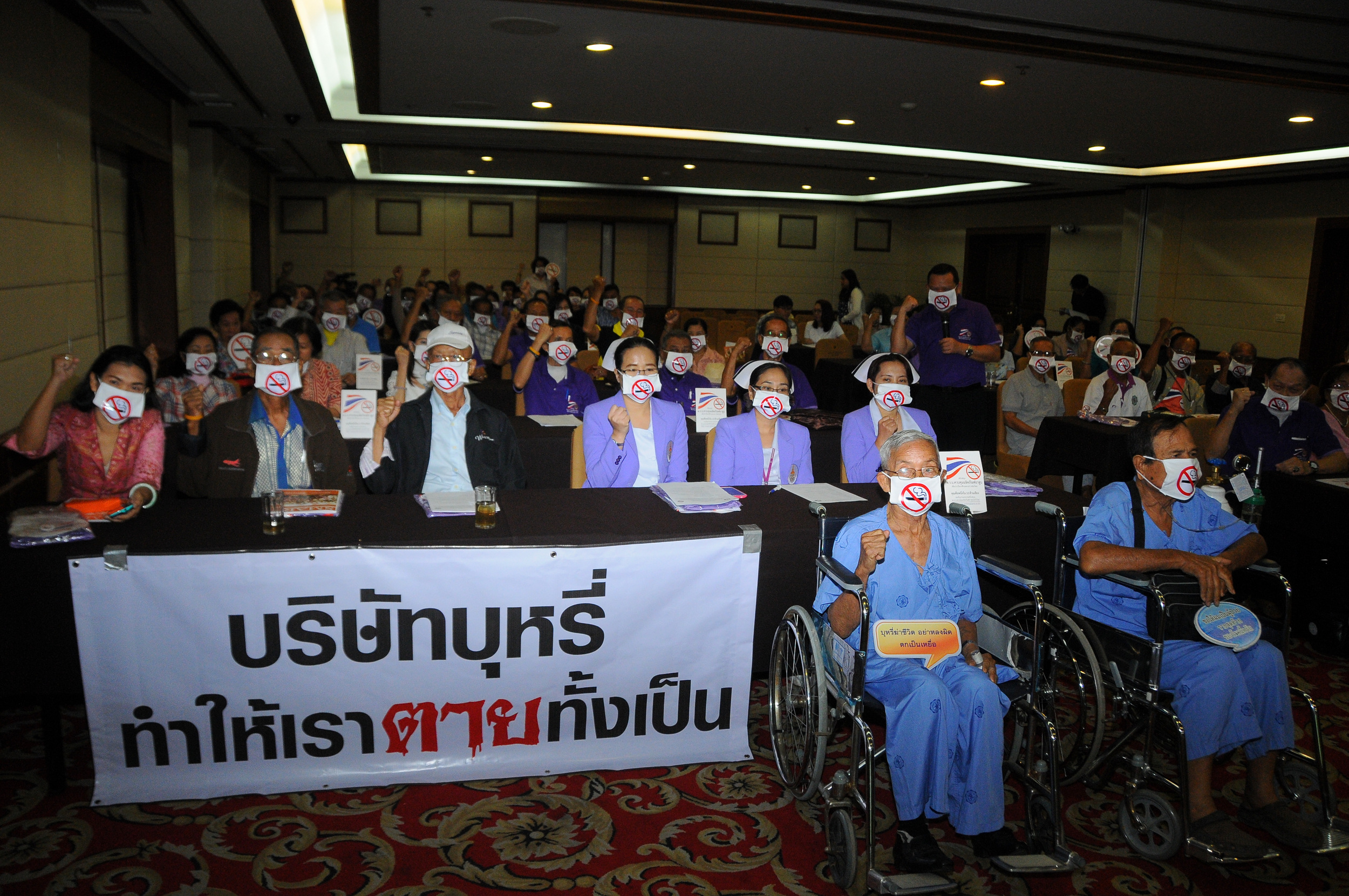 Prof Emer Dr Somsri Pausawasdi, President of the National Alliance for Tobacco-Free Thailand spoke on September 9, 2015, that it was the great moment to officially introduce the network of cigarette victims in Thailand. This network is a union of cigarette smokers, their relatives, and people who are affected by the danger of cigarettes, to publicise about the danger of cigarette smoking. The network is bound to prevent Thailand's new generation from falling victims to cigarettes in every possible manner, to reduce the risk of falling ill and succumbing to the diseases caused by cigarettes, especially to support the government in its issuance of the new Tobacco Control Act to protect the youngsters from cigarette smoking.
                      Asst Prof Dr Suthat Rungruanghiranya, Lecturer at Department of Internal Medicine, Faculty of Medicine, Srinakharinwirot University, said that cigarettes are the cause of at least 27 chronic diseases and are the killer of 50,710 Thai people each year, or six deaths per minute, and have already caused as many as 1,500,000 Thai people to have chronic illnesses. Statistically, one death caused by cigarettes can be linked to other patients with diseases connected to indirect smoking, which will increase to 3-4 million people in the next 10 years. Normally, these patients are believed to suffer in agony for two and a half years before death, with 10 years cut of from the average lifespan of non-smokers. More than 7,000 toxins in cigarette smoke are harming its smokers in cold blood. People with cigarette-related diseases have been found to suffer from serious illnesses. They are not only causing sufferings for themselves, but also causing health, mental, and economical burdens to their surrounding loved ones. Most importantly, cigarettes are also causing budget burdens to the country and all Thai people.
                      Maj Dr Sorawit Suboon or Mor Kong, Medical Practitioner at Ministry of Defense Office of Medical Services and popular tv personality, said that cigarette is easy to get addicted to because he has once wanted to try and lived in an environment surrounded by smokers. He had smoked during the time of two years and quit as he knew it was a bad thing, thus reiterating that cigarette is something that is very easy to get addicted. He believed that the youngsters are well aware of the illnesses caused by cigarettes but it takes time to show the signs, unlike cold that is contagious within a very short time. As a doctor, he did not want to see patients suffer from cigarette-induced illnesses. Cigarette quitting must start within the person who smokes. If one really wants to quit, one can change everything. Moreover, the society must be built stronger, making people understand about the danger and encourage smokers to quit smoking.
                      Mr Karoon Trakulphadetkrai, President of Thailand's Association of Persons without Larynx, in his capacity as the co-founder of the Network of Cigarette Victims, meanwhile, said that cigarettes can cause many illnesses, especially laryngeal cancer. Laryngeal cancer can cause people to be unable to speak, becoming deaf for the rest of their lives. Many people with laryngeal cancer have reportedly committed suicide as they had difficulties communicating with the society. Many more succumbed to the cancer itself. At present, the number of association's members grew to 2,900 nationwide. This network will serve as the idea communication centre from those who have been affected by cigarettes to the general public, so as to demonstrate the danger and the drastic effects caused by cigarette smoking, including to support the government policy to control tobacco consumption of Thai people.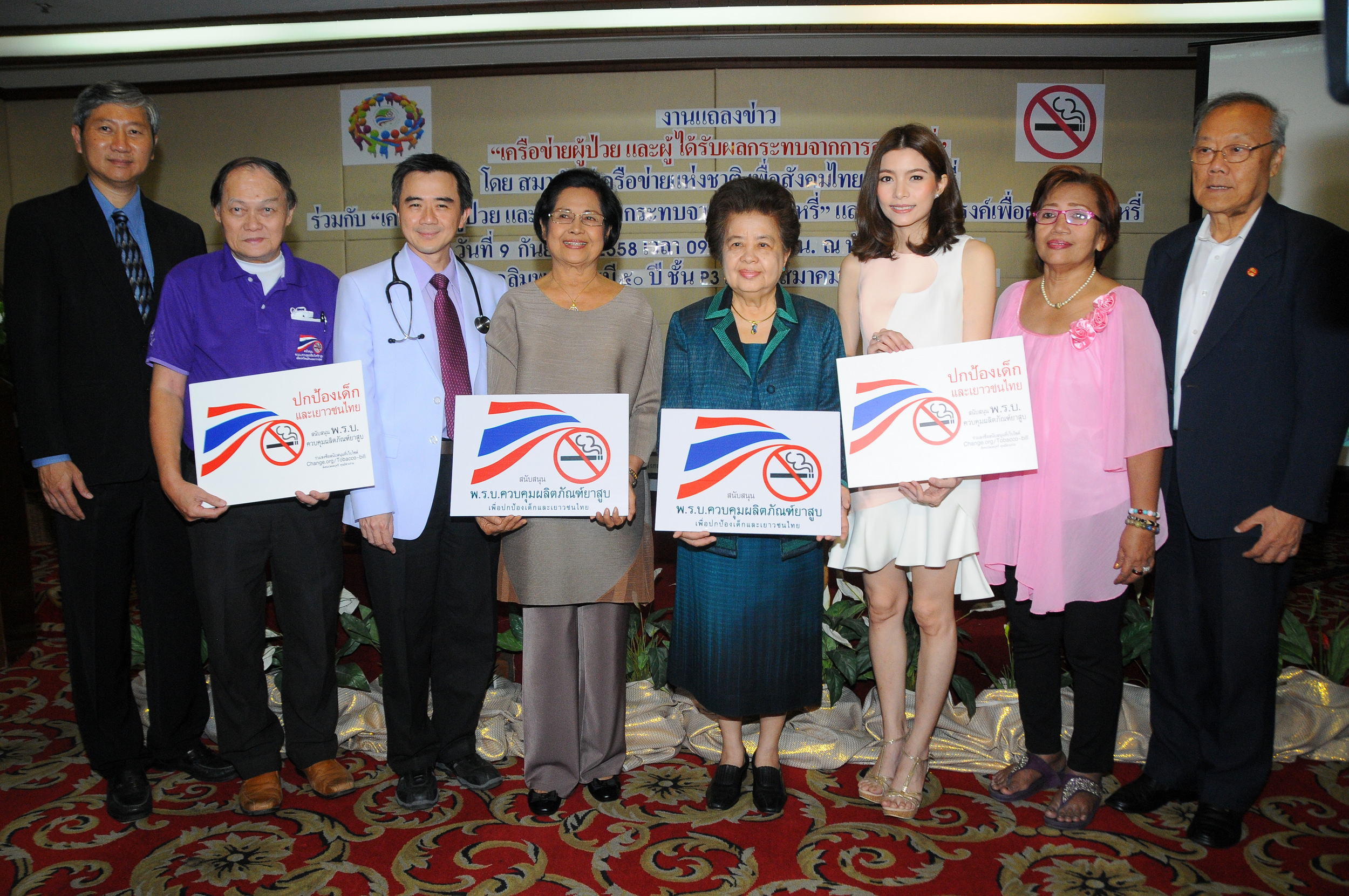 The press conference was participated by Maj Dr Sorawit "Mor Kong" Suboon, Medical Practitioner at Ministry of Defense Office of Medical Services and popular tv personality from Channel 3; Khun Metta Rungrat, senior tv personality who lost her husband to cigarettes; Khun Waranit "Beam" Jirarojanacharoen, daughter of the late comedian personality Dee Dokmadan who died of cigarette-induced diseases; and Khun Sujitra Chanrotfai, a cardiac patient who lost her husband to cigarette-induced cerebral haemorrhage.