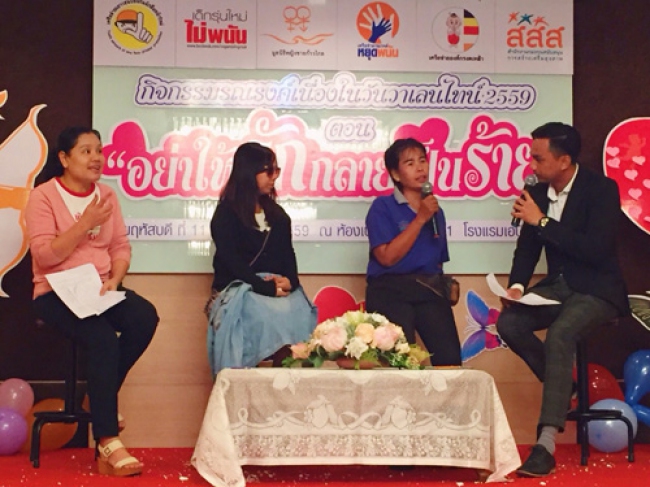 Stop Domestic Violence: Love With Reasons
ThaiHealth has launched a Valentine campaign focusing on concept of "Don't Let Love Turn Sour" that reflects on domestic violence in families while urging family members to be responsible. On the other part of the campaign, a teen mum revealed about her failed love life due to a domestic violence.
Women and Men Progressive Movement Foundation (WMP), Stop Drink Network, Youth Network of New Face Drinker Prevention, Stop Gambling Network (Yut-Phanan), No Gambling Club and ThaiHealth on February 11, 2016, jointly organised a 2016 Valentine campaign — "Don't Let Love Turn Sour". A stage play reflecting teenage problem under the name "What… has turned your loved one upside down" was performed.
At the launch, Ms A (name withheld) a 19-year-old mother who has been in an abusive relationship told the story about her past in the topic "Don't Let Love Turn Sour", saying she was dating with her boyfriend for a year and at first the boy treated her well with respect. Later on they argued a lot due to jealousy. He accused her of cheating on him. The boyfriend's family were always speaking bad at her but she put it up because of love and wanted to have a future with him even though he treated her badly.
After a while she just couldn't take it any longer as he beat her up, threatened her with a knife, and pushed her onto the road with traffic. The latest incident was that he kicked her in the stomach so hard she had to be hospitalised. After that, the doctor informed her that she was pregnant and she was in shocked. However, the boyfriends learnt that she was pregnant but he still didn't change his behaviour, the beating continued and led to break-up. She has been separated from her boyfriend for 2 years and she now has to take care of her 1-year-old daughter by herself. She has to be responsible for all the expenses by selling sweets while getting support from WMP.
She said "I always managed to get through some of the the worst situations in my life and now my child is my inspiration to fight and endure the problems. I never thought of abortion. I think I can raise my own baby by myself without help of my ex-boyfriend. What I regret the most is that I didn't even have the chance to take care of my family now because I am the oldest child of my family. My parents' hope have been torn apart because of a teenage love that ended up in failure. This will be a lesson of life for me. I leave you all with "You can love, but you have to be responsible. Think of your future and think of your parents."
Mrs Sawang Pongpan, an employee of a private company, said that her husband was addicted to gambling. The family, from having savings and assets, has later lost all because of gambling. When her husband had a stroke and became paralysed, she had to take care of all the expenses in the house and her paralysed husband as well. She has to take a day off from time to time to take him to the hospital and she's lucky that her company understand her situation.
"It's all been very stressful for me because of all the problems. My family had to be relocated to a slum because of gambling. There is not enough money. I can't do anything I want to do. Even when I have a spine problem I can only take medicine because I don't have enough money for the surgery. I want my story to be a lesson to every family. Don't get involve with gambling because it will ruin everything and it can turn the one you love to do evil things."
Miss Angkana Intasha, head of gender equality from WMP, stated that, according to 2014 statistics, there were still worrisome numbers of violence from teen couples because the violence start from themselves, friends, acquaintances from adultery, cheating, jealousy followed by physically abuse. The reason women could stand this abusive relationship is because of love or is afraid to tell everyone.
A total of 151 people of around the age of 21-30 have come to WMP for advice. Some of them were under 20 years old. Furthermore, there were information from Bangkok medical office indicating that there are as many as 1,251 women who were physically abused. The results of violence have adversely affected teens, depriving them of education, development skills that they should have deserved.
"By giving a new meaning to Valentine's Day, it is not only for young love anymore, it should include love for yourself, friends and your family. Violence from teen couples can be prevented by being responsible and non-emotional. Try to avoid violence and leave the place if violence is about to happen upon you. Try asking for help, avoid alcohol or any kind of drugs that will cloud your judgement. Most importantly, respect the right of others. The society has to change from the old way of thinking that men have the power above women. Other important way is for everyone to listen and step forward when someone needs your help, be supportive and help one another.