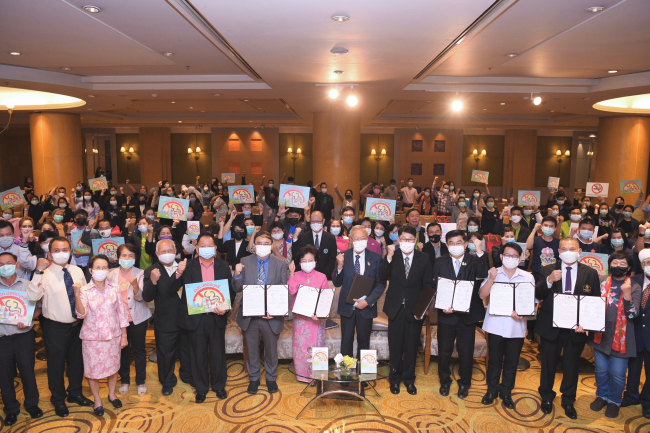 Non-smoking communities to be launched nationwide
Thai Health Promotion Foundation (ThaiHealth), Action on Smoking and Health Foundation Thailand (ASH-Thailand) and strategic network, have concluded a Memorandum of Understanding (MoU) on tobacco control measures in seven government agencies concerning local administration under an effort to protect communities from the danger of tobacco.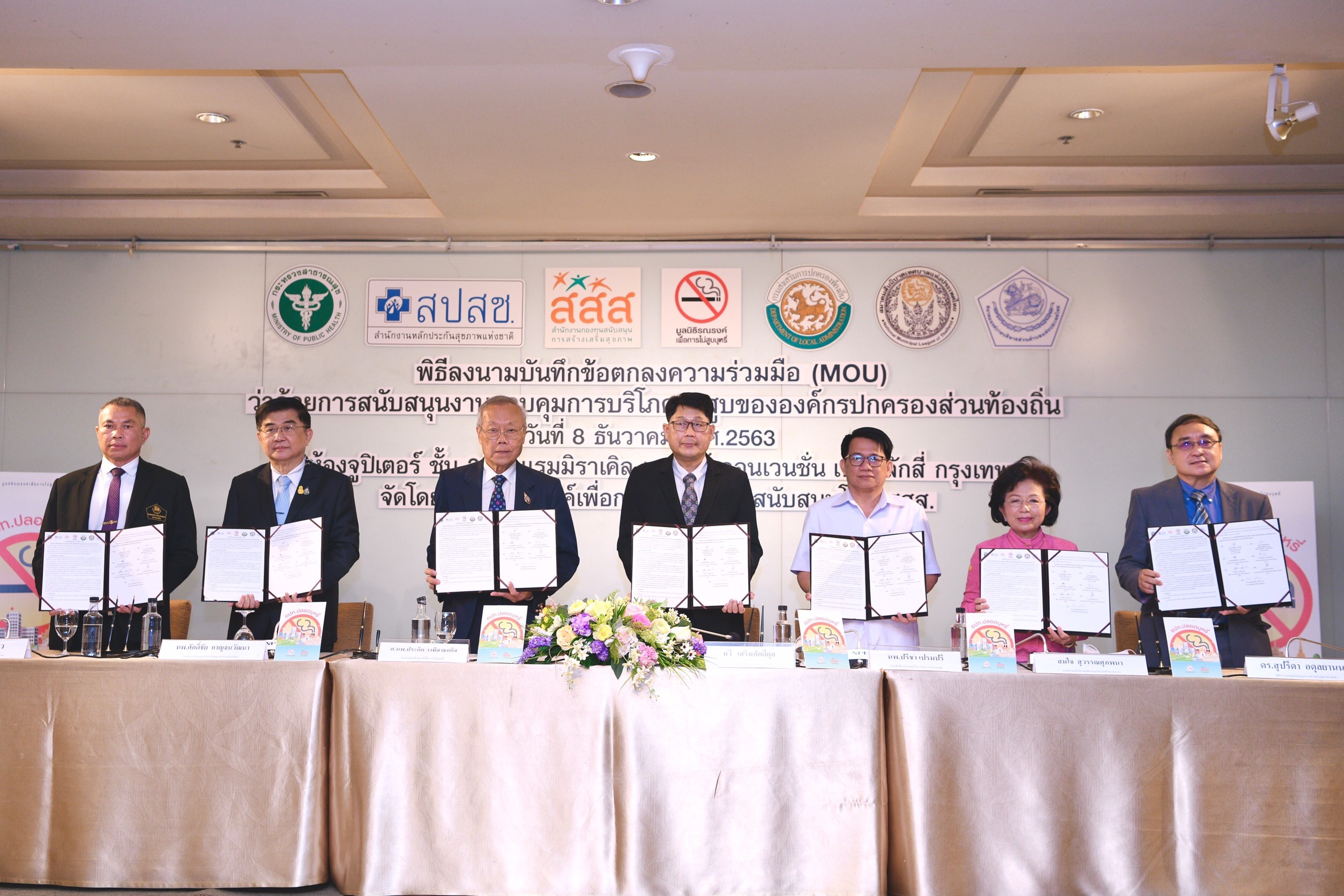 The MoU on tobacco control support measures in local administrative bodies has been drafted up by the coalition of seven government agencies, namely Department of Disease Control, Ministry of Public Health; Department of Local Administration, Ministry of Interior; Thai Health Promotion Foundation; National Health Security Office; National Municipal League of Thailand; Sub-District Administration Organisation Association of Thailand; and Action on Smoking and Health Foundation Thailand; and was officially witnessed by more than 45 representatives from local governments across the nation.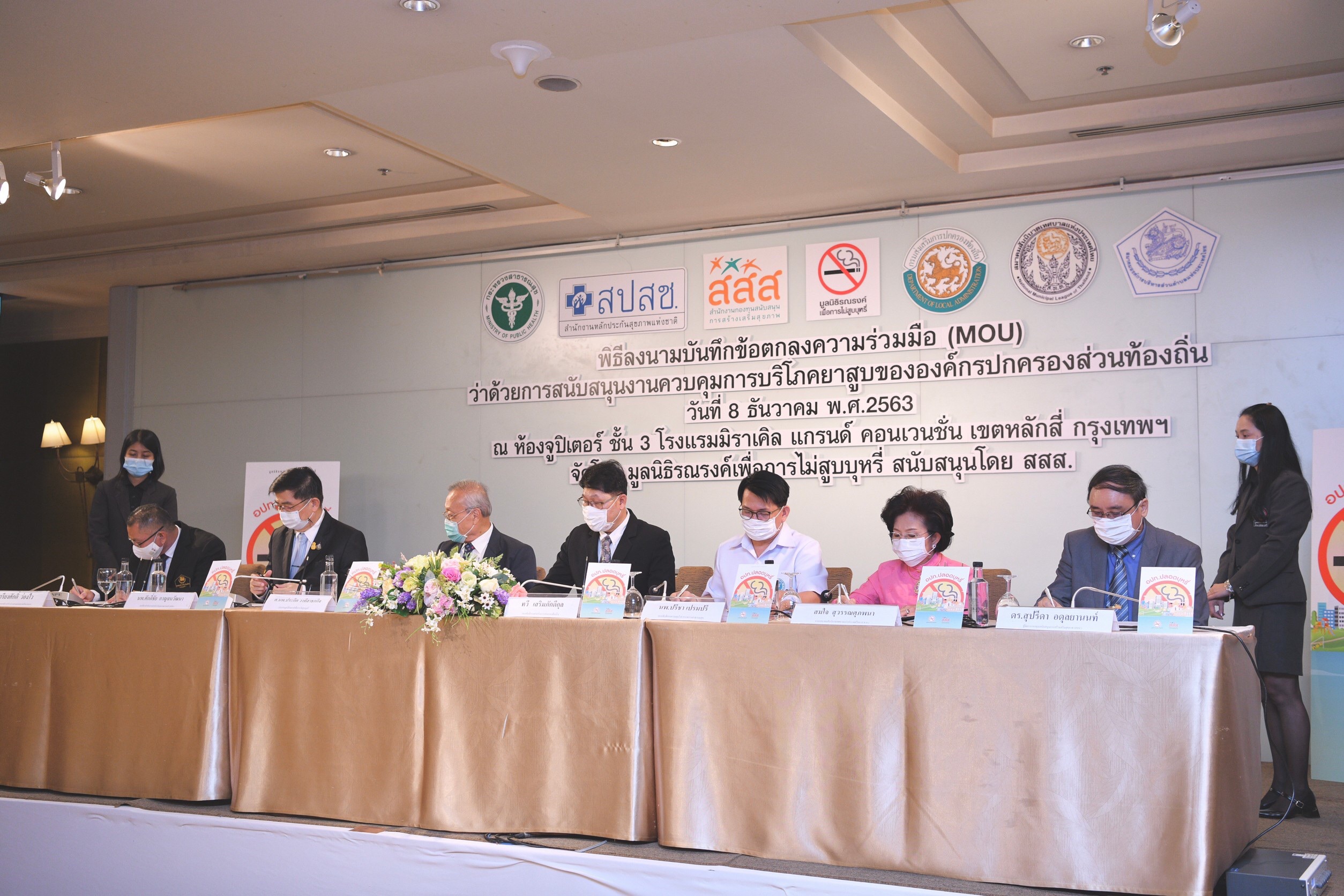 President of ASH-Thailand, Prof Dr Prakit Vathesatogkit, gave an informative speech saying that, while it is easily preventable, tobacco addiction is one of this country's top behaviours that deteriorates health, creating several chronic illnesses, and leads to premature death. Statistically, half of non-quitters are bound to suffer from tobacco-induced diseases and their age would be cut short by at least 10 years. At present, there are as many as 19.1% of the total population – 37.7% male population and 1.7% female population – while 89% of smokers are scattered all over Thailand (data collected by National Statistical Office, 2017). Tobacco does not only create health-related problems, it also affects smokers' families economically as they have to spend money on tobacco products.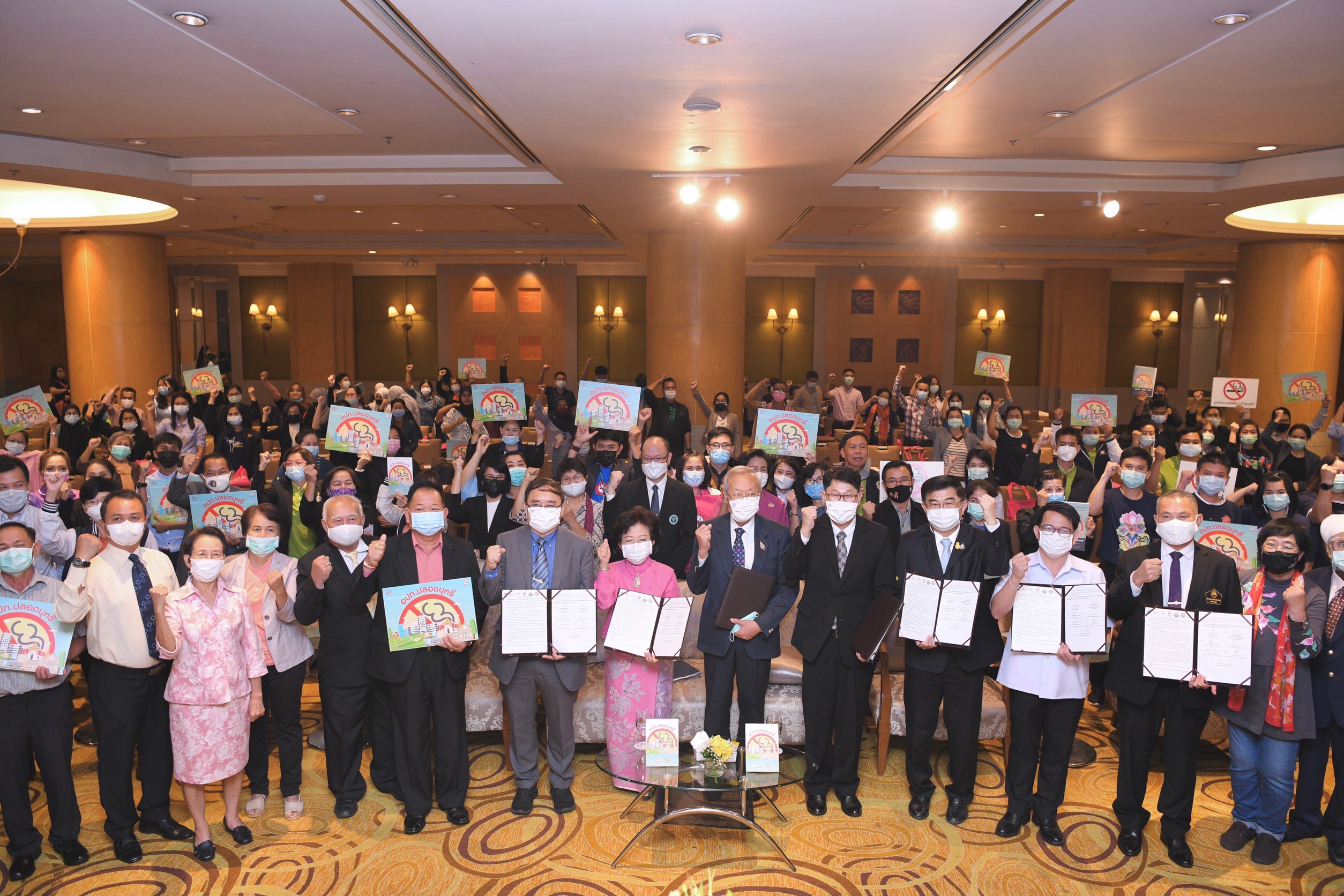 Data collected by the National Statistical Office in 2017 also indicated that averagely, a cigarette smoker spends 858.50 baht a month; a smoker of self-rolled tobacco spends 115.70 baht a month; and a smoker of both types of tobacco spends 530.20 baht a month, regardless of extra spending on medical treatment and loss of income caused by hospitalization and premature death. At any rate, the United Nations has clearly stated in the Sustainable Development Goals (SDGs) that tobacco is not only an intervening obstacle placed along the path of good health, it is also a great hindrance in every government's endeavour in promoting education and poverty eradication.
Deputy Director General of Disease Control Department under Public Health Ministry, Dr Preecha Prempree, explained that, from the statistics indicating that smokers are scattered throughout the upcountry, the Tobacco Control Act of 2017 constituted that each province shall set up a tobacco control committee comprising 13 representatives from local governing bodies led by provincial governor, plus six experts and public health officer. The chiefs of local administrative body shall be in charge of mobilising the tobacco control measures and make the best use of local resources to prevent tobacco-related problems in their respective localities.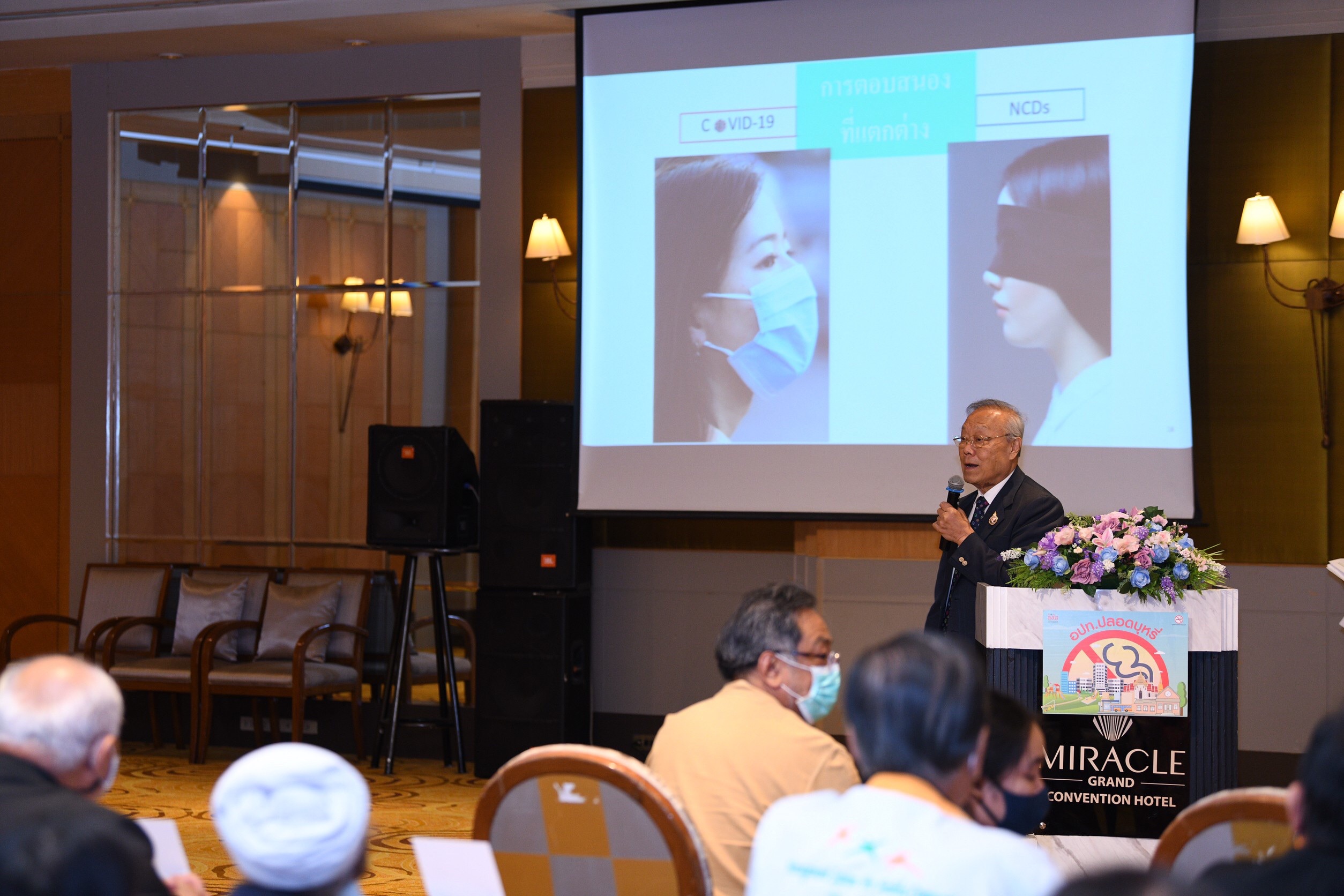 Deputy Director General of Ministry of Interior's Department of Local Administration, Mr Thawee Sermphakdeekul, said it was now a good opportunity to forge cooperation on tobacco control on the local level, which is in line with proposition from the Office of the National Economic and Social Development Council. The proposition indicated that measures to control consumption of alcohol and tobacco must depend on the development of local mechanisms and management, with government-public integration, in order to protect community dwellers from tobacco-related illnesses, reduce public exposure of second-hand cigarette smoke, lighten the burden and workload of the provincial public health system, cut down spending on tobacco and medical treatment, and prevent young smokers from emerging.
Secretary General of the National Health Security Office, Dr Sakchai Kanchanawathana, said that local administrative bodies could effectively mobilise the tobacco control measures in communities by employing the existing mechanisms of the National Health Security Office, giving local governments the rights to independently earmark considerably handsome budget, thanks to fundings from the NHSO and other local administrative bodies.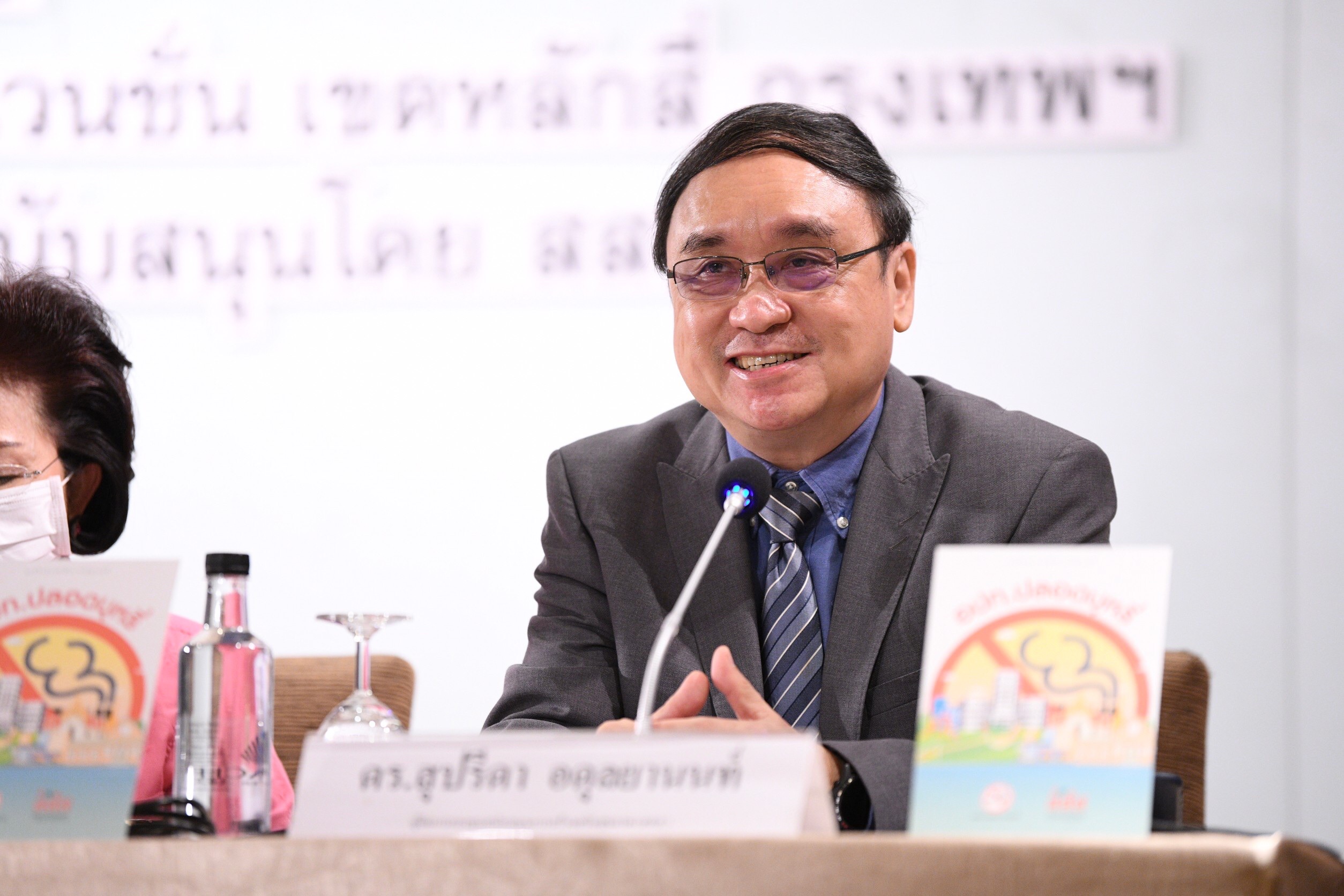 ThaiHealth CEO, Dr Supreda Adulyanon, concluded that tobacco control and effort to reduce the rate of smoking in order to protect people from the danger of smoking is one of the imperative ThaiHealth missions. ThaiHealth has long been supporting the roles of local administrative agencies in the work to promote good health in several dimensions, for example, the development of senior citizens' quality of life, infant care, health care, narcotic and alcohol control, and consumption of tobacco in communities.
This round of cooperation is believed to be a strong signal emitted to local administrative agencies throughout the country, assuring them that there still are several organisations that are waiting in line to give support to the work of tobacco control, in the hope that leads to a new low in tobacco consumption rate in the country's local communities.
rn