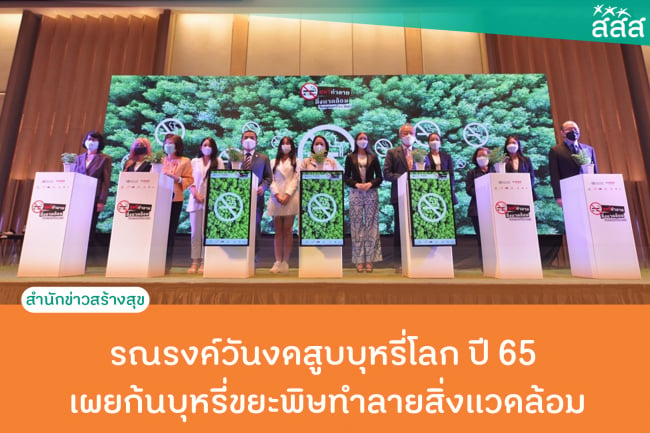 No-Tobacco Day 2022 campaign says cigarette butts destroy the environment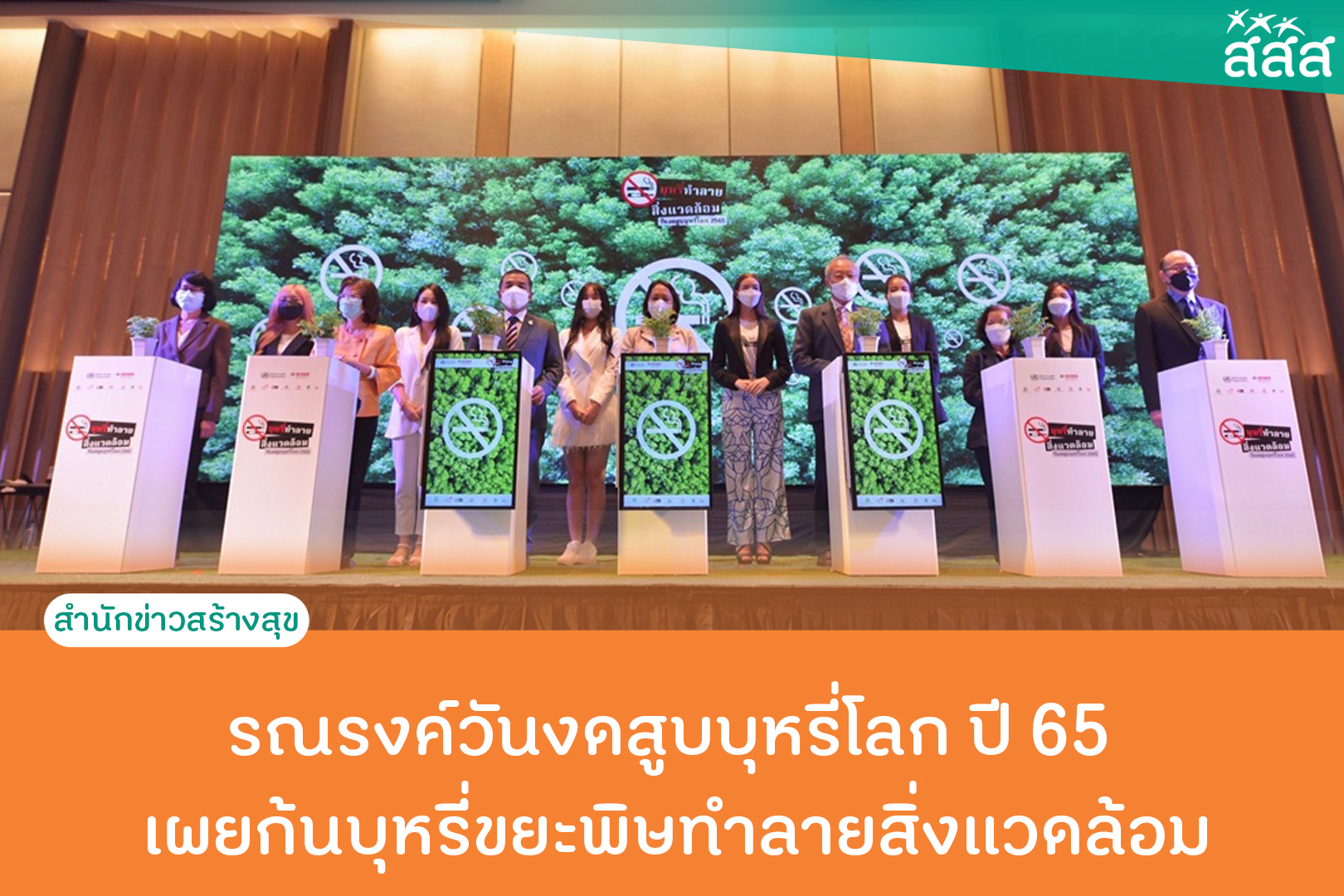 The World Health Organisation (WHO)'s World No-Tobacco Day campaign urges the world community to help protect both health and environment from the danger of cigarettes that generate 350 billion baht of damage annually, or the equivalent to 2.1% of the country's Gross Domestic Product (GDP). The campaign also indicated that smokers around the world dump 4.5 trillion cigarette butts per year. Of which, 2.5 billion pieces of which are thrown away in Thailand alone, taking 10 years to decompose. At the same time, the Department of Marine and Coastal Resources says it will now punish cigarette butt litterers under its latest no-cigarette-butt beach campaign.
Action on Smoking and Health Foundation (ASH Thailand) and Ministry of Public Health jointly organised a press conference and a seminar among its strategic partners on the occasion of the World No-Tobacco Day 2022 in both online and offline formats at Asawin Grand Convention Hotel, Bangkok, while setting this year's No-Tobacco Day slogan "Tobacco Destroys Environment", with an objective to raise awareness of the environmental impact caused by tobacco products.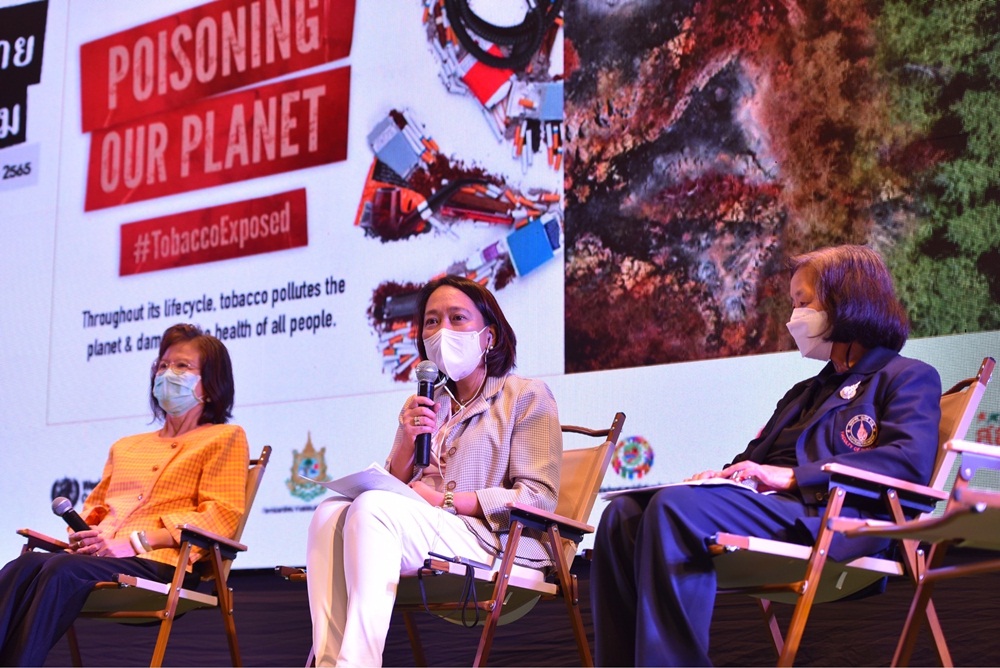 WHO specialist for non-communicable diseases, Dr Olivia Nieveras, said that cigarettes are proven to be harmful to the environment and to the economy in the entire supply chain — from plantation, production, distribution, to consumption and waste. The estimated value of health and economic damages is up to 350 billion baht per year, or 2.1% of the GDP. Therefore, measures to control tobacco consumption, especially cigarette smoking, will be good for both the economy, the public health, and the environment.
Assoc Prof Dr Nawarat Charoenkha from Department of Sanitary Engineering, Faculty of Public Health, Mahidol University, in her capacity of a representative from Thai Institute of Health Promotion, National Health Foundation, cited the information gathered by WHO that tobacco causes deforestation, degradation of soil, water, and air. It also produces non-biodegradable plastic waste from cigarette filters, cigarette packages, and electronic waste. The waste produced by cigarette consumption is the cause of death of more than one million seabirds and 100,000 marine animals every year. A survey of littering behaviour also found that 65% of smokers irresponsibly disposed of cigarette butts, such as on sidewalks, beaches, etc. Cigarette butts are plastic remnants of cigarette filters that are classified among the top polluting and toxic substances in the world's waters, and they are the most discarded waste in the world, taking approximately 10 years to decompose. As many as 4.5 trillion cigarette butts are thrown away each year. Of which, 2.5 billion pieces are found in Thailand only.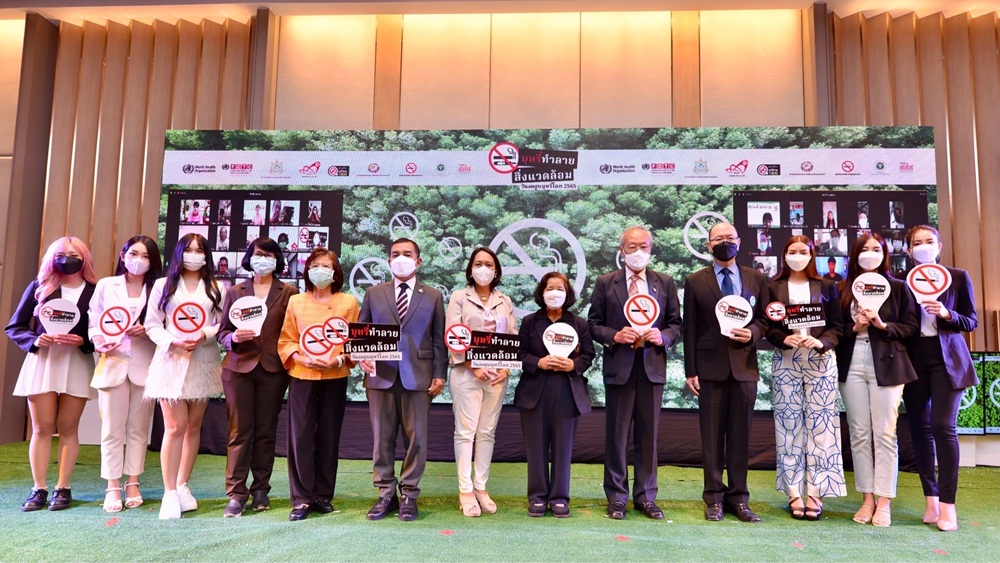 Assoc Prof Dr Nawarat also added that the cultivation and curing procedures of tobacco leaves require a demolition of as much as 200,000 hectares or 1.25 million rai of trees to prep the plantation for tobacco farming areas nationwide. The plantation also causes tobacco planters to burn wood to cure tobacco leaves after harvest. This indirectly causes food insecurity and nutritional problems. The restoration of soil quality after tobacco farming is expensive. On top of all, one season of tobacco cultivation requires the same amount of water one person consumes in a year. The entire life of one cigarette — from planting, producing, distributing, consuming, and disposing of — requires 3.7 litres of water. So, quitting smoking can save up to 74 litres of water per day. Tobacco also contributes to higher levels of air pollution, as tobacco production generates nearly 84 tonnes of carbon dioxide emission per year, or the pollution generated by the launch of 280,000 rockets into space, producing three greenhouse gases that pollute both indoors and outdoors: carbon dioxide, methane, and nitrous oxide.
"Tobacco damages the health of tobacco farmers themselves. The high concentration of aluminium and arsenic in the blood increases due to long-term exposure to some pesticides, which generates many health conditions including congenital disabilities, benign and malignant tumours, genetic and blood cell disorders, neurological disorders and abnormal functioning of endocrine glands. Also, tobacco harms children's health. Child labour employed in tobacco farms is usually a particularly vulnerable group. This is because the weight of a child is related to the proportion of nicotine absorbed through skin from exposure to tobacco leaves over time. These young farmers may face an increased risk of stage-1 chronic kidney disease, as well as increased risk of becoming smokers themselves. In women, health problems caused by tobacco farming occur in different proportions — higher risk of infertility and fertility problems," said Assoc Prof Dr Nawarat.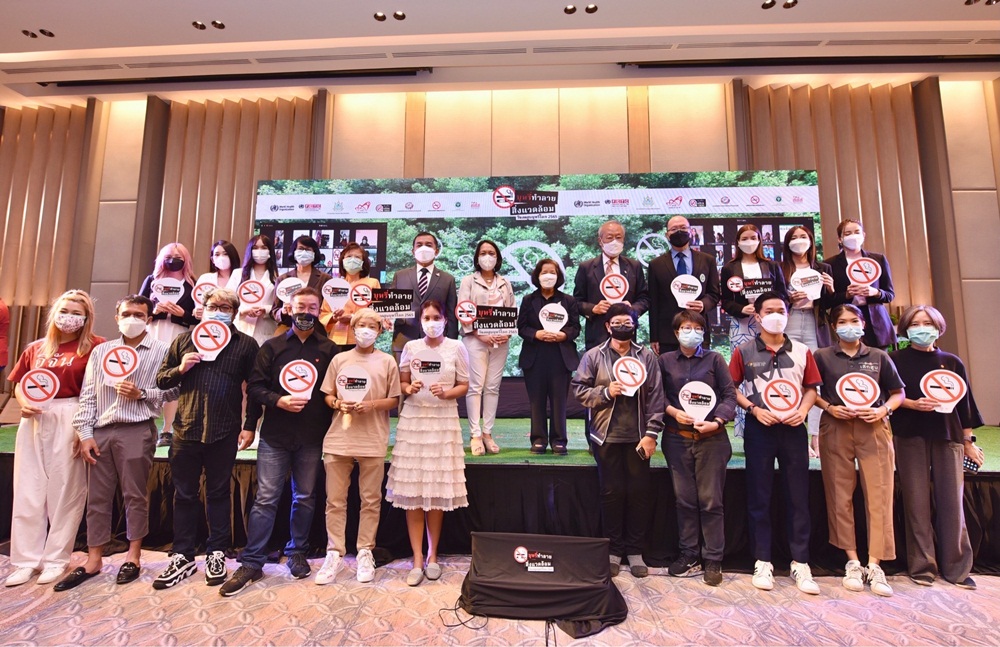 On the environment side, Deputy Director-General of the Department of Marine and Coastal Resources (DMCR), Ministry of Natural Resources and Environment, Mr Apichai Ekwanakul, said that Thailand is well aware of the problems caused by marine waste. The department has studied the amount and types of waste and found that cigarette butts are scattered on Thailand's beaches, with each beach being associated with more than 100,000 cigarette butts people left behind. Therefore, a smoke-free beach project was initiated and piloted in 24 popular beaches in 15 coastal provinces, e.g. Bang Saen beach of Chonburi, Pa Tong beach of Phuket and Hua Hin beach of Prachuap Khiri Khan. The project aims at punishing those who violate regulations concerning smoking and those who dispose of cigarette butts inappropriately. The penalty for violation is up to one year of jail term and/or a fine of up to 100,000 baht. Cigarette butt is the most common type of garbage found in an open area. Out of 4.5 trillion cigarette butts produced as garbage worldwide, more than 100 million cigarette butts that turned into garbage have been found in various places according to the Department of Marine and Coastal Resources.
"Besides being garbage, other toxic substances are also found in cigarette butts — toxin, nicotine, arsenic, pesticide, and carcinogens — poisoning the water, marine animals of every size, and even microorganisms. Larger animals are more likely to be affected by feeding this type of waste, causing obstruction to the airway and digestive tracts. In addition, the material used in the production of cigarette butts is plastic that takes more than 2-12 years to decompose. Currently, many countries are aware of the waste problem caused by cigarette butts and initiate campaigns to urge people to reduce waste in many ways. From the aforementioned problems, the DMCR is ready to expand its implementation of the project to each beach when timing is appropriate," said Mr Apichai.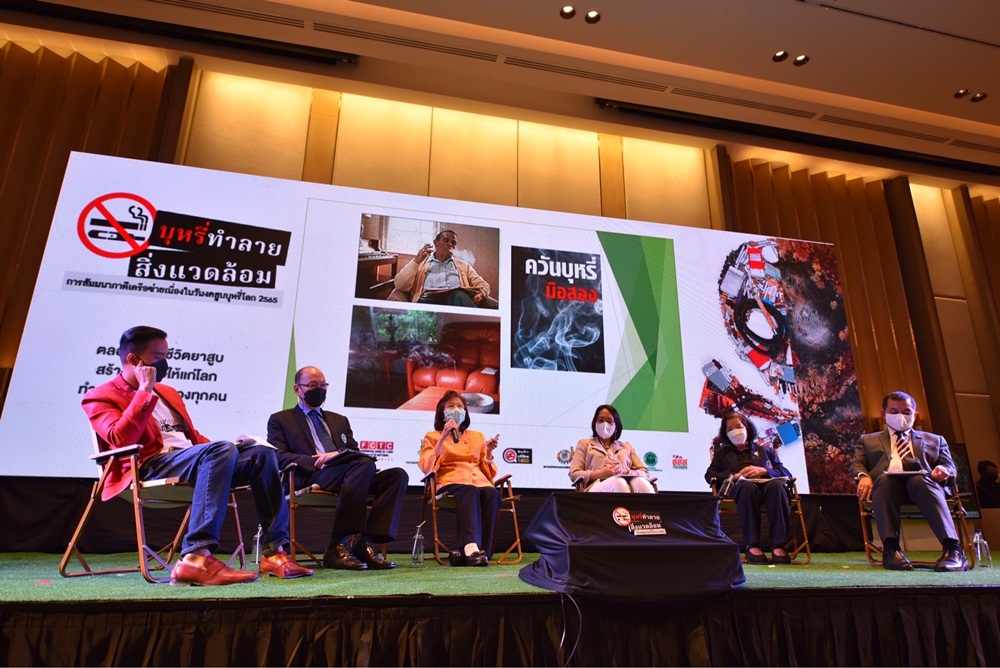 According to Assoc Prof Dr Niphaphan Kangsakulniti, another representative from Department of Sanitary Engineering, Faculty of Public Health, Mahidol University, in her capacity of a representative from Thai Institute of Health Promotion, National Health Foundation, a research project to study secondhand smoke exposure among tourists vacationing in two famous beaches of Thailand in 2015 found 260 to 504 micrograms per cubic metre of dust particles measured 2.5 microns (PM 2.5) within beach areas, the amount 27 times higher than the standard of 50 micrograms per cubic metre. As a result, the air quality in both places is not suitable for people to come and relax.
"I personally agree with the new project of creating smoke-free beaches and measures proposed by DMCR of enforcing a law punishing people who smoke on beaches so that no cigarette smoke could do harm to people's health. In addition to being harmful to people, secondhand smoke also pollutes the environment. Cigarette butts are litters and the filters contain microplastics, which are extremely dangerous for the environment. A research team is now studying cigarette butts on the beach with a grant from the Thai Health Promotion Institute, National Public Health Foundation Research, and Tobacco Control Research Centre (TRC), together with researchers from the United States and Japan," said Assoc Prof Dr Niphaphan.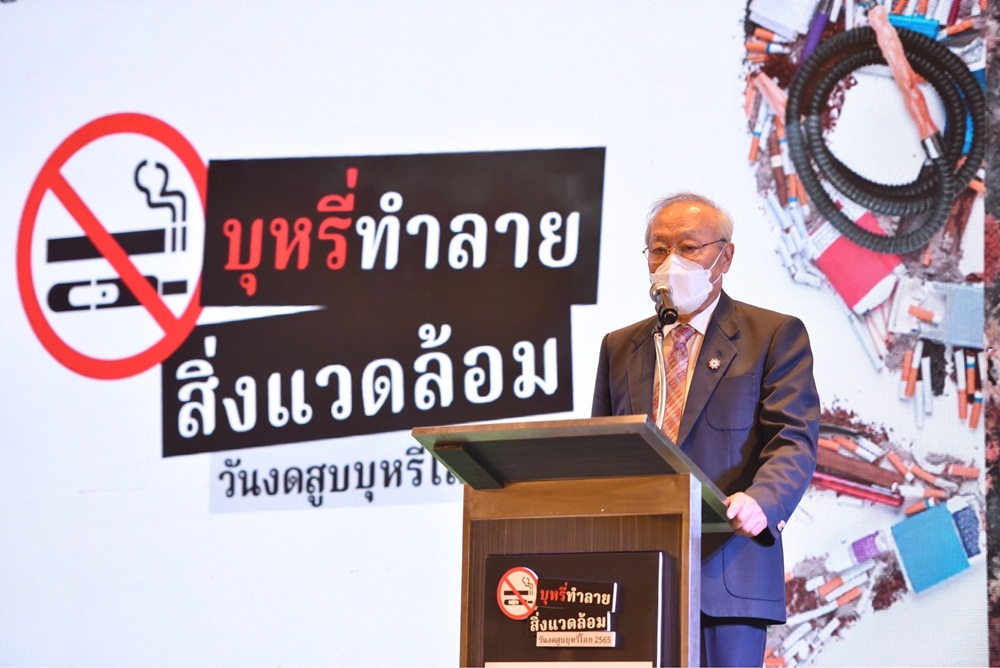 President of ASH Thailand, Prof Dr Prakit Vathesatogkit, said the WHO's campaign on smoke-free environment has set examples for many other organisations to follow. The Department of Marine and Coastal Resources, Ministry of Natural Resources and Environment now has a policy to ban smoking on many beaches of Thailand. In foreign countries, smoking has been banned in and around beach areas for a long time. This regulation is not uncommon. For example, California has a clear beach smoking law, as cigarette butt is the number one garbage found on beaches.
"I would like to call on all agencies, smokers, those who quit, and non-smokers alike, to work together to create a smoke-free environment to urge others to stop smoking. The 2014 survey found that there were more than 2 million Thai smokers who suffered from blood pressure or diabetes. This will accelerate additional complications such as heart disease, stroke, and kidney deterioration. Therefore, I urge you to make a determination to quit smoking by informing the doctor that you wish to quit smoking and asking for advice and suggestions on the path of quitting. At the same time, smokers must begin by not smoking at home, in the car. These simple tasks make it much easier to quit smoking," said Prof Dr Prakit.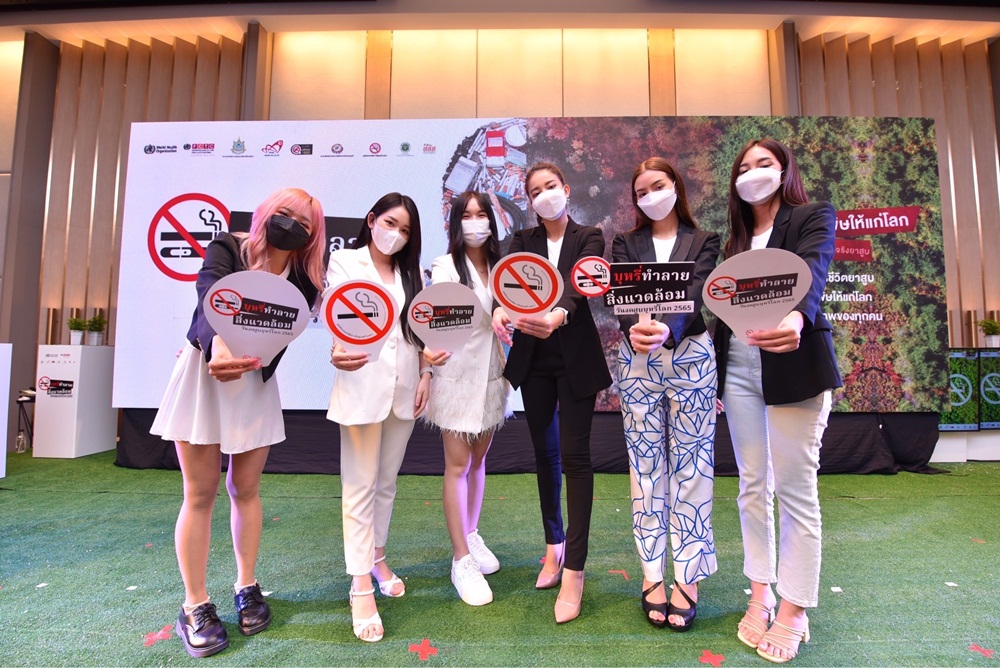 Meanwhile, Director of Tobacco Product Control Board, Ministry of Public Health, Dr Chayanan Sitthibutr, said that the National Tobacco Product Control Board is well aware of the environmental impact posed by tobacco products and agrees that the coalition of all sectors to get involved and push forward the missions to create a smoke-free environment, which is not only to protect everybody in the society, but also including all living creatures and their natural habitats.
rn