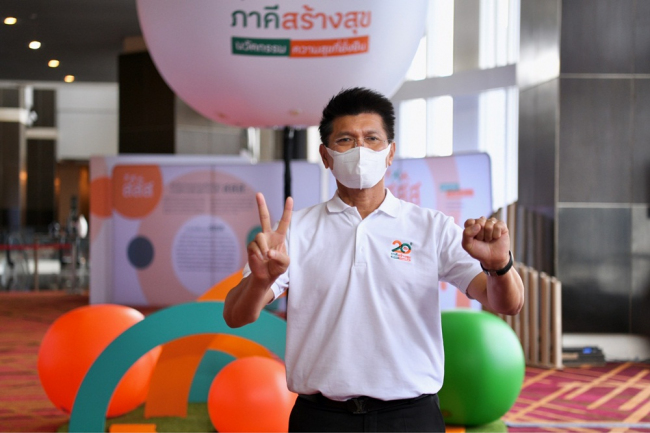 Innovation for Sustainable Happiness: ThaiHealth celebrates 20 years, delivers declaration of happiness for the third decade
Thai Health Promotion Foundation (ThaiHealth) has celebrated its 20 years of promoting health and building happiness for the whole nation by organising a public event themed "20 Years of Innovation for Sustainable Happiness", showcasing its past work of building better Thailand, better health, and leaving no one behind, while vowing to advance to its third decade filled with healthy innovations, environment, and sustainably healthy society.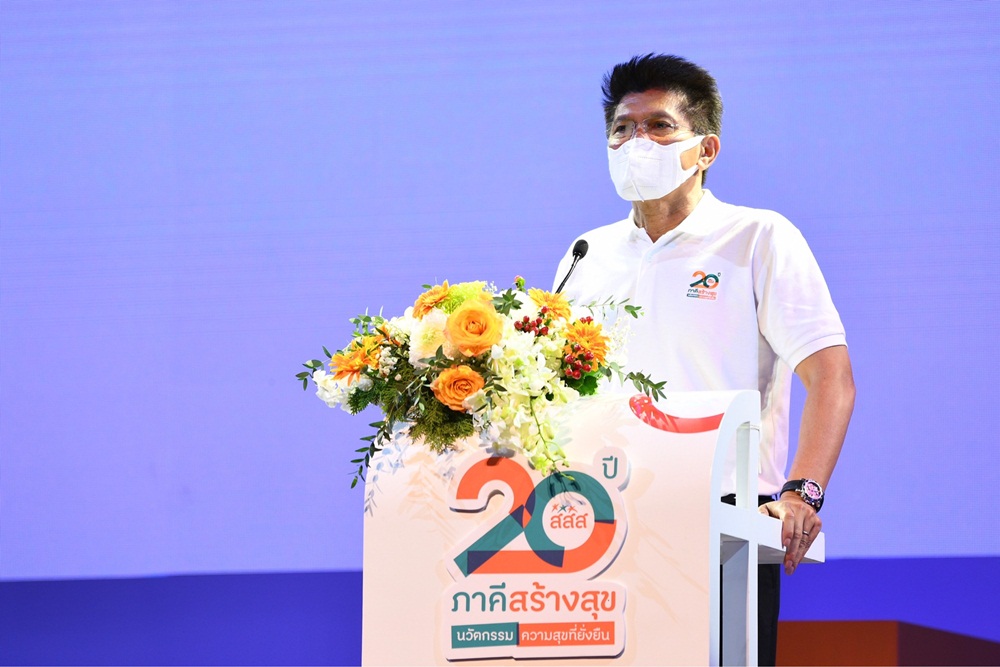 Deputy Public Health Minister Satit Pitutecha presided over the opening ceremony of "20 Years of Innovation for Sustainable Happiness" celebration on the auspicious occasion of the 20th anniversary of ThaiHealth on November 10, 2021 at Centara Grand at CentralWorld. The three-day event was organised to weave a tighter fabric of strategic alliance network in order to build advanced innovations to help promote healthy lifestyles, behaviour improvement, and environment, all to attain sustainable health promotion work in the next decade. The celebration was organised in both online conference and on-site meeting in compliance with the government's 'new normal' lifestyle to curb the spread of Covid-19.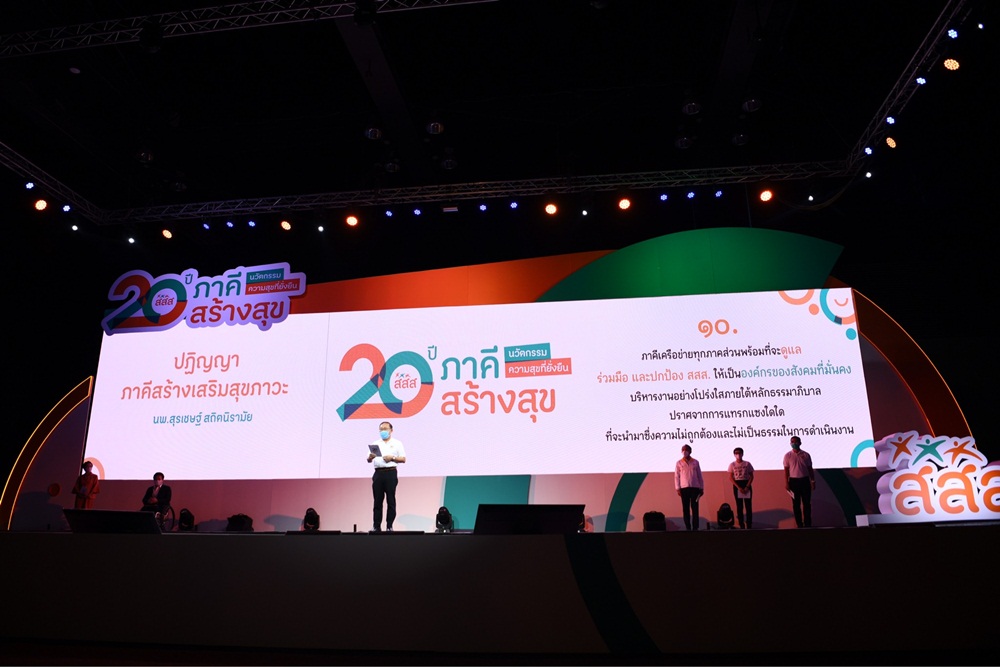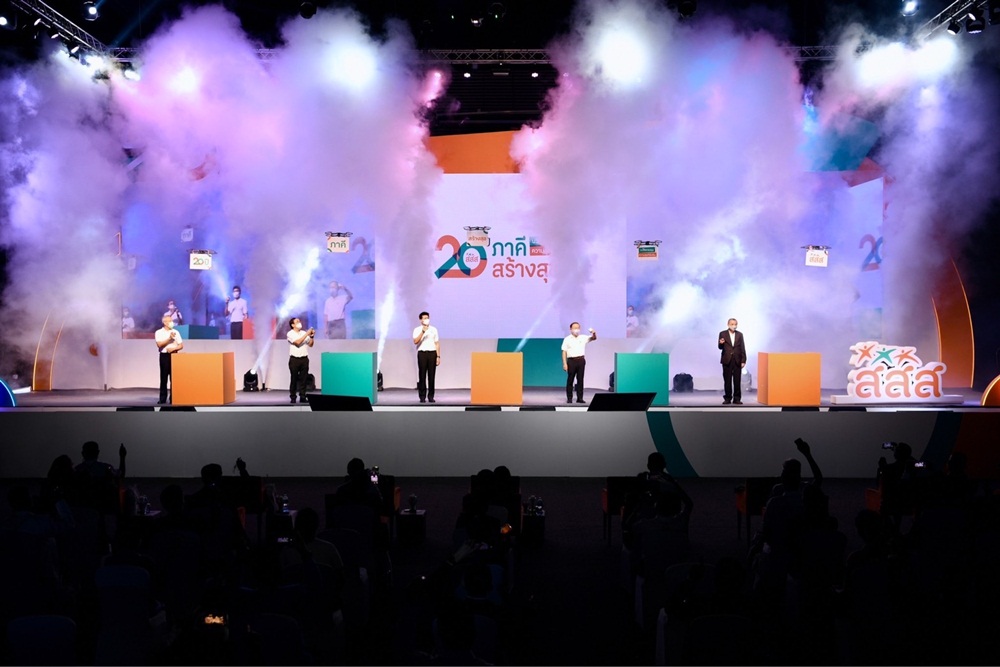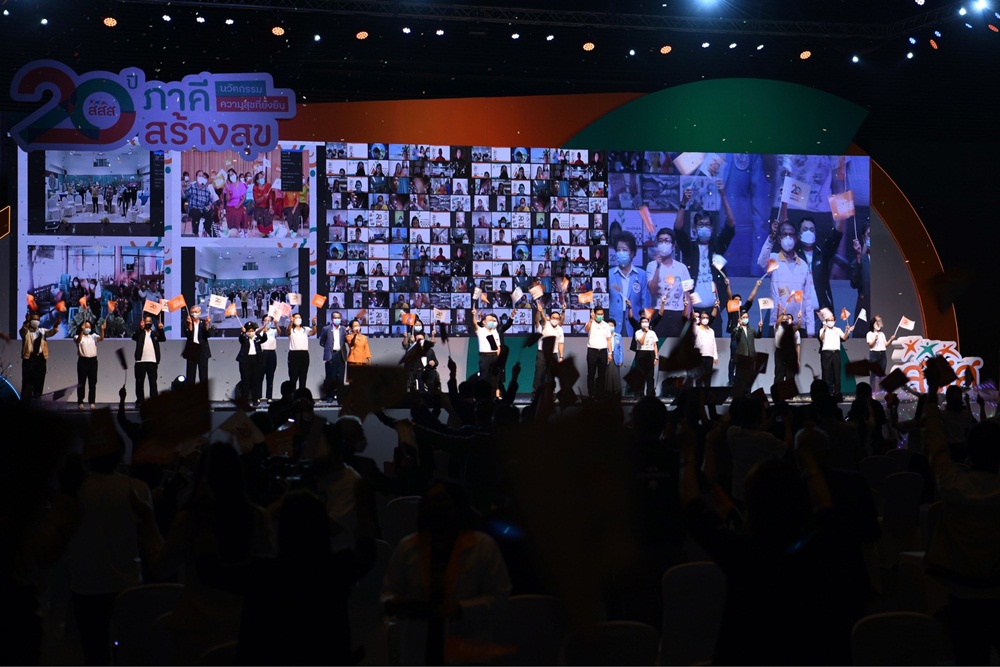 The Healthy Meeting, as named by the organiser, was a presentation of ThaiHealth's master plan for the next 10 years and a manifest of health promotion declaration. The event was participated by around 2,000 experts and representatives from strategic partners, and the network of government agencies, ministries, and departments.
In the speech, Deputy Public Health Minister Satit said that the future work of health promotion should include a good preparation for changes in situations, upgraded framework, reducing limitations in health promotion activities, finding the root cause of problems with new and creative ways of thinking. All of these can begin with a potential network which is ready to expand itself to fit the changing society. The organisation should encourage public participation by integrative work from all relevant sectors — government, private, local, academic, and public sectors.
The Deputy Public Health Minister also praised ThaiHealth for its hard work during the past 20 years, saying that it is another step of the attempt to pave the way for stronger cooperation and collaboration so that the Thai society achieves an equal footing in understanding the importance of health promotion work, which eventually leads to the existence of sustainably healthy society.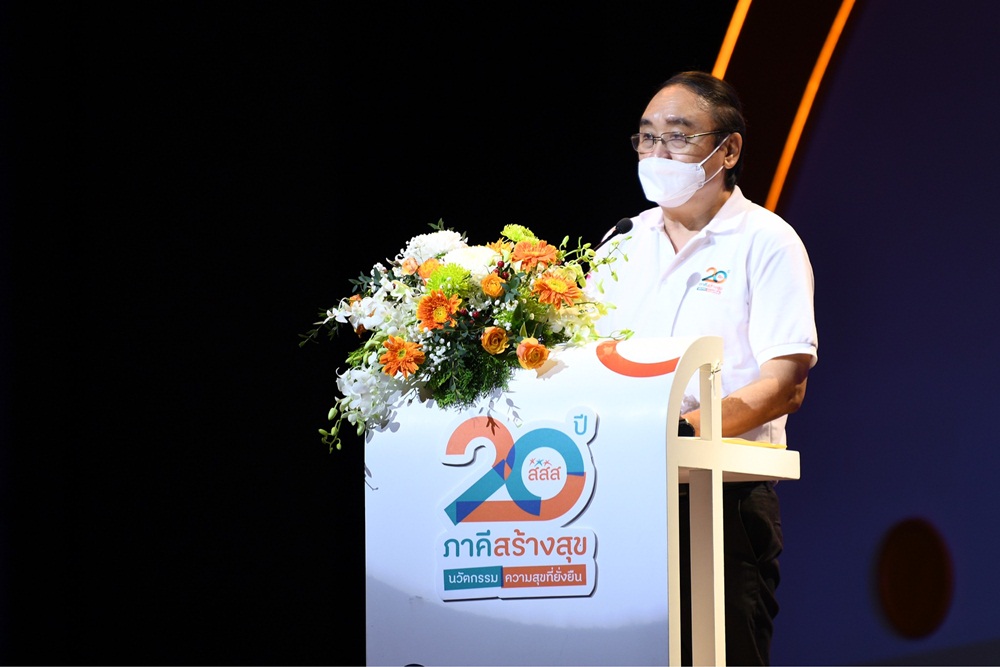 ThaiHealth CEO, Dr Supreda Adulyanon
, said that ThaiHealth is the centre for driving a new approach to health promotion in conjunction with health promotion network from all relevant sectors — government, private, and public sectors — which is a big network comprising more than 20,000 partners to help create innovations under an effort to prevent and address significant health problems of Thai people, minimising risk factors and promoting healthy lifestyle, society, and environment, to eventually attain a sustainable change. This new-model health promotion is conducted under a new strategy of "Tri-Powered Societal Drives". Over the course of 20 years, ThaiHealth has been creating significant societal changes in at least 20 health-related issues.
In the following decade, ThaiHealth and its strategic partners will continue to work on health promotion with new working methodology so that it fits the changing situations, problems, and challenges. The new strategy will include activities to help people change their behaviours towards self-management and reduce health disparity in the society so as to support the country's sustainable development.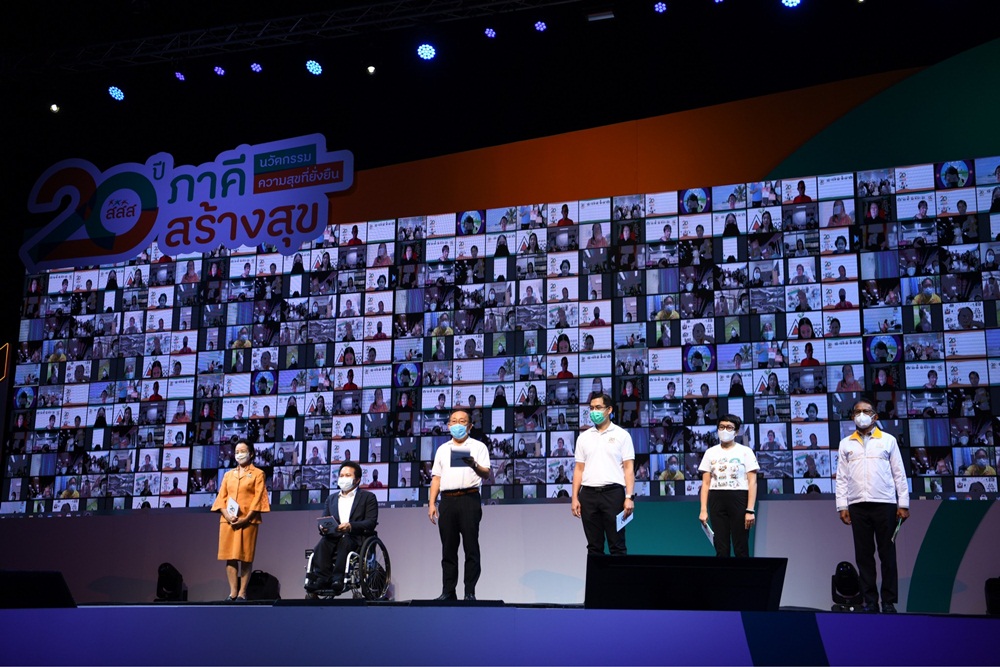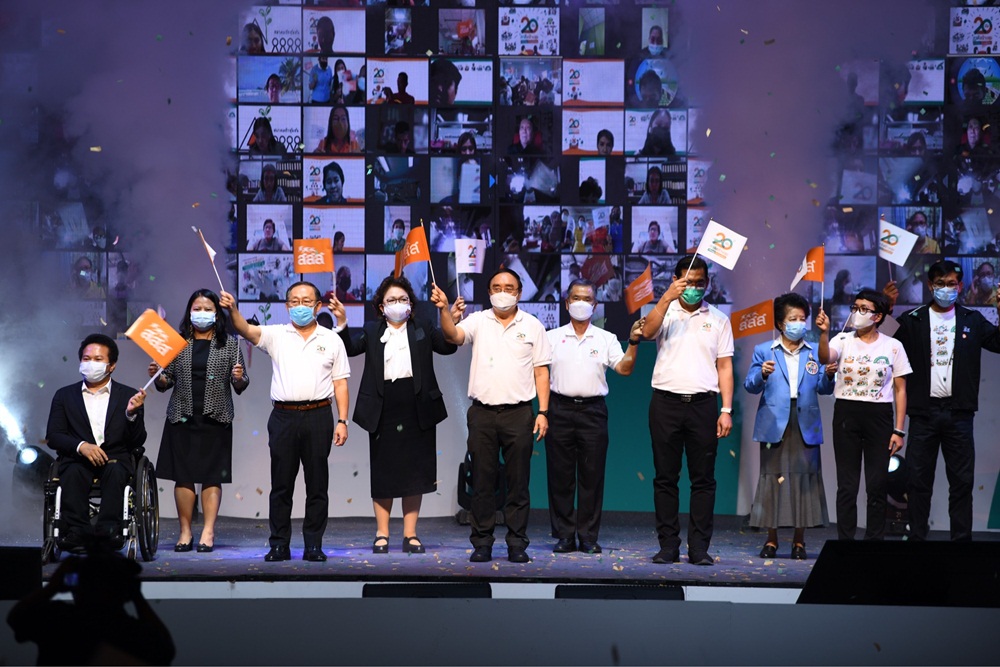 Mayor of Tambon Prik of Sadao district, Songkhla, Mr Suriya Yikhun, who was selected as one of the honoured participants to deliver the 10 commandment of building better Thailand, better health, and leaving no one behind, as follow:
rn
Achieve the goals for ThaiHealth's future work in its third decade (2022-2031) by eliminating the main risk factors and developing health-enhancing factors.
rn
Expand and join forces to create mechanisms, opportunities, and fairness in society.
rn
Develop technological and social innovations to promote well-beingness.
rn
Expand partners to promote diverse and inclusive health, develop capacity, open up more physical, creative spaces for collaboration.
rn
Join forces to build a livable local community.
rn
Promote health for people of all ages.
rn
Mobilise forces so that people in Thai society know how to utilise the media as a tool to promote a healthy lifestyle.
rn
Create a suitable environment for growth, development, and civic duty for youngsters.
rn
Aim to strengthen network partners from all sectors to prepare for the aging society.
rn
Network partners from all sectors are ready to maintain, cooperate, and protect ThaiHealth as the nation's social enterprise with transparent administration under the principles of good governance and free from external interference.
rn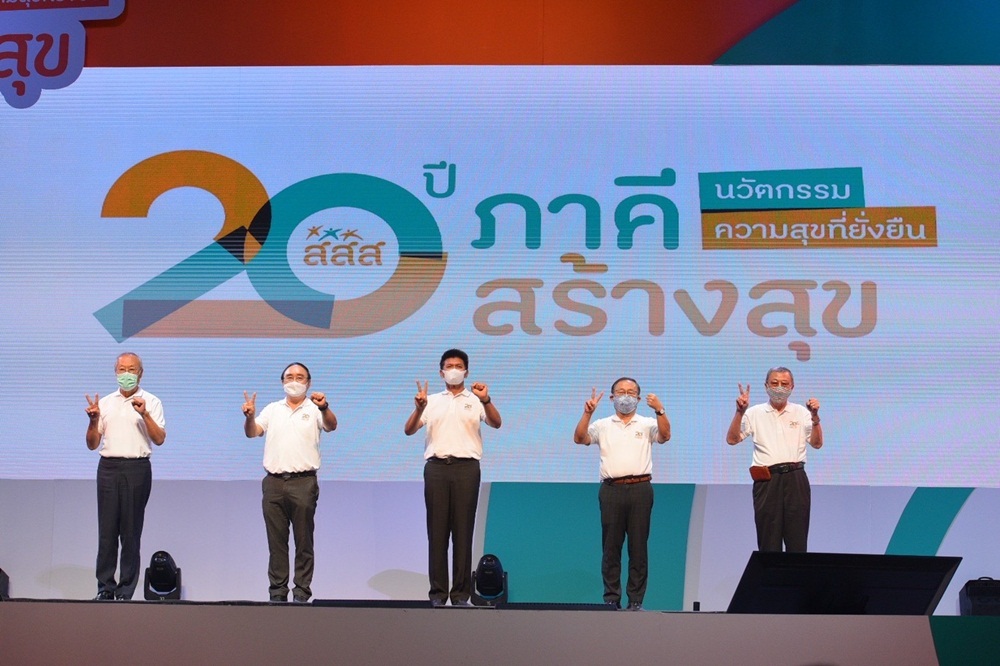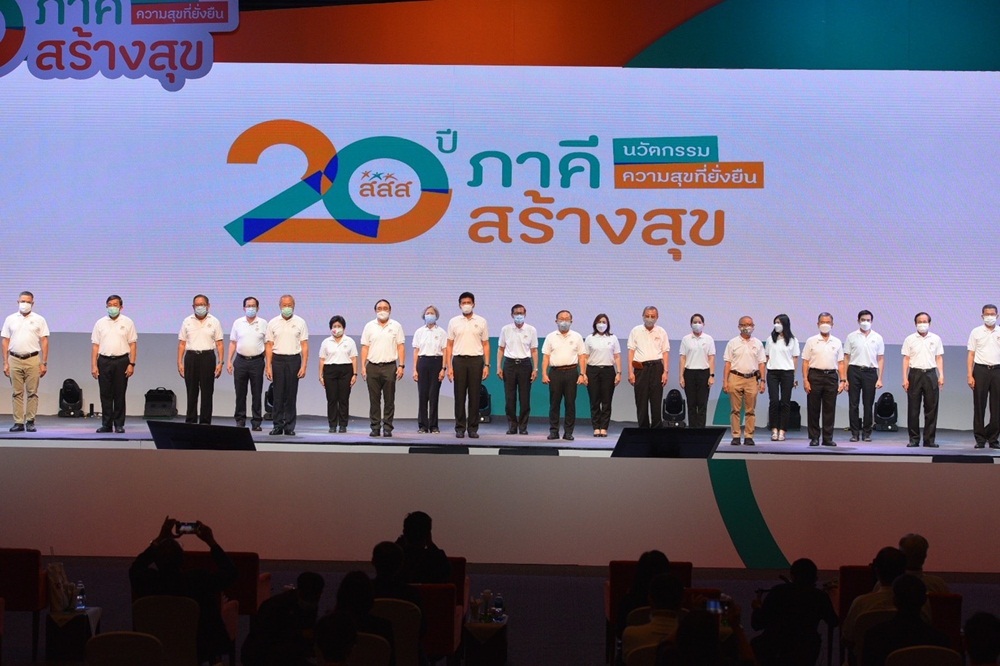 Regional Director of WHO's South-East Asia Region (WHO-SEARO), Dr Poonam Khetrapal Singh, also gave a congratulatory message for ThaiHealth's 20th anniversary and as a recipient organisation of Nelson Mandela Award 2021 in health promotion. She said the work of ThaiHealth and its strategic partners during the past 20 years was the testament of success of the health promotion effort in Thailand. This is a good example of the region especially in terms of solidarity between relevant organisations and mobilisation of partnerships. The issue of health promotion is considered the most important effort to cope with the challenging health risks of the modern world, no matter how it would be to deal with chronic non-communicable diseases and Covid-19 responses. This approach will eventually lead to improving people's health, strengthening the equilibrium in healthcare provision, as well as achieving the Sustainable Development Goals (SDGs).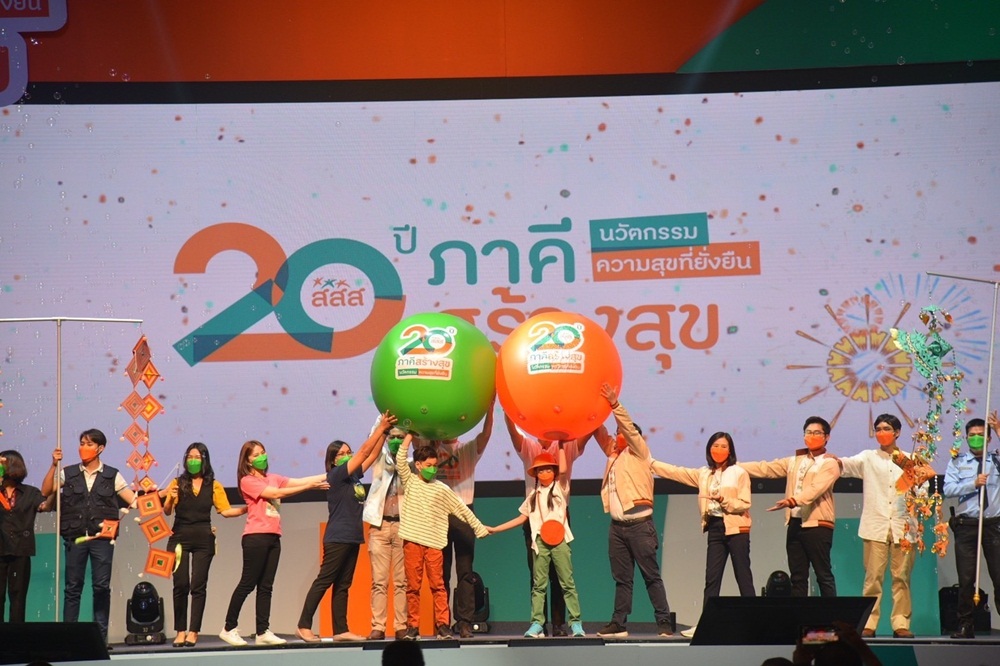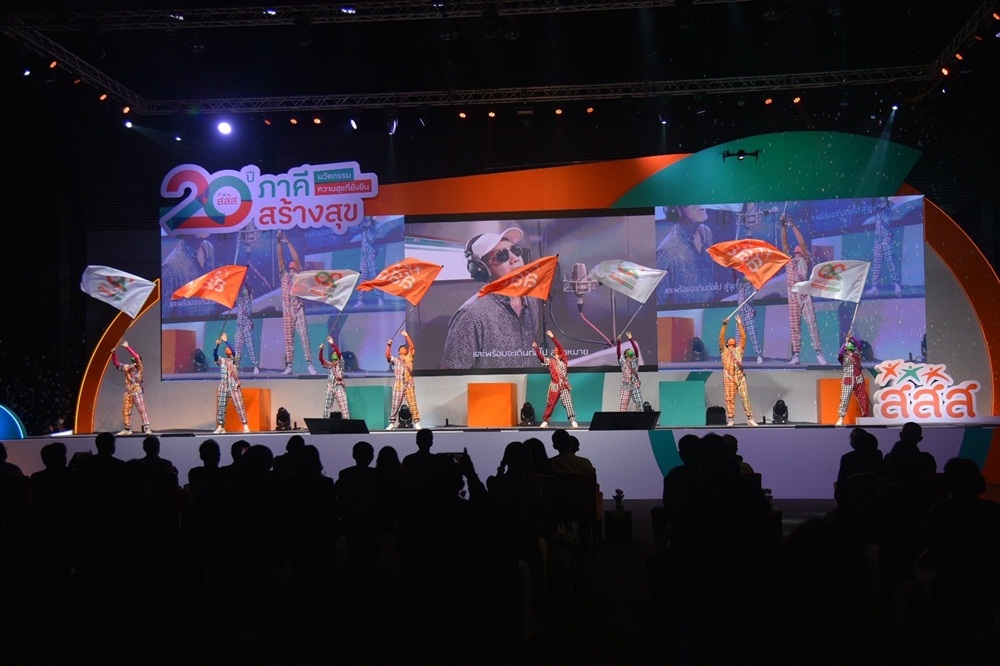 Back at the event, there was also an activity of "Active Learning" through a hybrid exhibition of "20 Years: Partnership for Happiness" organised both in physical exhibition and in virtual version. The exhibition also showcased innovative inventions for good health, such as stand-up meeting tables, low-seasoning spoons, salt-o-meters, rubber milestones, and many more. Some of which were patented and copyrighted products, namely special toilet seats, Ya Mor Noi herb quit-smoking bonbons, health alternative label, and age-conscious games. The general public interested in being a part of the force to promote healthy lifestyle are encouraged to view the online exhibition at 20th.thaihealth.or.th and Facebook: สสส.
rn