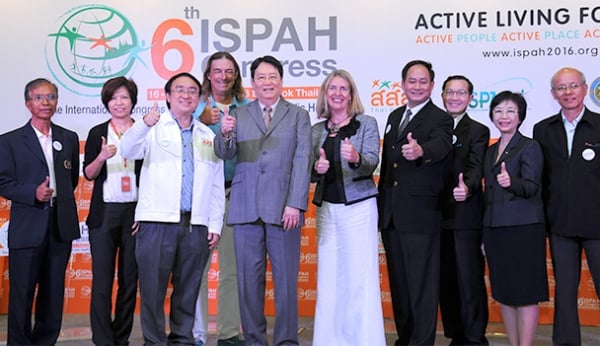 ThaiHealth to host first international congress on physical activity and health…
ThaiHealth to host first international congress on physical activity and health in Asia – Aims to increase physical activity by 80% and reduce child obesity by 10% nationwide
rn
rnOn the 21st Nov 2014, at ThaiHealth Promotion Foundation (ThaiHealth), Dr. Fiona Bull, president of The International Society for Physical Activity and Health (ISPAH), stated that ISPAH's strategies are to promote physical activity for better health, to exchange knowledge, and to advocate policy development to increase physical activity and reduce obesity and other NCDs. At present, there are 42 member states to the society. Since its foundation, ISPAH, together with its member states, has been hosting the International Congress on Physical Activity and Public Health biannually. So far, 5 congresses were held in big cities around the world, including Toronto, Sydney, and Rio de Janeiro. One of the most important goals of ISPAH is to build a network which encompasses a wide range of professions such as researchers, policy makers, and advocators, in order to support the member states on their work towards the promotion of physical activity globally.  ThaiHealth, as a representative of Thailand, received a warm welcome from ISPAH, when it joined the society in 2010. And as ThaiHealth has played an important role in mobilizing partnerships to promote physical activity and health in Thailand, the ISPAH committee strongly agreed to select Thailand as a venue for the 6th ISPAH congress which will be held in the next 2 years.
Prof Udomsil Srisangnam, Co-chair of Global organizing committee of the 6th ISPAH Congress, and also an advisor to ThaiHealth, stated that ThaiHealth had received suggestion from ISPAH to run for host of the 6th ISPAH congress which was concluded to be held between 16th -19th Nov 2016, at Queen Sirikit National Convention Center, Bangkok. This will mark as the first international conference regarding physical activity in Asia. The concept of the conference is "Active Living for ALL." Participants are estimated to be around 800-1,200. As a host of an international congress, this is an important opportunity for Thailand to enter the global policy and academic arena of physical activity in order to promote the creation of more academic studies. It is hoped that this congress will enhance the promotion of physical activity to become an important national agenda. It is also a good opportunity for the world to learn about successful cases from Asian countries which will be presented in this congress as well.
rn
Meanwhile, Dr. Supreda Adulyanon, Deputy CEO of ThaiHealth, mentioned that over the past 10 years, ThaiHealth has been working with stakeholders across sectors to reduce risk factors such as alcohol consumption, tobacco, and traffic accidents. Simultaneous it also works to increase health promoting factors such as physical activities, healthy space, and healthy food and nutrition for all population groups. Physical inactivity is the major leading cause of death worldwide. Strong evidence from The Lancet in 2012 shows that physical inactivity causes more premature mortality than smoking, especially major NCDs such as obesity, diabetes, and cardiovascular diseases. These health effects can be prevented by increasing physical activity and healthy eating. However, Most Thai people are not well aware that physical activity can be achieved on daily basis such as cycling, walking, or stepping up the stairs.
rn
Dr. Supreda also added that•ThaiHealth has adopted the goal to increase the prevalence of physical activity of Thai people to over than 80% by 2021, and to curb the prevalence of obese and overweighed children to fewer than 10% by 2019. ThaiHealth aims to achieve the goals through supporting built environments along with campaigns to promote physical activity on daily basis to become part of lifestyle and norm in the country. During the congress, ThaiHealth will be one among 40 countries to present the study result of the Report Card, which is a tool to measure children's physical activity, comparing with other countries' worldwide. Currently, ThaiHealth has been supporting researchers from 5 universities to conduct data collection for the project throughout the country.
rn