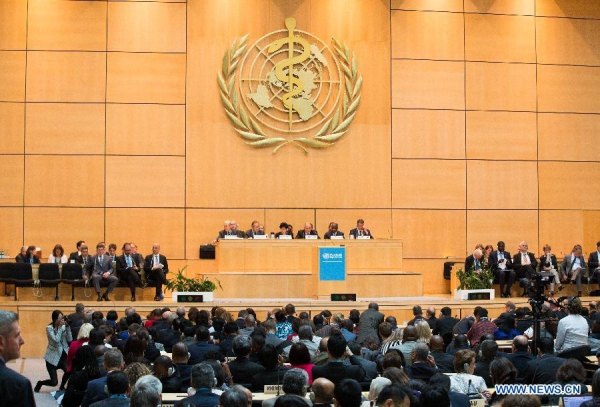 ThaiHealth participates in 68th World Health Assembly
May 18-26, 2015 – Dr Bundit Sornpaisarn, Director of Health Risk Control I Section; and Mr Rungsun Munkong, Deputy Director of Partnership and International Relations Section, represented the Thai Health Promotion Foundation (ThaiHealth) in the 68th World Health Assembly at the World Health Organisation (WHO) in Geneva, Switzerland, as Thailand's principal agency in charge of promoting good health and well-beingness.
Participating on a regular basis, the representatives of ThaiHealth took part in the Ministry of Public Health's Thai Global Health Technical Group (TG2) in support of two following clusters – Non-communicable Diseases (NCDs) and Promoting Health through the Life Course.
In the 68th World Health Assembly, ThaiHealth representatives took responsibility in three issues, which are Adolescents' Health, Women's Health, and Contribution to Social and Economic Development: Sustainable Action Across Sectors to Improve Health and Health Equity. The team also sat in six WHA side meetings, such as Road Safety, NCDs, Tobacco Warning, Adolescent Girl's Health, and Women's Health.
Besides, ThaiHealth representatives took the opportunity of this global health forum to forge collaboration with the World Health Organisation to drive forward the global policy of physical exercises in line with ThaiHealth's hosting of the International Congress on Physical Activity and Public Health (ISPAH 2016) in Thailand, as well as other policies wuch as alcohol control, and health innovative financing.