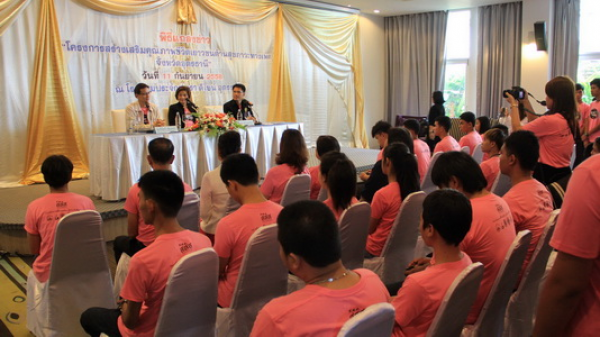 Teenage Pregnancy Prevention in Udon Thani Model
                      ThaiHealth has praised the Northeastern province of Udon Thani as a model province to have a success in reducing teenage pregnancy by 43% in its 10 districts, by opening additional communication channels through LINE and Facebook, and a stage for discussion and for education of sexual well-being, so as to expand the campaign's coverage in all areas of the province.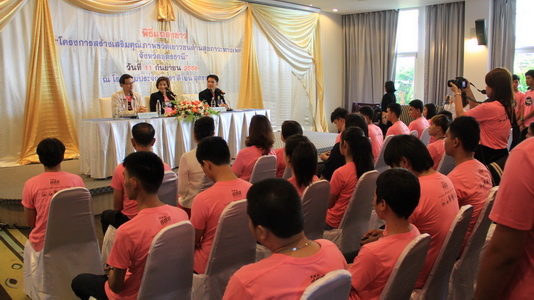 The press conference to announce the fruitful results of the youth sexual wellbeing reinforcement project of Udon Thani, organised at Prajaktra Hotel Udon Thani on September 11, 2015, at 1000 hrs, were jointly presided over by Dr Surapong Phadungwiang, Deputy Chief of Udon Thani Public Health Office; Dr Sirikiat Liangkobkit, ThaiHealth Director of the Second Health Risk Control Section; and Mrs Pensiri Srijun, Senior Public Health Technical Officer, Deputy Chief of Udon Thani provincial Public Health Office's Health Hazards and Disease Control Section. The event was attended by Udon Thani youths and the media corps.
                      Dr Sirikiat said that ThaiHealth, by the Second Health Risk Control Section was
aimed at promoting sexual wellbeing in youngsters and at prevention of teenage pregnancy, with its main coverage in 21 provinces of Thailand, interlinking the collaborative operations in both tambon and district levels, supporting the development of educative mechanism of sex education in 34 provinces of Thailand on the long-term basis, which expects to bring about appropriate sexual behaviours and safe sex among the youngsters.
                      In Udon Thani, the project operations so far are covering 57 tambons in 10 districts. Its success of operations could be developed further as an Udon Thani Model for other
provinces in the country to follow. Dr Surapong said that, in the past three years, the ratio of teenage pregnancy reduced satisfactorily from 3,521 cases in 2013 to 1,988 cases in 2015, representing a decrease of 43%.
                      Furthermore, it has been found that the youngsters under the project developed a more creative thinking directions, thanks to collaboration of relevant agencies for their strategic preventive measures in every aspect. The project has been visited more than 10,000 times for consults through LINE and Facebook in the past year. Over time, the project introduced more family planning consultancy, with a plan to expand its coverage to every district of Udon Thani province in the future.
                      Flt Sgt 1st Class Paengchan Inte, Chief Administrator of Champa Mong Tambon Administration Organisation of Ban Phue district, Udon Thani province, pointed out that, the important part of the efforts of sexual wellbeing improvement and prevention of pregnancy in teenagers is at the understanding hearts of local adults. They shall adjust their mindset towards that of teenagers wholeheartedly. Then, they shall develop and enforce the tambon administration masterplan, build additional health service centres with collaboration from local health promotion hospitals. From now on, local innovations will be applied to the activities, such as opening community discussion ground, and organising mindset adjustment for the youngsters in terms of premature family.
                      Meanwhile, Mr Thanakorn Homkrachai, a student from Udon Thani Engineering School, said that there have been many students who had little or no access to the information pertaining to pregnancy prevention or sexually-transmitted diseases until ThaiHealth came to support, rendering the local youth team to go forward by organising campaigns in local markets, opening stages for ideas and activities like stage plays with knowledge on birth control, use of condom, and youth camp, all under advice of the experts. He personally thought they were good activities that should continue in the future as he believed that there were a lot more people without appropriate knowledge in sexual well-being.