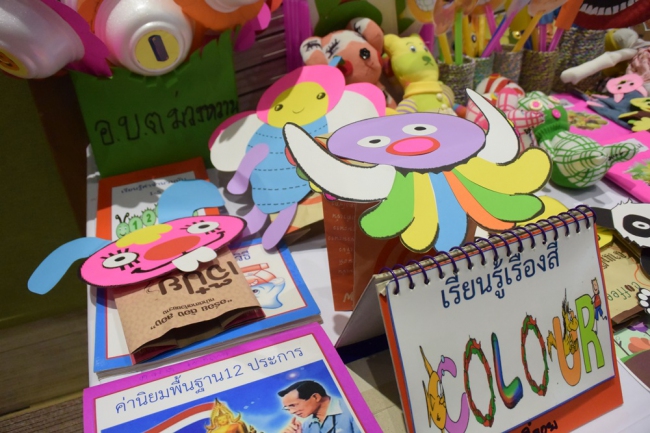 At "Muang Wan" Child Development Centre, There is Happiness
The richness of Thailand's natural resources around us are all beneficial, and even more to those who really know how the use the resources.
"Teacher" is another resource for the country who helps children to learn systematically. Some of them may haven't been educated in education, but if they have the pure heart and true intention to develop children into quality adults, they can make the the best use of the available resources in order to benefit the cause of the society.
Child development centres play an important role in improving children's potentials. These places have well designed the learning curves and creative spaces for learning, plus positive instructors' skills and mentality. For this reason, child development centre is crucial to the Thai child's good health.
Tambon Administrative Organisation of Muang Wan, in Saraburi province, is an obvious example of a good child development centre as it is supported in many aspects by director of nearby Wat Khao Din school who let the centre use the school's free space on the ground floor of a school building. At the beginning, there were about 20 children at the centre but it has not been registered with the Department of Local Administration so it has not received financial support from the government. The centre then lacked necessary supplies and appropriate activities. The centre ended up with only 3 children in care.
One day, came Ms Wipha Khampha, teacher at Muang Wan Child Development Centre, and registered her centre with the "Miracle of Creative Activities in Child Development Centre" project jointly organised by Child Media Institute and ThaiHealth. The project provided the centre with assistance in learning materials and strategically creative space, and three goods which are: 1) Good Media – instructional media that supports learning and leads children to good or better life, such as cultural media like folk music, folk tales, shadow puppet plays, local learning media such as local dialects, local desserts, locally-found toys, including modern online media, and other activities on both societal and familial levels; 2) Good Space – the design of physical creative space that is open for learning; and 3) Good Immune – the intelligence and knowledge in themselves and in outside media, thinking skills, reasonable thinking that is considered an immune to prevent them against external threats and changes.
Khru Wipha said that after receiving supports from ThaiHealth, the centre could successfully developed its own media while gaining more confidence from local neighbourhood. Children at the centre are happy to be at the centre while being educated about good media. Eight more children has enrolled in the centre.
Besides learning media, space for physical activities is equally important for the sake of children's learning. A BBL ground was also made with full of toys that encourage brain activities and learning. At present, the Child Development Centre is asking for assistance from the local community and the local administrative bodies to support them in many ways. Hopefully, the future of Muang Wan children will be brighter.
"Teacher is an important part that helps children's learning go the right way. Even thought I didn't graduate in teaching but all my heart wants to make these children go their good way and be quality adults. This endeavour of mine has given me energy to travel and get trainings from various projects to gain more knowledge about children's learning. I strongly believe that Muang Wan Child Development Centre will attract more quality teachers, making it an even better centre," said Khru Wipha with confidence.
The unity and perseverance of Khru Wipha is a good example of a pure heart with hope to drive Thailand forward to sustainable development.